Sundance Services will be closing June 30. Owner Esther Owen has been involved with Sundance since 1996. "It has been my pleasure to serve all our clients," she said. She will now have some time to spend with her family.
I was sad to learn that after 111 years, Hoene Hardware in Cottonwood has gone out of business. This letter from Jerry and Janet Richardson appeared in the June 6 edition of The Cottonwood Chronicle: "Since 1975, Jan and I have gladly purchased items from Hoene Hardware.
It's sad to see; their business is like a family member, you don't realize how much it meant to you until you don't have it anymore.
Thank you for your service to our community and the surrounding area.
Big box stores and the Internet may have everything we need, but they don't give back to our communities like hometown businesses do."
In the 1930s, cousins Gus Hoene and John Seubert bought the business. In the 1950s, they sold to Don and Jane Hoene. Gus and Ann, along with his sister and husband, Debra and Don Clark, purchased the business in 1993. Gus and Ann became the sole owners in 2016.
Those with unfinished college degrees, those looking to start a new career or advance in the one they are in are invited to an Adult Learner Open House at the Idaho County Veterans Center in Grangeville on Wednesday, June 26.
Lewis-Clark State College is sponsoring the event, 5-7 p.m., that will include representatives from 15 departments, including advisors, to answer questions about their 30 online degree programs, flexible scheduling options and scholarship opportunities.
Syringa Hospital has beautiful flowers blooming along the patient windows facing Main Street. Be sure to look. Also, a gorgeous, bright pink rhododendron bush is growing outside Wells Fargo in Grangeville and it's also really striking against the building.
I understand some people are trying to get used to Cloninger's Marketplace's new parking configuration at the Main Street lot. It's different and all change takes time to get used to. (Just keep whispering to yourself: It will be OK. It will be OK).
Cash and Carry Market has a new treat – hard ice-cream by the scoop. If you see the Red Button ice-cream freezer out in front of the store (closest to Main Street) then you can stop and buy a scoop or two. Last time I looked, Abby Asker and Taryn Godfrey were the designated scoopers.
I read a couple of interesting bits of news in the Lewiston Tribune Saturday, June 15. Things that may slip by if you don't like to "read the fine print."
First, there were three students listed in the Lewiston High School scholarships page that made me want to know more: Jenz Delka, Jillian Delka and Julissa Delka. Triplets? I want to know!
Then, a birth announcement that I will not even try to spell out. I saw Gail Stowers had posted a picture on Facebook, then I read it for myself later. Here it is: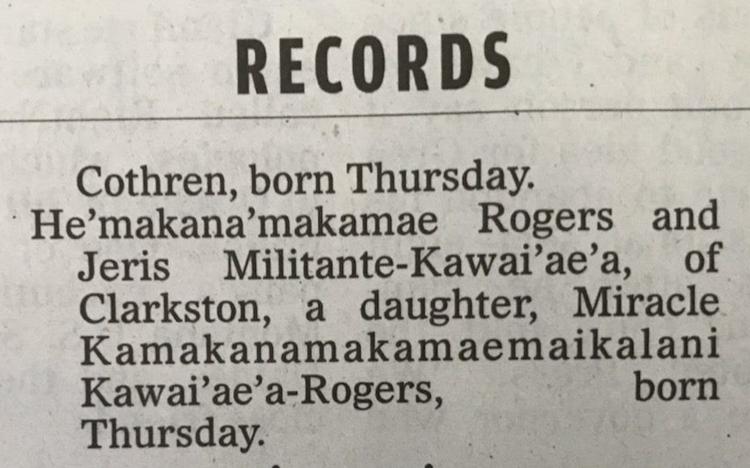 I assume this is a Hawaiian or maybe a Samoan name? Again, I want to know more! What a long name!