GRANGEVILLE – A proposal for a multi-use biking and pedestrian path west of town will not receive official support from the City of Grangeville.
Despite this, path proponents continue to move forward on the project that – if all comes to pass – could see completion within two years.
At its Aug. 5 meeting, the council continued its discussion on the proposal, sponsored by the Grangeville Highway District, that would develop a 1.8-mile asphalt-paved loop, from Grangeville High School, along Fish Hatchery Road and east along U.S. Highway 95. The project's estimated cost is $500,000. On whether the city would write a support letter for the project, which the district could use in its grant funding applications, no motions were proposed as council consensus was not in favor.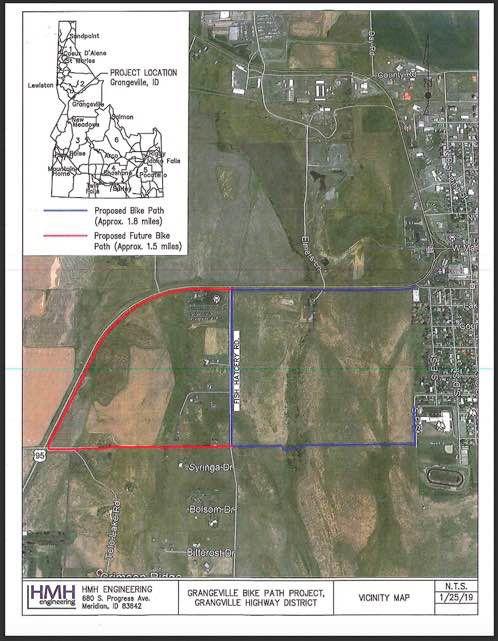 "I'm not opposed to a bike path. I'm opposed to that location," said councilor Beryl Grant, with councilor Pete Lane adding, "A proposed route that goes farther out is a little bit more suitable."
Council comments were minimal, mostly regarding the district needed a better plan for the path, and that if other locations were not considered due to not having rights-of-way, "then maybe they need to get their ducks in a row and figure it out," Grant said.
Project lead for the highway district, Daryl Mullinix, is taking the decision in stride, saying the project continues to go forward.
"The city elected not to support it, but they're not opposed to it either," he said.
"We have a lot of strong support on this," Mullinix said. Already, 140-plus residents have signed a petition in favor of the project. Representatives from both Mt. View School District 244 and the Syringa Hospital Board have expressed the path as a positive project for their respective programs, and those involved in tourism support having a safe bike connection into town.
At this point, the district's grant application will go in this September, according to Mullinix, with announcement on whether it is chosen no earlier than January. If funded, HM&H Engineers are tentative to begin the engineering and design work, with project construction forecasted in 2021.
"I think we've got a pretty good chance for a bike path," Mullinix said, "and we're keeping it going forward."