Idaho County recently signed off on a $3 million tentative agreement with the Federal Highway Administration to repair the Glenwood Road-Adams Road intersection, and still awaited FHWA's signature on Friday, May 24. The work is to involve replacing failed roadways, embankments, repaving and a culvert "upsized for resiliency," according to documentation inked May 22. The construction completion deadline is Oct. 7.
The main costs in the work are for excavation of 5,000 cubic yards ($200,000) and placement of 13,000 cubic yards of "granular borrow" ($487,500) and 9,200 cubic yards of "structural fill" ($506,000) at the site of last month's blowout. The documentation calls for $120,000 just for the new culvert, as well as engineering costs of about $237,000 for design and $356,000 for inspection.
On May 9, the Clearwater Progress reported the work had been given a "nod" for expedited repair, with the project cost at that time thought to be roughly $1.3 million.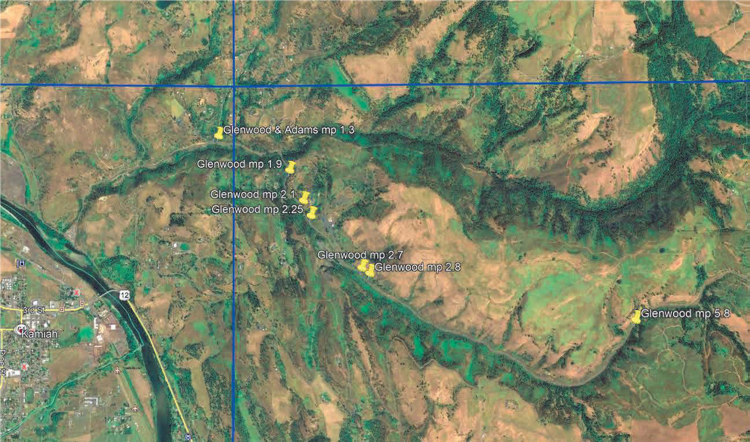 The formal estimate in the paperwork signed by Idaho County Road & Bridge supervisor Gene Meinen is higher, Meinen told the Free Press May 24, in part, because many contractors are already booked on other projects this season.
"The rest of them will be under FEMA," Meinen said.
In April, temporary repairs within the county road and bridge department jurisdiction – not including damage to local highway districts roads – had been estimated to exceed $4.4 million. But with FHWA still completing detailed damage inspections of Clear Creek and Sally Ann roads, as well as other parts of Glenwood Road, Meinen told the Free Press he felt he could not provide an accurate current estimate of the total.
Under a state disaster declaration, the county has estimated as much as $2.5 million in repairs could be eligible for FEMA (Federal Emergency Management Agency) funding. The April 9 flooding may be declared a federal disaster during the next month to six weeks, Idaho County disaster management coordinator Jerry Zumalt told the Free Press Friday, May 24.