KOOSKIA — "As fire and emergency medical service agencies across the Clearwater Valley become busier in serving the communities across the region of North Central Idaho, its important that we learn to work together," said chief Bill Arsenault, Kamiah Fire-Rescue.
On June 11, fire and emergency medical service responders gathered at the Kooskia Emergency Service building to review apparatus and operations, as well as plan for some additional cooperative training. Agencies and personnel from Kooskia/Stites, Kamiah, Glenwood, Caribel, BPC, Clearwater and Harpster gathered. According to Arsenault, purpose of the event was "to learn more about what each agency can bring to the table to help one another out."
Apparatus reviewed included three water tenders, three structural fire engines, three wildland engines, two light and medium rescue trucks, and ambulances. More than 30 personnel attended this training day on a wet, rainy Saturday morning. Arsenault said first responders noted how positive it was to see agencies get together for this kind of review and training.
One of the values from the day was for agencies to become familiar with each other's equipment, according to chief Mark Anderson, Kooskia Volunteer Fire Department (KVFD).
"To know its capabilities and how it operates," he said, "so that when you're on a fire you're not trying to figure it out at the last minute." Meeting with other area emergency service personnel also "puts faces to the names," and helps everyone get together on the same page as far as operational procedures, he continued.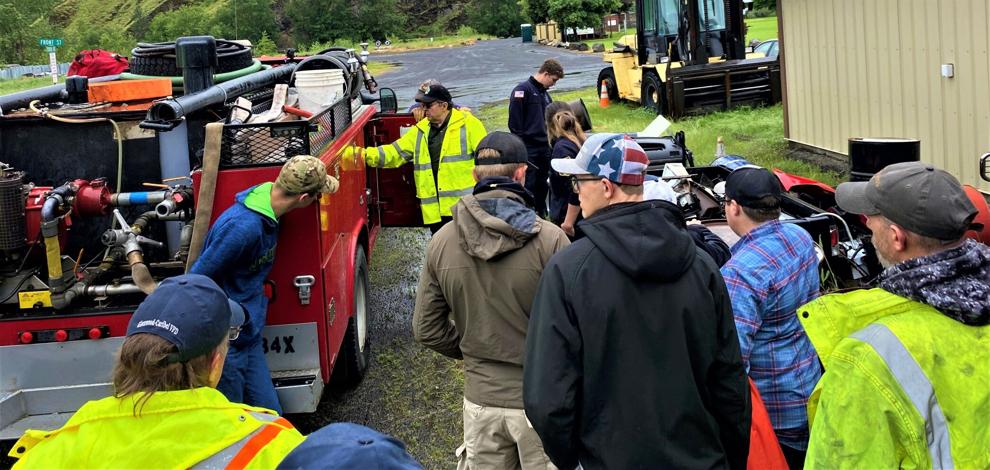 "It makes it easier to work together," Anderson said. "All of us have had incidents we can't handle on our own," and the communications and relationships established at the gathering improve joint operations in being more seamless and quicker to work together. "It also makes it easier for us incident commanders who request certain things, and the capabilities of what we get."
Agencies overall are working to improve cooperation on fires, according to Anderson, so on fires with multiple-agency response, everyone will do a better job and do it more promptly.
"And when we're assigning tasks on a fire or an incident," he continued, "we'll have a better idea who to assign what tasks to, and to what department. It's just better knowing our jobs and knowing how others can help."
Future training ideas from this meeting including water shuttle and drafting operations, structural fire and wildland fire response operations, and EMS.
"An additional item that is a benefit to many in the area, as it takes shape, was the discussion by some of the fire chiefs and fire officers was an auto-aid agreement, which is currently being developed," Arsenault said. "This agreement would be of a benefit to respective areas in a number of ways."
One benefit would be that, instead of waiting for a mutual aid response and request, if there is a certain fire type or size, the area dispatch centers would automatically request additional resources to respond.
"With less volunteers for weekday, daytime coverage — as they need to work their regular jobs — it provides additional resources automatically," he said.
An additional benefit, according to Arsenault, would be the potential to reduce homeowner insurance premiums.
"The Idaho Survey and Rating Bureau reviews fire departments and districts for this criteria standard," he said. "If it's in place, the municipality is awarded points for auto-aid agreements, thereby helping homeowners to potentially see reduced insurance costs."
According to Anderson, the profession is all about working together, and, "building a better system is what we're doing."
"All these may be small departments," he continued, "but when their strengths and abilities come together, we perform as a much larger department, and we can provide a better, more consistent service to the people of the area."