GRANGEVILLE – How will the Nez Perce-Clearwater National Forests be managed in the coming decades? What are the plans to guide the complexity of resource management decisions to be made across four million acres of national forest?
Proposed guidelines are currently up for comment, and public meetings continue, locally and forest-wide, to have stakeholders meet with the agency planning team to answer questions and give feedback to help guide a final decision.
"This will be the overriding umbrella document for how we're going to be managing the Nez Perce-Clearwater National Forests for the next 15-plus years," said forest supervisor, Cheryl Probert, speaking to attendees at last Wednesday's Jan. 8 meeting in Grangeville. "The current plans are over 30 years old, so you can assume we'll be living with this for a few decades, so it's a big deal."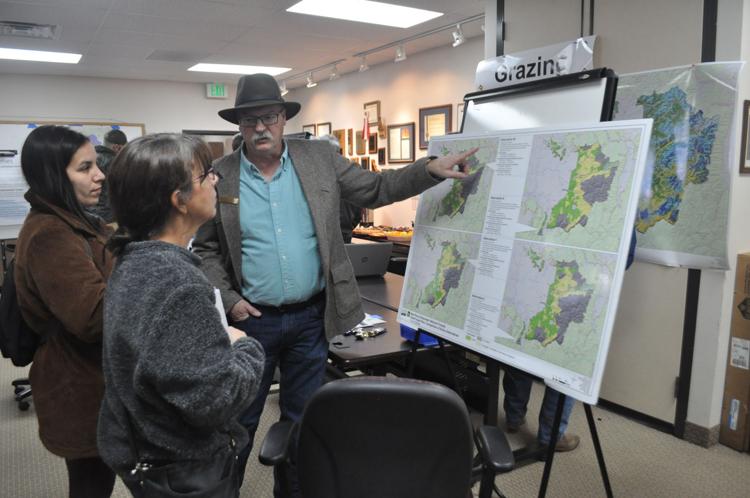 The planning document is 2,700 pages; however, a 16-page executive summary is also available, which outlines the background, planning process and details of the four proposed alternatives. Comments are being accepted through March 19. As to whether there will be a comment deadline extension, which was requested by conservationists last month, Probert said she has not yet made a decision.
"One of the things that is different and very articulated in this planning process," Probert said, "is we're developing a plan that contributes to social, economic and environmental stability. That's a really key thing." While her agency has the focus with environmental sustainability, Probert said the local and regional stakeholders can help with the social and economic pieces, and "…how these different plan alternatives affect our communities as far as working, living, and the resources we're all here to enjoy and are really important to why we live here and why we work here."
Emphasized in this planning process is the alternatives were put together as building blocks, Probert said, so pieces could potentially be mixed and matched to provide better combinations. Whereas the agency has developed alternatives leaning heavily on one emphasis, such as commodity use or wilderness, she said the team was directed to develop an alternative that does a whole lot of both. That is alternative W, which is the "have it most" option for providing timber harvest, sustainable rural economies, endangered species recovery, and providing clean air, water and animal habitat.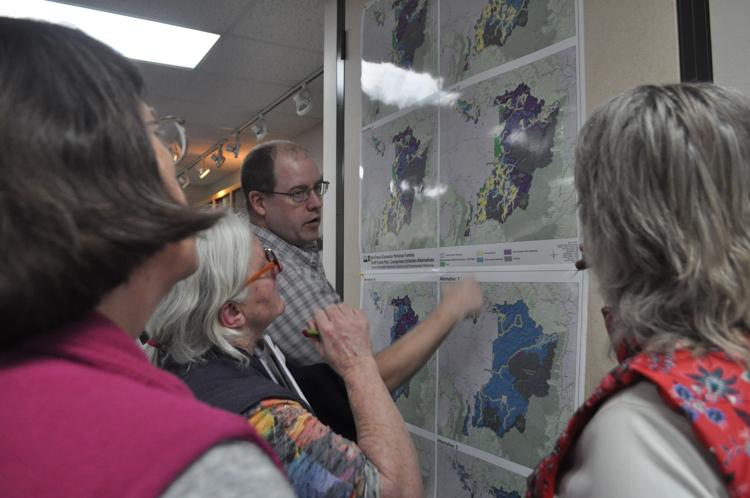 While at this stage in the draft Environmental Impact Statement the agency would have chosen a preferred alternative, Probert said did held back from that until she heard from the public.
"You and your input will help us figure out what that final alternative should be and what that final decision should be," she said. "So, it's really critical we hear from you."
On average, between 20 to 25 people attended revision plan meetings last week in Grangeville, Kamiah and Orofino.
According to forest planner, Zach Peterson, attendee comments at these meetings so far have remained consistent with concerns expressed since the start of the process. These include the amount of recommended wilderness and timber harvest, the number of suitable wild and scenic rivers, the portion of forest open to motorized travel, and how the plan with provide habitat for fish and wildlife. On issues of wilderness, and wild and scenic rivers, he emphasized their designation is by Congress; the agency only makes recommendations and describes how these would be managed.
"We continue to speak to people with an interest in mining and miners with active claims, regarding how the plan will allow for access and use," Peterson said. "The plan itself cannot limit mining activity, but some decisions, such as recommended wilderness and suitable wild and scenic rivers, may potentially make accessing claims more difficult."