GRANGEVILLE — "We fell in love with Grangeville," Evie Gaul smiled.
Evie and her husband, Bill, moved to Idaho last year. The couple opened the shop Gauls Getaway this summer.
"I had a catering business in Yakima for more than 30 years," Evie said. "We were really good at what we did, but COVID killed it."
She had contracts with colleges, schools and other agencies, but that all shut down in 2020.
Though many people say they love the area, few mean it to the extent the Gauls do. They originally purchased five acres of land in St. Maries, but when they followed daughter and son-in-law, Shauna and Josh Summerville, to the Grangeville area, they said they knew this is where they wanted to be.
"The St. Maries property is for sale, and we're in a temporary place here until we find something permanent," Evie said.
Gauls Getaway is a bit of a dream-come-true for Army and National Guard veteran Bill.
"He had said one time he'd like to have a bookstore," Evie shrugged. "Who would have known?"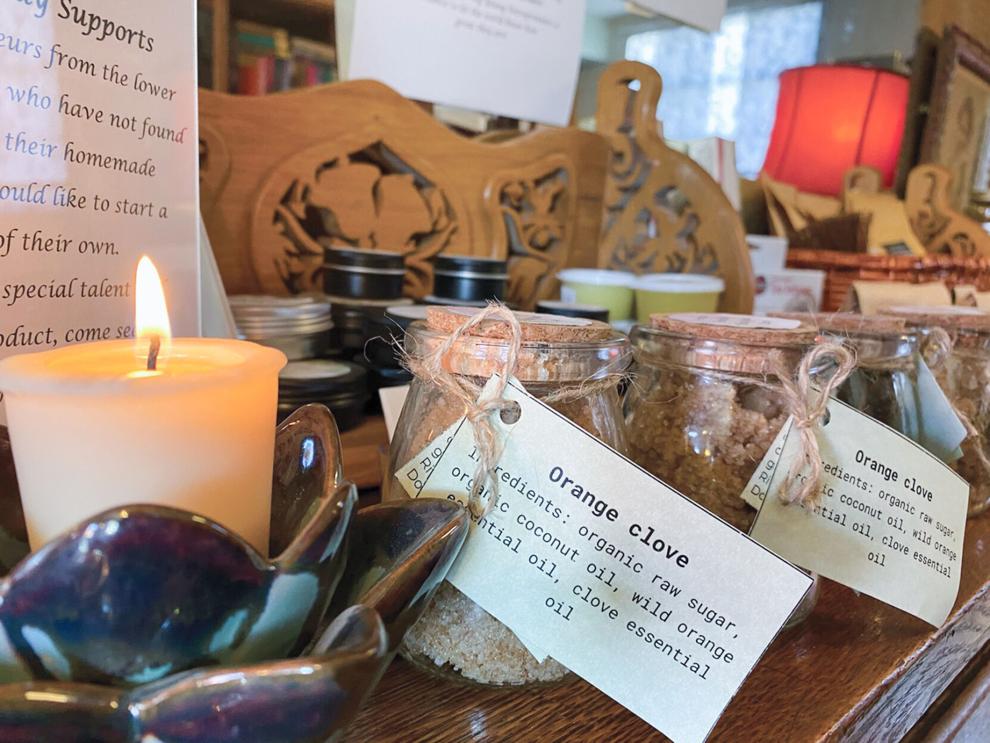 Gauls includes used books (including audio books on CD), antiques, herb tinctures, gemstones, handmade hair scrunchies, key chains, candles, soaps, herbal creams and more. It is located at 117 West North Street (just down from Camas Lanes and The Gallery).
"I love to read," Bill said. "This whole section of books came from my own collection," he pointed.
Bill also offers homeschool math packages for grades two through six, as well as guest lecturing for science.
The shop offers items from a variety of local vendors including Red Horse Botanicals, Herbal Foundation Beauty and Care, Candlelites Candle Company, Tessessential Teas and Herbal Creams, Hanna's massage healing stones, Prairie Scraps Chalkin', Black Oxygen Organics and Gordon and Rebecca Talley's crocheted doilies, hair scrunchies and record cup coasters.
Customers shouldn't be alarmed with the thick, stocky black face that meets them at the door: Mascot Chancey is just a dog looking for love.
"She's so friendly, we have to be careful she doesn't just jump in a car and leave with someone," laughed Evie.
The Gauls said they are excited to support local artisans and vendors on consignment.
"There are so many talented people around here," they agreed. "This is a way to give back to the community and people who have all been so kind to us by showcasing these small, unique business endeavors."
Stop by Gauls Getaway Tuesday through Saturday from 10 a.m. to 5 p.m. at 117 W. North Steet in Grangeville; call 208-507-0560; e-mail gaulsgetaway@outlook.com.