After rain fell on snow at elevations up to 5,000 feet as well as on soil saturated by several days of light precipitation, runoff flooded into lowlands across Idaho County last week – and damage continued to mount under yet more wet weather as the week wore on.
Gov. Brad Little declared a disaster Wednesday, April 10, following the Idaho County Commission's declaration of a disaster on Tuesday, April 9, and one of the worst losses is sure to be the destruction water wrought Thursday on part of the Kamiah-area Adams Grade-Glenwood Road.
An estimated 4.6 million gallons of water built up behind a Tom Ta Ha Creek culvert, which had failed. The culvert, located about 50 feet beneath the road surface, sat at the base of a tall dike. In trying to minimize potential damage, county road workers dug a trench atop the road Thursday morning, April 11. The dike broke and let water loose around 12:30 p.m., Idaho County Commissioner Skip Brandt told the Free Press, after much had drained out through the top. The break resulted in a massive chasm where the road used to cross.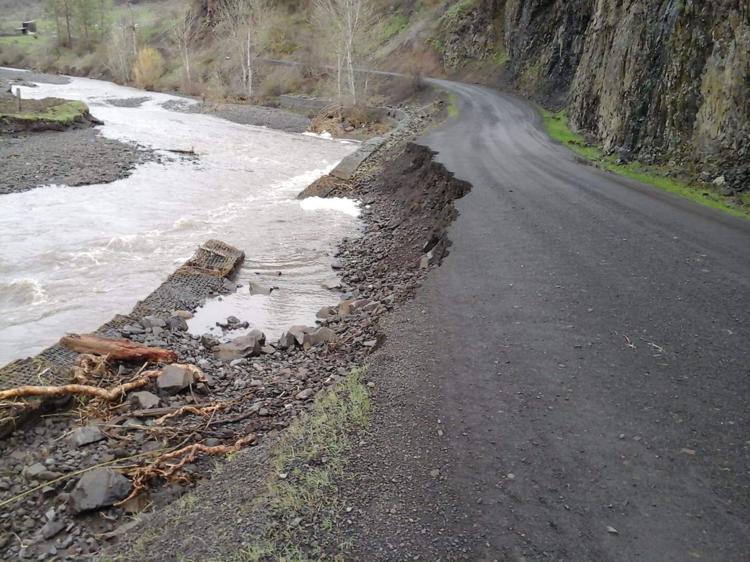 Parts of numerous other county roads have so far been found severely damaged, including Leitch Creek, Cottonwood Creek, Clear Creek, Ft. Misery, Thorn Springs.
"I know there's probably others," Idaho County Disaster Management Coordinator Jerry Zumalt told the Free Press. "It's a process of discovery."
National Weather Service (NWS) meteorologists are forecasting a significant rain event to hit Idaho County by week's end, increasing the poten…
As many as 8-10 more sites are being checked, Zumalt told the Idaho County Commission Tuesday, April 16, noting he was working to organize a meeting of area highway districts at 10 a.m. Wednesday morning, April 17, at the county courthouse.
Forest Service roads known to have been hard-hit include the Smith Creek Road, which is accessed from U.S. Highway 12 near Syringa, and the Pittsburg Landing Road, which is accessed from U.S. Highway 95 near White Bird. Outside the Forest Service boundary, Zumalt reported a problem had been found on part of the Elk City Wagon Road east of Clearwater, which is a dedicated public right-of-way, but not on the county's road maintenance inventory.
Highway drivers are urged to see the Idaho Department of Transportation traveler information clearinghouse at 511.idaho.gov before heading out. At press time, according to the 511 page, no closures were in effect, but an advisory remained in effect for U.S. Highway 12 east of Kooskia due to water on the road. U.S. Highway 12 remained reduced to one lane near Syringa, due to a mudslide between Smith Creek Road and Selway River Road, 13 miles east of Kooskia.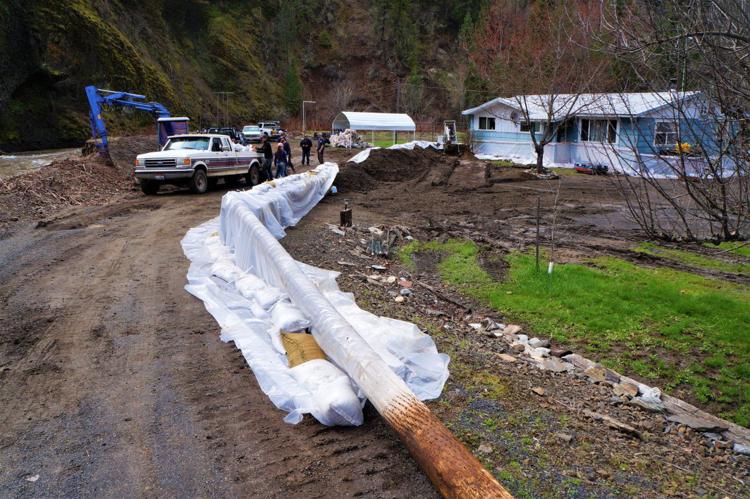 The South Fork Clearwater River receded from the April 9 record high of roughly 10 feet, 9 inches, down to about six feet as of midday Friday, according to the U.S. Geological Survey.
The flooding damaged much private property, but had caused no known loss of life in Idaho County as of Friday morning.