GRANGEVILLE – Grangeville's Super 8 Motel has done it again – for the third year in a row. The Wyndham Hotel Group announced this week that the Super 8 Motel by Wyndham in Grangeville has been awarded the No. 1 Best Quality Award out of more than 2,400 properties in North America.
The award goes to the highest guest satisfaction scoring hotel on TripAdvisor and WynReview. Super 8 Grangeville has been a "Pride of Super 8 Property" and in the top 3 percent of all Super 8 properties since its opening in October 1999.
This award announcement comes in conjunction with the hotel celebrating its 20th anniversary in Grangeville.
"It's crazy to believe 20 years have flown by since we opened in October of 1999," owner Ted Lindsley said. I still have the letters from banks saying that they wouldn't finance this project here because they didn't believe it would work here. The other day, I came across an occupancy projection report from October 1997 that we probably paid $5,000 for, and so many of those projections were far off the mark than what has actually happened here -- some way high, and some low -- so I guess we were kind of forging a new territory. I know our local bankers here believed in us, but the 'super smart ones in Seattle' just couldn't see this being a successful business and they counted wrong."
Lindsley said looking through old files, he came across an invoice for $15,000 worth of televisions they purchased from Andy's Radio Shack back in July of 1999.
"I also found dozens of bills for our local businesses here. This was important to our family in building this hotel. Super 8 let us design our own beds through our furniture store because of the years of experience we had in selling them. That is one of the best things Super 8 did for us that some of the 'nicer' hotel brands wouldn't let us do," Lindsley said. Those other brands said they would have to buy most everything from their suppliers and do it their way. Super 8 basically said, 'We trust you and we'll help when we can. We are here for you."
Lindsley especially thanks John Valletta and Mike Mueller, presidents for the Super 8 brand.
"They liked us and made themselves available to us for our questions and ideas," he said. "They believed in us and like any 'parent' does for their children, and, along with the naysayers, is always great motivation that gave us energy and ambition to be number 1 in the brand."
The past two decades have brought a variety of changes to the Grangeville motel, including the addition of 12 rooms to make the total 51, award-winning landscaping, a smart car charging stations and bicycles for guest use.
"We listen to our customers and what they would like to see and need," Lindsley said, adding the business recently got a comment card from a client that there were not enough outlets in the room he stayed in. He took the time to write the customer, thanking him for bringing this to their attention, sent him photos of the work being completed, and offered him a 50 percent off voucher for his next visit.
"We just wouldn't be here without our guests," he stated.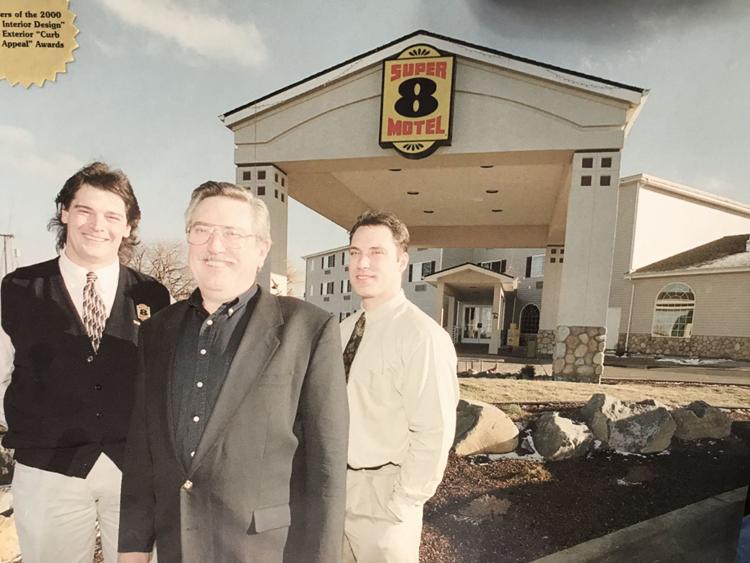 Lindsley also recognizes the community has been supportive of Super 8.
"We live in a great area, and one of the main reasons we wanted to open a hotel here was to bring in some 'outside' dollars to Grangeville," he explained. "That helps all the businesses here– from grocery stores, retail and restaurants. We even get our welding done here if we need some done!"
Super 8 also keeps in mind the other hotels and motels in the area. Lindsley also owns Gateway Inn in Grangeville, but he and his staff refer to the other motels here and in the surrounding areas, as well for lodging if they can't accommodate a guest.
"We don't want to tell people 'no, there's no room,'" he said. "Maybe we don't have a room type available, but there is one elsewhere; or we're completely booked, but someone else has a room. We want to keep those people and dollars in our area, if possible."
Lindsley has also been an advocate to keep traffic on U.S. 95 and to, hopefully, allure travelers away from taking the Johnston Cutoff. He was instrumental, with heavy lifting help from Senator Carl Crabtree, in obtaining highway signage to alert drivers the town of Grangeville is just ahead and can help them with gas, food and possibly lodging.
"This is super important if want don't want to end up being like some other small towns along U.S. Highway 95. Those towns have almost closed down, sadly. My wife used to buy some pretty awesome dresses in Craigmont, but now that drive-by traffic was taken away, they are not there anymore," Lindsley lamented.
Lindsley said he realizes without the great staff he has, none of the successes of Super 8 would have been possible.
"We have staff who understand hospitality and customer service; anticipating is a key attribute! For example, Lani Fogleman in housekeeping has been with us since about a month before we opened. She helped us organize and set up the rooms when guests were just stopping in even though we weren't open yet. But we were here, so my mom, Judy, went to Irwin Drug and picked up all the soap and shampoo supplies they had, and we rented rooms! Our parking lot wasn't even paved yet."
Fogleman has been recognized as a top head housekeeper by Super 8 and, Lindsley said, has really led them to being tops in "clean" since day one.
He also points out his front desk ladies: Lark Hall (appointed to the Super 8 Managers Advisory Board for North America), Tommiann Day (Buy Idaho board of directors) and now Kelly Bambacigno (who won the Super 8 Star Award working just a few months from Super 8 National).
"We are so fortunate for these awesome leaders – they have provided the friendly side of this hospitality business in a huge way. We are constantly ranked at the top due to their efforts, and those many others who have worked here in the past, who have kept the shine on, and our doors open," Lindsley added.
Super 8 employs about 18 people, including Ted and his wife, Wendy.
"Wendy has been the biggest reason I have been successful here," he said. "She leads, supports and fears no challenge."
Lindsley said he is also thankful for his family's dreams and support in building a successful business here.
"I've certainly been blessed by my grandparents, parents and my brothers, Jeff and Russ, who have all given Super 8 many big advantages throughout the years," Lindsley continued. "We are always being recognized because of our interior design and landscaping." This includes using photos of the Grangeville Super 8 in corporate national advertising. "And that's again because of Jeff and his staff at Lindsley's Home Furnishings and Russ and his staff at Green Acres Nursery, and of course, my great maintenance man, Lee Bramlett. We are a great team."
"We are really blessed by this whole community and strive to make this a great place to stop and explore," Lindsley said.
Several of the Super 8 and Gateway staff are attending a conference in Las Vegas, Nev., this week, where they will take part in classes and network, as well as receive their Best Quality Award for Super 8's in all of North America.
Super 8 is located off U.S. Highway 95 on 801 W. South 1st Street. Call 208-983-1002.