GRANGEVILLE – People like the idea of a local dedicated route for pedestrians and bicyclists to recreate in safety. But when it comes to the location, don't put it in their backyard.
More than 30 people attended an hourlong public meeting last Thursday, hosted by the Grangeville Highway District, to hear comments and field questions for a proposal to develop a walk/bike path west of town. The solicitation for input is essential in its pursuit for federal grant funding to develop the proposed 1.8-mile loop, from Grangeville High School, along Fish Hatchery Road and east along U.S. Highway 95.
"If the community isn't in favor of it, this won't get any consideration for funding," said Daryl Mullinix, project lead, speaking at last Thursday's March 28 meeting held at Super 8. Competition for such funding would be a challenge in the mix with proposals from larger communities. For funding entities, "Looking at your application, and they don't see that support, they don't want to fund the project."
Several attendees commented favorably on the district taking on the project. As a pedestrian, Susan Bird noted her safety concerns walking along public roads and the highway with inattentive or cellphone distracted drivers.
"I have to stop the dog and get in the barrow pit when cars come at me," she said, for example, continuing, she would "love a safe place," to walk, and where little kids could go out on their bicycles.
In a lighthearted aside, Mullinix added, "Mike and I want a place for wheelchairs," nodding to Mike Cook, Idaho County Airport manager, who was in attendance.
"We need a place for kids to ride their bikes, get that fresh air and get off the busy streets," one man said, a father with children. While stating he neither favored nor opposed the district's proposal, he did comment to a concern raised that the path would stifle city expansion: "I've been here 15 years and haven't seen a lot of growth." Other cities, including Bend, Ore., where he lived, have such paths. "We need a place for kids…. I'm definitely for a pathway in this town."
"I am strongly in favor of this," said Shelley Dumas. "For years, we've needed to start developing green routes in and around Grangeville. This can be a recreational mecca, and we have to start paying attention to that, and we have to start looking at a bigger concern."
Opposition to the proposal came with questioning whether the district's route was the best option.
"I'm very against the route," said Ron Funke, who countered with Crooks Street – the route connecting with Whitetail Drive and to Fish Hatchery Road -- being a better alternative due to the existing roadway in place, and it already having current use by both pedestrians and bicyclists. James Zehner said he used to bike up the old White Bird Grade and "had a lot of close shaves on 95," continuing, "I would rather see Whitetail paved through altogether," which has little traffic, as the route to consider.
"We are building on Fish Hatchery Road," one woman said, "and we are not happy with the whole proposal because we are building right in the middle of this."
One attendee stated, "It would be awesome to have it, but I just don't want it in my backyard."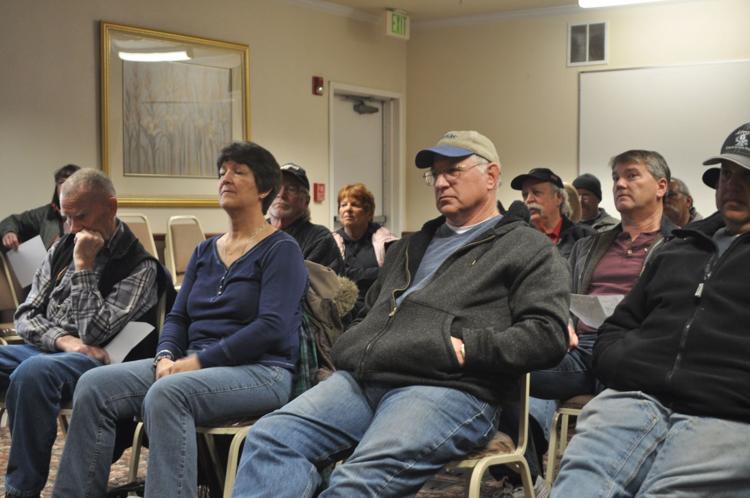 "I am probably the only protestor in this," one man commented, "and I don't see the need, as a taxpayer, that I should pay for somebody else's fun." Such a path would require maintenance, repairs, and also incur other costs, such as for law enforcement to handle enforcement and investigation from problems and vandalism on the route. "Grant money is not free; it comes from the federal government, we pay for it. And when it wears out, we're going to pay for it again."
"There is a cost here, just like the rest of our infrastructure," Mullinix said, for which the highway district would be responsible. From experiences of other communities, he foresees the maintenance to be minimal in herbicide treatment, brush removal and ensuring drainage systems are working, for example. Considering use with dogs, "you're going to have abuses," that can be handled as have other communities through signage, public education and waste stations, and perhaps dedicating a path section for their specific use.
Alternate path routes were investigated, according to Mullinix, who discussed Crooks Street as one looked into initially. However, this location presented multiple difficulties in securing rights-of-way, building the road up to the standards required, sections lacking sidewalks, and no parking. A recommendation for a path at the airport was discussed as adding another bureaucratic layer to the project, necessitating other requirements and needing approval by the FAA.
Two attendees asked about using the former railroad bed as an alternative route, which was the focus years ago for a local rails-to-trails effort. Some discussion was on landowner opposition to such usage in proximity to their properties, and Mullinix also noted the issues in securing rights-of-way: "To get a clear title to these would be a challenge administratively," he said.
"How will you determine the support to go forward with this?" one woman asked, which Mullinix said would be based on public comment, and in meetings with the Grangeville City Council, and discussions with other potential partners including the chamber of commerce, Grangeville High School (a possible parking area for route users) and civic groups such as the Lions Club. Estimating the timetable, he foresees grant application approval within December and January, followed by surveys and design in 2020 and construction in 2021.
Nailing down cost estimates await a formal design; however, based on other projects, such as one done at Lapwai, "I think it's going to eat up a half-million bucks," Mullinix said.