After heavy storms dropped damaging rain and hail on Fiddle Creek, north of Riggins, last Friday night, Aug. 9, it took Idaho Transportation Department workers most of last Saturday to scrape away enough of the mud and debris for regular traffic to resume on one lane of U.S. Highway 95 south of Grangeville.
By Monday, Aug. 12, the highway and its traffic were back to normal, with work to continue in the roadside ditches, but with no apparent damage to the pavement.
A return to normalcy will come more slowly, if at all, for the people who work and live at Fiddle Creek, where fruit has been sold since at least the 1940s. The rain, hail and flash flooding damaged orchards and took out two of the Rupp family's three gardens as well as water lines to homes, Billie Jo Rupp told the Free Press.
"It's a mess but we are thankful the Lord protected our lives," Rupp said.
Though the highway authorities had worried Sunday's rain might undo Saturday's gains, the weather relented, the work continued and two-way highway traffic resumed last Sunday evening, Aug. 11.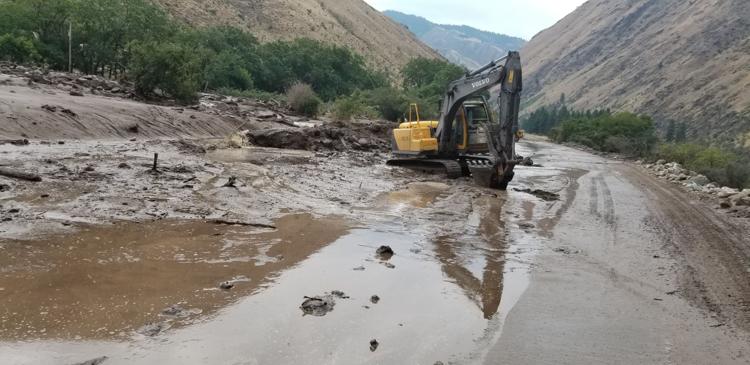 On Monday, Idaho County disaster management coordinator Jerry Zumalt told the Free Press there has been local road damage reported at Cow Creek Road and John Day Road, but that it is unlikely to amount to enough to declare disaster, as the county did shortly after floods struck Clearwater River country in April.
ITD estimated the mud on the road stood four feet deep at Fiddle Creek after a slide. The Friday night cloudburst, according to the National Weather Service, dropped about three-tenths of an inch in an automated rain gage at Slate Creek during the 6 p.m. MT hour Aug. 9 – on the way to more than four-tenths that night.
When it became apparent that the mass of mud would keep the highway shut until cleared, ITD's District II marshalled much of its workforce to get it open. With 100 maintenance workers employed in the district – which spans Latah, Clearwater, Nez Perce, Lewis and Idaho counties – the agency deployed manpower for three trucks, six equipment operators and two loaders on Friday night. ITD sent in six more trucks and an excavator on Saturday, including people and equipment from District III to the south. That was as much as the agency could reasonably make available, spokeswoman Megan Sausser told the Free Press, and, she said, about as much as the road could reasonably fit.
ITD got help from local and state law enforcement; so did some travelers who were caught out by the storm.
The storms unleashed palm-sized hailstones last Friday evening, Aug. 9, and the Idaho County Sheriff's Office reported the highway closed shortly before 8 p.m. (9 p.m. MT) that night. ICSO reported one-lane traffic resumed shortly before 7 p.m. (8 p.m. MT) on Saturday, Aug. 10.
Some of those who were caught out in the storm had succeeded in pushing through the terror of hail pounding massive dents into vehicles and smashing windshields before their eyes.
Those affected published photos and videos of the storm and its aftermath on social media, bringing a massive amount of public attention to the state of the road. One photo of a car stuck in the mud, topped with kayaks, which was provided to the Free Press by Bill Marek of White Bird, reached more than 500,000 Facebook users.
A fund-raiser organized through Facebook had raised about $7,000 for the Rupps as of Monday afternoon, Aug. 12.