GRANGEVILLE – Seven Idaho County Fair royalty 2020 candidates and the three current members of the court gathered Wednesday, Aug. 7, at the Grangeville Church of the Nazarene for the annual royalty luncheon.
Each candidate and current royalty members gave a short speech to a crowd of about 50 people, including two judges and the Idaho County Fair Grand Marshal 2019, Bonnie Gehring.
"I have had a year of awesome growth," 2019 queen Naomi Connolley of Grangeville told the group. "I have learned patience, responsibility and humility."
She encouraged the seven candidates to "embrace every moment, grow and learn."
Royalty advisor, Joyce Gehring Sonnen, told the girls that even though only three would make the court, she appreciated their courage.
"And, please, if you don't make it now, try again next year," she implored.
First princess, Clarissa Stevens, of Grangeville reminded each candidate to "use your gifts," and enjoy the relationships made along the journey.
Second princess, Madison Adams, of Grangeville told the girls to "be on your guard. You never know when a little girl or someone else is watching how you react."
"You grow through what you go through," she added. "Keep your head up and have fun."
Grangeville's Paige Layman spoke on the influence of 4-H in her life.
"It has helped create a lifetime of opportunities for me and offered the whole package, helping me with my self-confidence and setting goals," she said.
Kaylee Doughty of Grangeville focused on her family and the fact the Idaho County Fair is a "true community and family event."
Cheyanne Brown of Grangeville said Idaho County's "8,802 square miles are full of opportunity, but you have to want it and work for it."
Rose Sherrer of Grangeville said she has known Idaho's backwoods as her home and feels the "two people per square mile make the area so unique and increase my love for it," she said.
"There's a sense of family in Idaho County that's been lost in the modernized world," she added.
Cottonwood's Madison Shears compared her life to that of the game of Life.
"You don't always get what you want with the spin," but sometimes you get just what you need.
"Idaho County has accepted me since my parents adopted me at 8 days old," she said. "I want to continue that legacy of acceptance and kindness."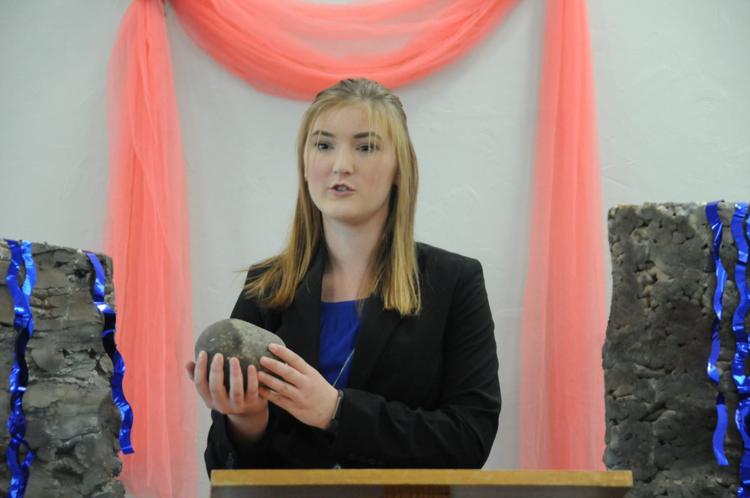 Halle Klapprich of Cottonwood used the example of a seed to show her life is "everything God created me to be."
"I'm not finished growing yet, and I hope one of the branches to my tree will be as Idaho County Fair royalty," she said.
Dani Sonnen of Cottonwood said 4-H has taught her lifelong lifeskills.
"It has helped shape me into who I am today," she said.
Prior to the luncheon, the girls were interviewed individually by the judges. The new court will be announced at the fair, Friday, Aug. 16, 6:30 p.m., in the Schmidt Building. The public is encouraged to attend.