The Grangeville Eagles will not be doing the Grangeville Community Calendars for 2020. They will be on hiatus for a year.
Lewis-Clark State College Grangeville Outreach will offer several upcoming enrichment classes.
Clean Your Computer with Elijah Zeida is set for Tuesday, Oct. 22, 6 to 9 p.m., $50.
Keto Adventures: Breakfast with Amy Sickels is set for Monday, Oct. 28, 9:30 a.m. to noon, $35.
Barbara Leachman will offer Cash Flow Projections and Feasibility Analysis Monday, Oct. 28, 6 to 8 p.m., $35.
Call coordinator Carla Nuxoll Wilkins at 208-983-2164 or e-mail cnwilkins@lcsc.edu to register.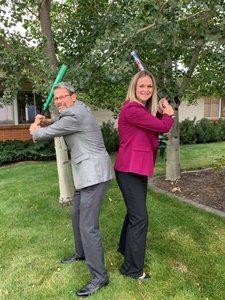 The 2nd Annual "Clash of the Quacks" softball game will be held Wednesday, Sept. 25, 6:30 p.m., at the Grangeville Lions Park. St. Mary's and Syringa Hospitals and Clinics will each sponsor a team of their employees to compete in a family-friendly competition. This year the stakes are even higher, with each team putting up $300 in a "winner takes all" game! The winning team will take home all of the money to be donated to a local organization or program of their choosing. The public is encouraged to attend and cheer on the teams.
Remember, during Oktoberfest in Grangeville this Saturday, Sept. 28, check out the 15 vendors who will be at The Gallery. Check out all the additional Oktoberfest activities, as well. Info is in this week's Shopper and Free Press.
White Bird's Swiftwater RV Park's 8th annual Fall PowWow Vintage Trailer Campout is scheduled for Thursday, Sept. 26 to Sunday, Sept. 29, with the theme "Art in the Park." It's a sold-out crowd with 31 trailers reserved. Friday morning is the traditional flea market and is the time the community is invited to browse, buy, and tour trailers from about 9 a.m. to noon.