Don't forget your flu shot this year. There are not only options through St. Mary's and Syringa hospitals and clinics, but Irwin Drug is also offering vaccinations Monday through Friday, 8:30 a.m. to 5 p.m.
Congratulations to new Red River Hot Springs owners John and Tawnia Hale.
Thanks to P1FCU for recently donating water bottles to Grangeville Elementary Middle School!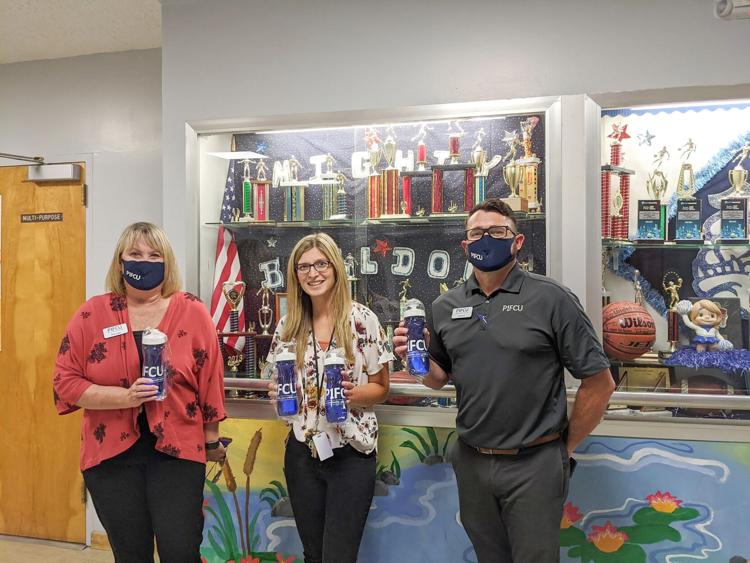 A number of Syringa Hospital employees recently celebrated work milestones. At the top is Betty Watson, chief financial officer, who has been with Syringa for 30 years! Wow! From personal experience, Betty is great to work with and really knows the financial end of things. Congratulations, Betty. Others celebrating milestones include Janice Grumley and Katy Eimers with 20 years; Elizabeth Martinez and Leslie Thomas with 15 years each; Erin Blinn, Dr. Danny Griffis, Jessica Long, Melissa Holman, Kari Wettler, Debra Morrison and Sue Little; and five-year employees Amber Schamdeka, Jennifer McCulloh, Margrettta Fortin, Lisa Seaman, Melissa Scott, Jessica Gerten, Jamie Johnson, Cameron Hair, Tess Dreyer, Maja Ledgerwood, Alissa Bentley and Kristi Brooks.
Distressing news for all of you Peeps lovers out there. There will not be any of the marshmallow candy made for this Halloween, Christmas or even Valentine's Day 2021. Just Born, the company that makes Peeps, made the decision to focus on treats for Easter 2021, and forgo the other holidays. Prior to the pandemic, about 5.5 million Peeps were produced every single day. The pause in production also applies to seasonal varieties of the company's Hot Tamales and Mike and Ike's fruit candies, a CNN article recently reported. The Bethlehem, Penn., company in April temporarily suspended production to protect the health and safety of employees. Another COVID-19 casualty!
Stars Dance Academy in Grangeville will host a fund-raiser for its Starfire Dance Company. "Coco" will be shown at the Blue Fox Theater Saturday, Oct. 17, 1 p.m. Dancers will provide pre-show entertainment. Proceeds will be used for costuming and contest fees.
The Free Press was saddened last week as we lost one of our own. Mary Ann Solberg died Oct. 3 at her home here in Grangeville. Mary Ann was one of the first people I met when she was working for the Free Press/Shopper when I started here in 1995. She was always classy, funny and down-to-earth. Since she retired and throughout the past several years, I have enjoyed every conversation with Mary Ann, who never failed to ask about our girls and was genuinely interested in what they were doing. My husband got a chance to know her and visit with her in a different way when he did work for her throughout the years. She always sought him out for her home improvement projects. We, as well as everyone at the Free Press, will miss Mary Ann. Our thoughts and prayers go out to Don, Andrea, Nels, Nicole and Sam, and the entire Solberg family.