CLEARWATER VALLEY -- I enjoyed my first yoga class at Christina Stalnaker's new location at the HKD martial arts academy last week. You can find HKD at 4347 US Highway 12 between Kooskia and Kamiah.
So, what is a dojo? In Japanese a dojo means literally "place of the way" and refers to a hall or space where martial arts or meditation takes place.
Stalnaker, AKA Yogini Christina, traveled to India this spring to further her yoga and meditation studies. This summer she is offering Sattva yoga journey classes which weave meditation, breath and energy work with Hatha yoga asanas and movement on Mondays at 5 p.m. and Fridays at 9 a.m. She offers meditation and breath classes following the Sattva classes at 6:05 p.m. and 10:05 a.m. respectively. In these classes you can quiet your mind and reduce stress by controlling your breathing. Christina welcomes new participants in her classes, no experience necessary. Find Yogini Christina on Facebook.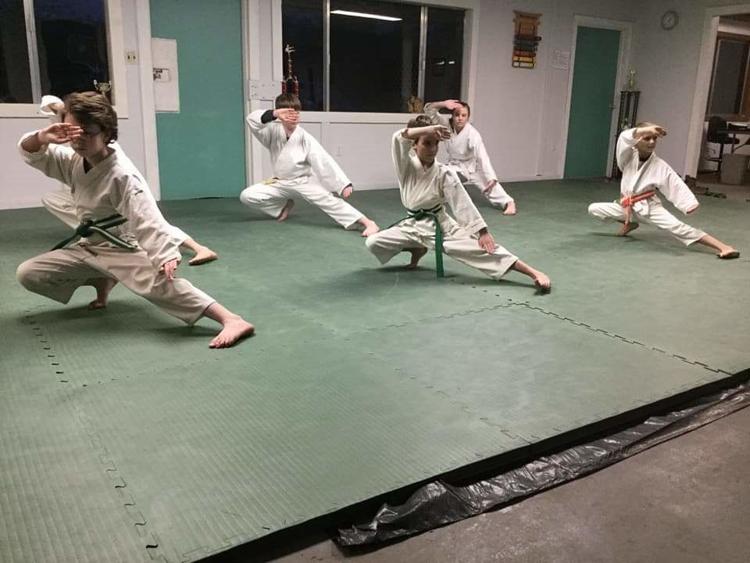 HKD is owned by Sensei (teacher of martial arts) Matt Hickman. I showed up early for class to visit with Matt and learn more about what he does there. Matt began teaching locally in 2015 and seems a kind and friendly young man. He was bursting with excitement to tell me about the classes since he enjoys seeing the positive changes in participants over time. He offers three age-based classes on Tuesdays, Wednesdays and Thursdays. The youngest age group class for 5-11 year olds begins at 4 p.m., then ages 12-15 at 5 p.m. and an adult class for ages 16+ beginning at 6 p.m.
The primary style for the younger students is Keichu-Do which combines elements from Karate, judo and Jiu Jitsu. The adult class is a Brazilian Jiu Jitsu class. Matt, who holds a black belt in Keichu-Do and a blue belt in Brazilian Jiu-Jitsu, oversees the classes, but has students learn to lead classes as part of their training. Classes are small and personalized, structured for the skill level of each student participating. Classes run consecutively with ages 5-11 at 4 p.m., ages 12-15 at 5 p.m. and 16 through adults at 6 p.m. Look for HKD.WAY on Facebook or call 208-820-1224. Martial arts classes will resume July 23 after Matt's midsummer break. Yoga and meditation classes will continue every Monday and Friday throughout the summer.
Matt told me that the best part of teaching youth classes is seeing the change and the happiness in the kids over time, as they gain a purpose, accomplishment and belonging. One student who began with an attitude low on life, struggling in school has transformed in two years into a happier, more confident young man.
Matt strives to provide a friendly welcoming environment that is inclusive for boys, girls, men and women. The younger kids begin with learning basic self-control and focus while learning how to move in an orderly way. The older classes learn a higher level of skills. I asked him about kids who are bullied in school. In his experience these classes can help both the bullied kids to increase their self-confidence and protect themselves, resisting the bullies, but also can help the bullies to learn self-control and when to hold back.
Remember this weekend is Stites Days with the theme, "Small town, big deal" with Don and Tina Andersen serving as grand marshals. Horseshoe singles and Bingo both begin at 6 p.m. on Friday night, July 12, followed by basketball in the park. Saturday morning begins with a breakfast and ATV poker run and parade in the morning and river-based activities in the afternoon. Activities for kids and adults continue through Saturday night with the Grant Webb Band playing live music on the Silver Dollar patio at 8 p.m.
The 23rd annual Elk City Wagon Road days celebration is coming up July 20-21, highlighting the historic wagon road from Harpster to Elk City that was used to haul supplies to the gold fields of Newsome, Elk City, Buffalo Hump and Thunder Mountain in the late 1800s. The wagon road museum in Clearwater includes historic photographs and memorabilia that tell the story of the road. Saturday activities include a parade, quilt and hooked rug show, historical presentation, old-time gospel hour and musical variety show, plus food and other vendors. No fees or registration to be a vendor or participate in the parade. Sunday is an all-day 53-mile self-driving tour of the Wagon Road from Clearwater to Elk City with stops at historic sites along the way. For more information about the event, telephone Susanne Smith, 208-926-4278 or Linda Winters at 208-926-4606.