GRANGEVILLE – Possible equipment issues with a lawnmower are a suspected cause of last Saturday's structure fire that consumed a garage. No injuries were reported, and the wood-framed steel structure, which included a small apartment, was a total loss.
The fire was called in by owner Brad Cash at 3:02 p.m. on June 1 at 21 Cash Road. According to assistant chief John Sangster, Grangeville Rural Fire Department, a dozen firefighters, three engines and a water tender responded within six minutes of the call.
According to Sangster, Cash had finished using the riding lawnmower and put it in the garage, and he started using a weed trimmer.
"He looked back and there was fire all around the lawnmower, and it took off from there," he said.
Action was largely containment, keeping from spreading, and hosing down the adjacent residence to keep it cool.
"The heat was pretty intense," Sangster said, from the engulfed garage. Two firefighters started 50 feet away, running two lines onto the building, moving in closer as it cooled. The connected apartment hampered efforts, making it difficult to fully reach all the fire; however, its insulated walls slowed the fire, keeping the structure standing.
Crews contained the fire in less than a half-hour and were on scene a total two hours, most of which in mop-up. Garage contents, including outdoor tools and a stored book collection, were lost.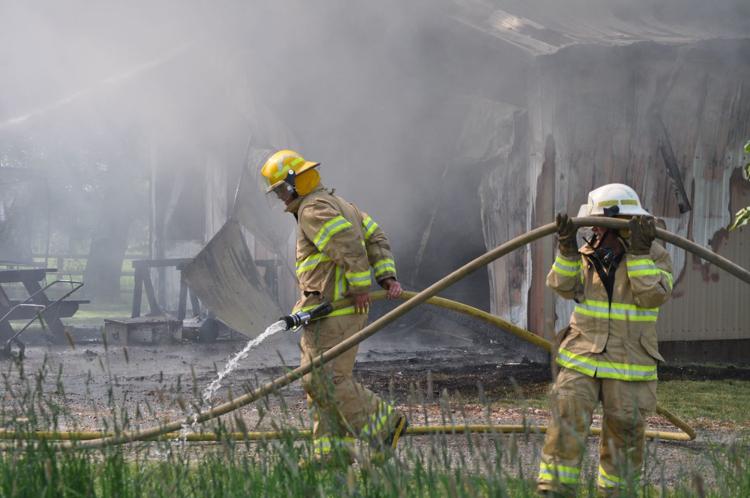 Possible issues in this incident were a fuel leak or disconnected fuel line, according to Sangster.
Sangster advised safety tips for those using yard equipment that generate lots of heat, such as lawnmowers and weed trimmers; not to park these close to combustibles and allow them to cool down before shutting them up in storage.
Assisting GRFD on scene, temporarily closing Cash Lane to traffic, were deputies with the Idaho County Sheriff's Office.