GRANGEVILLE – Darin Hunter has turned a beloved hobby into a career path. That path recently led him to winning the Real Knife Makers of America challenge recently.
Hunter owns Hunter's Forge in Grangeville and entered the knife-making contest that was sponsored by knife enthusiast John W. Savage, also known as The Hillbilly Knifemaker.
Grangeville's Darin Hunter of Hunter's Forge won a recent Real Knife Makers of America challenge with the above piece.
"More than 30 were entered in this challenge," Hunter explained. For his winning knife he combined fishhooks with powdered steel, which when fired caused a unique design in the knife blade.
Since he won the challenge, he will now receive a personal visit from Savage. At that time, he will open up his forge to bladesmiths, veterans and law enforcement. After the event in his forge, they will go to a public location to have a gathering, display knives and barbecue. This event will be open to everyone. The time and location are yet to be determined.
Hunter's love for knives and being creative started in high school when he made his first knife. He was born in Alberta, Canada, while his parents were attending school there, and he was raised in the Kooskia area, graduating from Clearwater Valley High School.
Following graduation, Hunter spent eight years in the U.S. Army where he served as a mechanic. He and his wife, Kim, decided to settle in Grangeville to raise their sons, Chance and Trent, both of whom are Grangeville High School graduates.
He worked at the mill for years but continued to dabble in knife making and foster his creative skills.
"I was always intrigued with old western blacksmiths, and I also had welding abilities, so I just kept learning and teaching myself about the whole process," he explained.
Hunter watched many on-line tutorial videos, built up his at-home shop with tools, and learned by trial and error how to forge steel blades and creative knives from a variety of materials.
"I enjoy repurposing different items," he said. Such as old farrier's rasps, chain-saw chains and other hunks of metal.
Three years ago, he took the plunge to pursue his love of knife making full time.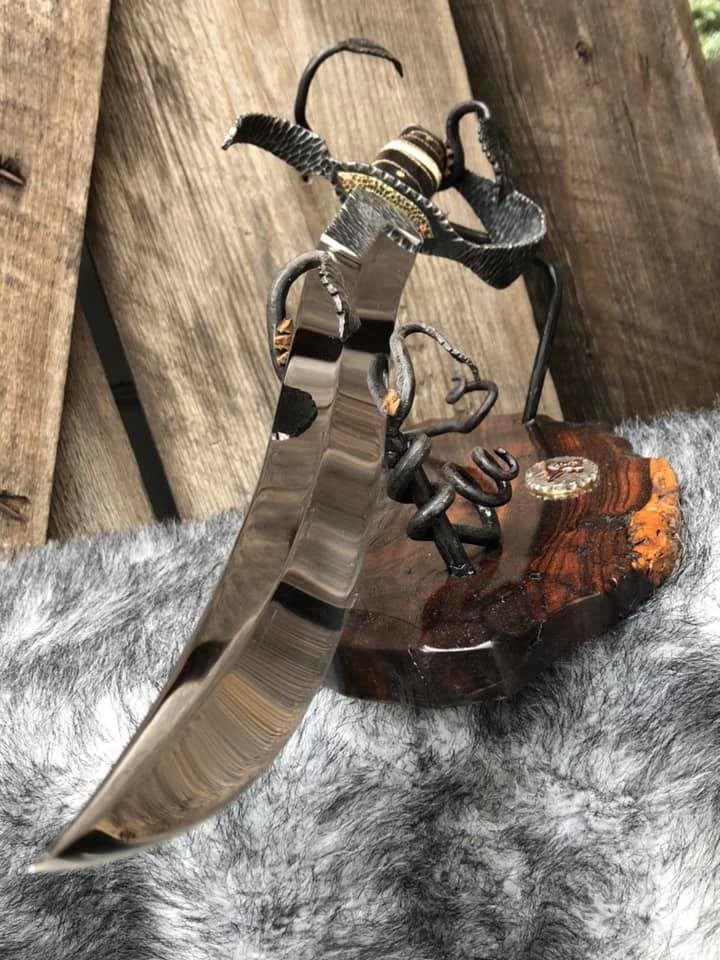 "I'm really blessed as Kim has a good full-time job she loves, so she has been really supportive," he said. Kim is a radiologist at Syringa Hospital.
Hunter creates a variety of handmade and custom steel pieces, none of which are ever the same.
"It's not cookie cutter at all," he said. "No two are alike."
He has built equipment in his shop at 327 West North 5th Street to suit his needs and works upwards of 50 hours a week most weeks. He sells his wares all over, mostly through social media sites and on knife forums.
"I spend a lot of time in this shop," he smiled. "I love it and I know I'm fortunate to be able to do something I love."
Hunter isn't alone in his endeavors. He is kept company by his bulldog, Marley.
"She's a good dog," he smiled as Marley gave him a high five.