GREENCREEK — After a year off due to COVID-19, the annual Camas Prairie Area Farm and Forestry Fair was in full swing Thursday, April 22.
Elementary school students, in mainly fifth grade, from Idaho and Lewis counties gathered at the Greencreek Community Hall and made their way through a variety of stations where they heard eight-minute presentations of a variety of subjects.
Presenters were from Idaho Department of Lands, Nez Perce Tribe Bio Control, Soil Conservation Services, Idaho Forest Group, Grain Max Theater, Idaho County Farm Bureau (dairy and wheat), Idaho/Lewis County CCA, Noyes Apiaries and Upper Clearwater Master Gardeners.
Aside from listening, students were also able to do some hands-on learning through grinding wheat (and eating pancakes), making seed balls to plant and attract bees, count log rings and milk a faux cow.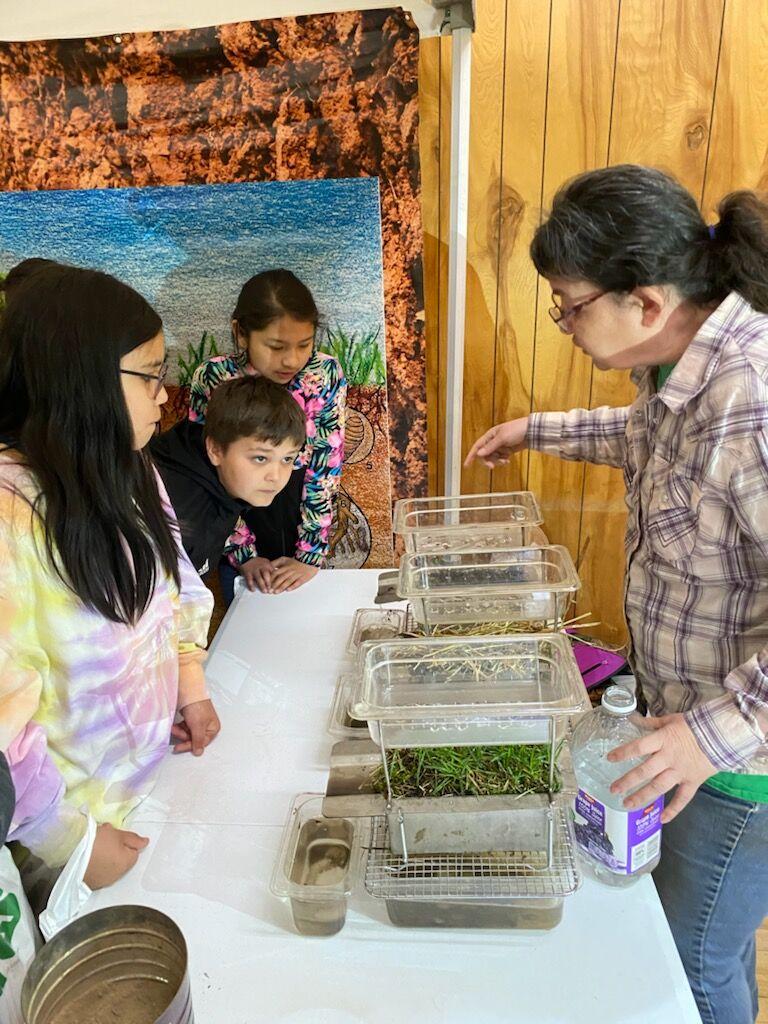 "It's a great opportunity for the kids to learn a lot in a short period of time, and from year to year each new group looks forward to this," said organizer Susie Heckman, Idaho County 4-H Program Director.
"It is fun to see their excitement," agreed University of Idaho Extension Agent Jim Church, who spent the day keeping groups moving from one station to the next.
Eileen Rowan, Soil Conservation Services, showed students a demonstration on run-off and erosion.
"When you plant and create a barrier, you an see it helps the soil from eroding away," she explained.
Idaho Forest Group's Glenn Poxleitner again kept the kids' interest with examples of tree rings and telling the ages of these stump pieces. This led to discussions on nutrients, thinning and growing space.
"Some people think we just clearcut the area above Grangeville for no reason," he showed photos to the kids. "But it was not healthy there — the trees were too close together. We replanted 35,000 trees there."
The importance of bees was touched upon at more than one station as children were encouraged to plant bee-friendly gardens.
"Bees are an important part of our ecosystem as they are our pollinators," explained Nick Noyes with Noyes Apiary and The Honey Store out of Fruitland.
For questions contact the U of I extension office in Grangeville at 208-983-2667.