GREENCREEK — A string with a weight on it is rigged up to Nathan Wassmuth's bedroom light switch, ending above his top-tier bunkbed.
"I just thought about doing it, turning off the light from bed without having to get up," the 12-year-old shrugged, smiling.
Nathan is the youngest son of Eric and Alea Wassmuth. His siblings are: David, 19; Erin, 17; and Levi, 15.
Engineering and building are just a couple of pastimes Nathan enjoys. He used an old tabletop from his school, St. John Bosco Academy (SJBA) in Cottonwood, to make a Lego building board. It slides perfectly under the bottom bunkbed in his room when not in use.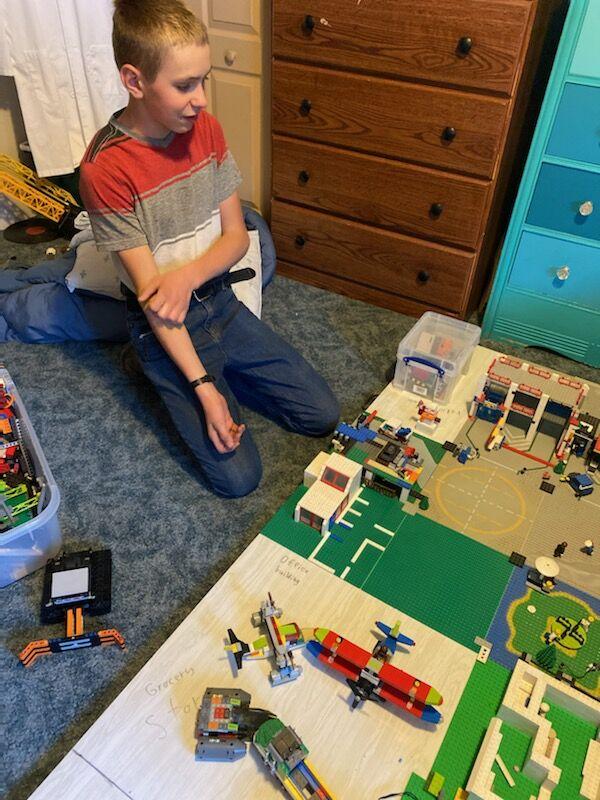 The board holds intricate designs — both from kits and those purely from his imagination — of a city complete with fire and train stations, a hospital, airplanes and other vehicles. Some of the Legos, stored in a large plastic tub in his closet, have been passed down from his parents and aunt, while others are ones he has received as gifts or purchased himself.
Two spots remain labeled, but not built on the board: "Grocery Store" and "Office Building."
"Legos can get kind of expensive, and I'm out of the green bottom boards," Nathan pointed. "So, I'll get to those when I am able to."
Nathan is a seventh grader this year who loves to read, especially about dragons, and enjoys spelling.
"I will reserve judgment on school for now," he smiled, saying this year would be different as he is moving from room to room for junior high.
He hopes to become an architect one day, and would like to visit other parts of the country and see what they're like.
"But I really like it here," he said of the family farm, where his chores include driving the bankout wagon during harvest, working in the fields, taking his turn making school lunches, taking out the compost and feeding the family's cats and dogs.
Currently, he is building a Go-Kart and enjoys his time outside riding his bicycle and helping his dad.
"I have a wide range of interests," he said.
Nathan considers himself a doer rather than a television watcher, so much of his time is spent building, creating, reading, and helping at home and at his church, St. Anthony Parish, as needed.
Something he is looking forward to is the new school building at SJBA.
"The gym is going to be huge — college size," he said, readying himself to play basketball again this year.
Nathan said being the youngest in the family has its ups and downs.
"Everyone has the upper hand on you, literally," he laughed.
However, having his own room is now a plus.
"I can spread out and even leave my Legos out if I want," he grinned.