GRANGEVILLE – Next month, the Grangeville City Council will be deciding whether to support a proposed multi-use path project west of town. Representatives for the Grangeville Highway District -- which is backing the project and a pending federal grant application submission – were before the council last Monday, July 15, answering questions and providing further details.
But Jim Roletto with HM&H Engineers, project developers on the path, was clear on how city support, or lack thereof, would impact their application.
"In watching these and having rated them," Roletto said, who formerly worked for the Idaho Transportation Department, "we'd have a much better chance with you guys than without you."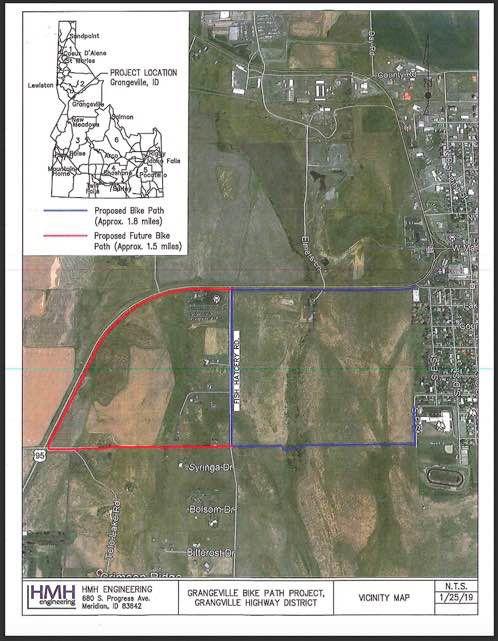 Proposed west of town is a 1.8-mile asphalt-paved loop, from Grangeville High School, along Fish Hatchery Road and east along U.S. Highway 95. The project's estimated cost is $500,000. Two public scoping meetings have been held to present information and gather comments, and this will be the district's second presentation before the council.
The proposal has already gone before the Idaho County Commission, which on March 26 stated it had no current objections to the plan.
"The easy one first; the city will not have to maintain it," Roletto said, in addressing council concerns raised at its March 18 meeting, which project lead Darryl Mullinix reiterated later in the meeting as the path's maintenance being 100 percent the responsibility of the district.
Roletto continued that the path could have scheduled closures for issues of snow or maintenance, and that it could accommodate multiple approaches crossing it. An issue raised by the council in March was the potential conflict with future development in the project area.
"This path can be removed and redone, or fit differently, Roletto said. "It couldn't be removed and forgotten, because we're dealing with federal money here, but we can adjust with development. Our thought was we try to develop it with what we know, or future plans, and work around that, and also reach out to you with where is the best location and how we should move it around."
"Even at the time the application goes in," he later continued, "it's not set in stone. We still have the opportunity to adjust it if we missed something…. We're just putting in money for a path from here to here, however best it fits."
Mullinix noted the multi-use path proposal has received more than 140 signatures in support. He appreciated the public proposals for alternative path locations around the Idaho County Airport and on Crooks Street; however, "the big picture is, we don't have the rights of way to go anywhere else."
Parking to access the path is an issue city public works director Bob Mager raised: "Once you put a path in, they're going to want to come to it…. They will want to come through us to get to a spot to park to take off and enjoy their little jaunt."
Roletto noted this was one part as yet not completely determined, and Mullinix noted they are in discussion with Grangeville High School on possible use of its parking facility.
"The high school has been very good, allowing the community to use their current track as a walking path, and currently a lot of the community goes up there, including myself," he said, adding there are good opportunities in connecting the path with the GHS.
"This is for the kids, and the safety of kids," he said. "This really is a safety project to get walkers and bicyclists off our current road structure. You folks know none of the highway district road system is constructed to accommodate walkers and bicycles. This gives us an opportunity to address that."
Mayor Wes Lester asked how dog waste cleanup would be addressed, which would be a concern for property owners adjacent to the path, and also on whether the path -- in the event bathrooms were later installed -- would accommodate support vehicles.
"It will be out there like you won't believe; I know. That's one of the major issues," Roletto said on dog waste. He stated the district will definitely have to budget annually for path maintenance, noting other concerns such as potential problems with tree roots and weeds pushing up through the path.
Councilor Beryl Grant asked why, when this would be out of city limits, the proposal needs city support?
"Every time we do one of these, we want the county, the city to agree that it's a good project to show it's worthy," Roletto said. "I used to judge these, and we want to see jurisdictions for strength that everyone is together…. If they're controversial, they [grant funding entities] have lots of projects to give their money to, and they don't want to be in the middle of answering questions, either."