NEZPERCE – Speakers called for information, for the truth to be spoken, educated on constitutional rights and vented frustrations at a patriots' rally, held at Nezperce Lions Park on Saturday, Aug. 1.
"To me, this is all about the truth," said David Barnett of Orofino, an area 2 assistant for the 2nd Amendment Alliance, which coordinated the approximate three-hour event, culminating in a half-hour speech by Ammon Bundy of Emmett. Barnett said this was to be proactive in addressing issues in relation to last month's officer-related shooting of Riggins resident Sean L. Anderson in Ferdinand following his alleged flight from law enforcement during a traffic stop.
Anderson, 52, is currently incarcerated in the Nez Perce County Jail on a felony aggravated assault upon a peace officer charge, related to the July 18 incident. He was arraigned July 29, a motion was filed for psychological evaluation, and he is set for a preliminary hearing this Thursday, Aug. 6.
Addressing the more than 50 people who attended the park rally, Lewis County Sheriff Jason Davis thanked them for their attendance and for "being peaceful like you are today. That's what we were hoping for, and that it continues through the rest of the day."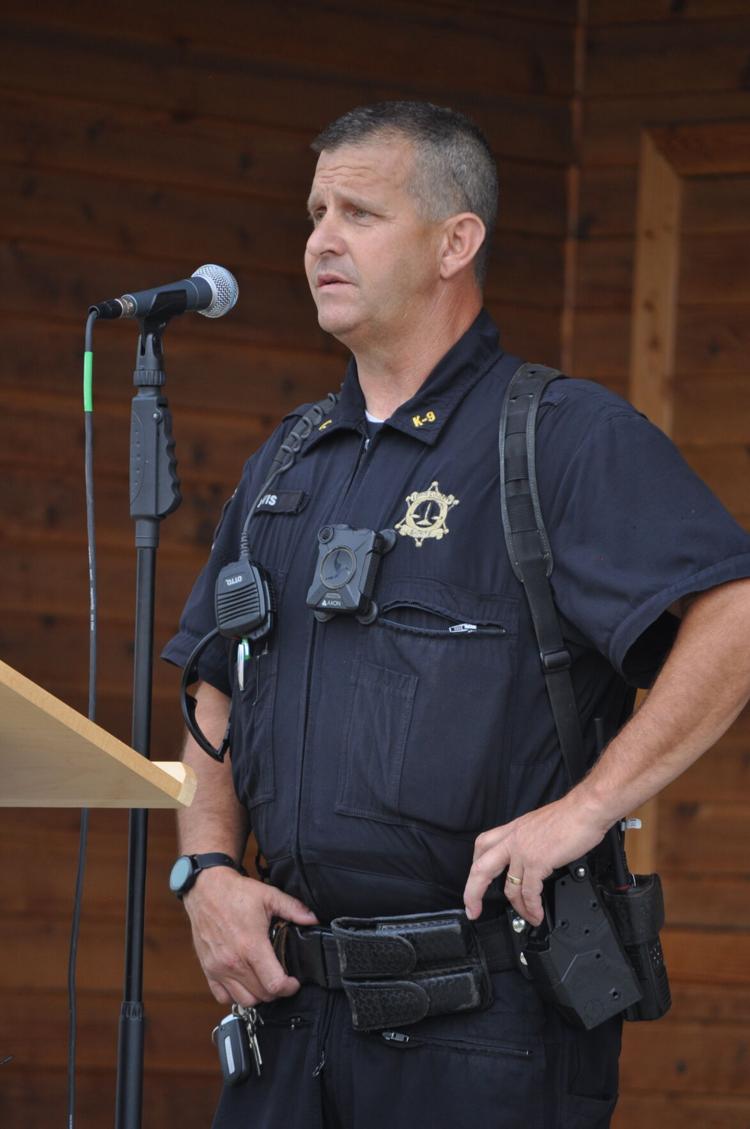 Anticipation for a potential escalation into conflict resulted in the City of Nezperce declaring a local emergency last week, urging citizens to stay at home during Saturday's rally. This was due primarily for concern of residents from potential COVID-19 infection, according to the city. Not knowing what to expect from what attendees the event may bring in, Lewis County established a unified command to ensure security and safety, utilizing multiple law enforcement agencies and first responders from throughout Idaho. This included support from Nez Perce, Latah and Idaho counties; Lewiston, Moscow, Shoshone, Grangeville, Cottonwood, Bellevue and Nez Perce Tribal police departments; St. Mary's and Nezperce ambulance, and Nezperce and Craigmont fire departments.
The concern for escalation also mobilized Nezperce residents, as well as those from across the region and some from out of state, who mobilized to "Back the Blue" to support local law enforcement to counterbalance the rally. Captain Jim Gorges estimated more than 30 people were involved from various different groups and organizations who volunteered their time to show support. Locals had also organized several days prior to the rally, and had stationed individuals across the community to provide protection for downtown businesses, which had closed for the day due to the rally.
Those who attended to support law enforcement and protect life and property were advised, according to Gorges, that they are not "anti-protestors," that they were not to stop people from exercising their First Amendment rights, to not engage in confrontational conversations and to be "friendly and courteous to everyone you meet."
He added, "We are grateful to them for their sacrifice of a weekend."
The event remained peaceful, and apart from individual moments of heated back and forth conversation, no serious conflicts were reported.
"Personally, I want the truth to get out; I'm a truth seeker. That's why I drove up here from Medford, [Ore.]," said Gary Fowler. He attended the rally to hear Bundy, whom he has heard different and conflicting stories about, to "…meet the man and see for myself, if I want to be supportive of this."
Fowler echoed the comments of several rally speakers, including Anderson's wife, Sandy, who want bodycam and dashcam footage of the shooting incident to be released to the public, "…so we can all make a decision on what was right and what was wrong and what happened, and how a traffic stop turns into someone being shot in the head," Fowler said.
"The whole incident with Sean hurts my heart," Barnett said during his presentation. He and Sean are friends and have attended patriot events in Lewiston and Coeur d'Alene, and he stated his distress at what has been presented about him, adding Sean is not "anti-cop," but against law enforcement overreach. "Nobody here knows the facts, nobody has the evidence. There's a lot of hearsay and speculation. I'm here to say, I support all sides when it comes to this. If our lawmakers, our elected sheriffs we have chosen are upholding the constitution and are doing what is right, I support them 100 percent."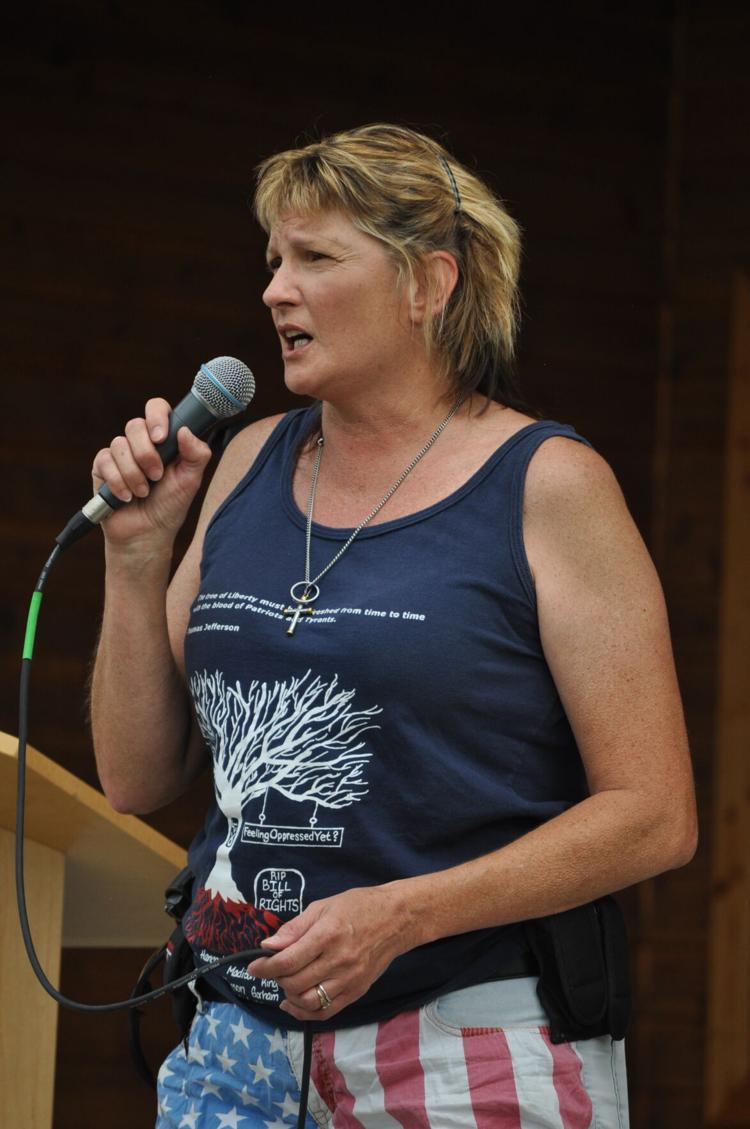 "He was accused of not dimming his lights, and he ends up with a bullet in his face," Sandy Anderson said. "How does that happen? We should all be upset with that."
Sandy discussed Sean receiving insufficient health care in his various transfers in several hospitals and jails that are affecting him and especially the healing of his injured eye, and rude treatment she has received in trying to meet or correspond with him and to help in his recovery. She said their attorney had petitioned for Sean to be released into her care, which could be done with assurance as, "right now, in his weakened state, he couldn't go anywhere if he wanted to."
Sandy continued, "Do your charades in the courts all you want, but do it after he's healthy and not after you've killed him and put it out in the news media that lies. We want the truth."
Bundy spoke to a problem in law enforcement that is, "not the issue of right or wrong, it's not the issue of loving your neighbor. It is a matter of their simply backing themselves or others backing them no matter what." In judging matters, he told the crowd to look at the entire picture, be educated and not prejudiced, "but if I am wrong, I don't expect you to stand with me, and that's the same with law enforcement."
"Who has the right to rule?" is the question this generation has to decide, Bundy said, which he answered is the right of each individual person, one that was given by God.
Bundy pleaded to "those who hold the power of the force of law in their hands" to individually choose the right to understand who has the right to rule and "to respect every single individual you come up to, to treat them as you would want to be treated, but understand that their decisions are sacred, and what they decide to do with their own life is sacred, and that they're infringing upon someone else's right, they have the right to do whatever they want."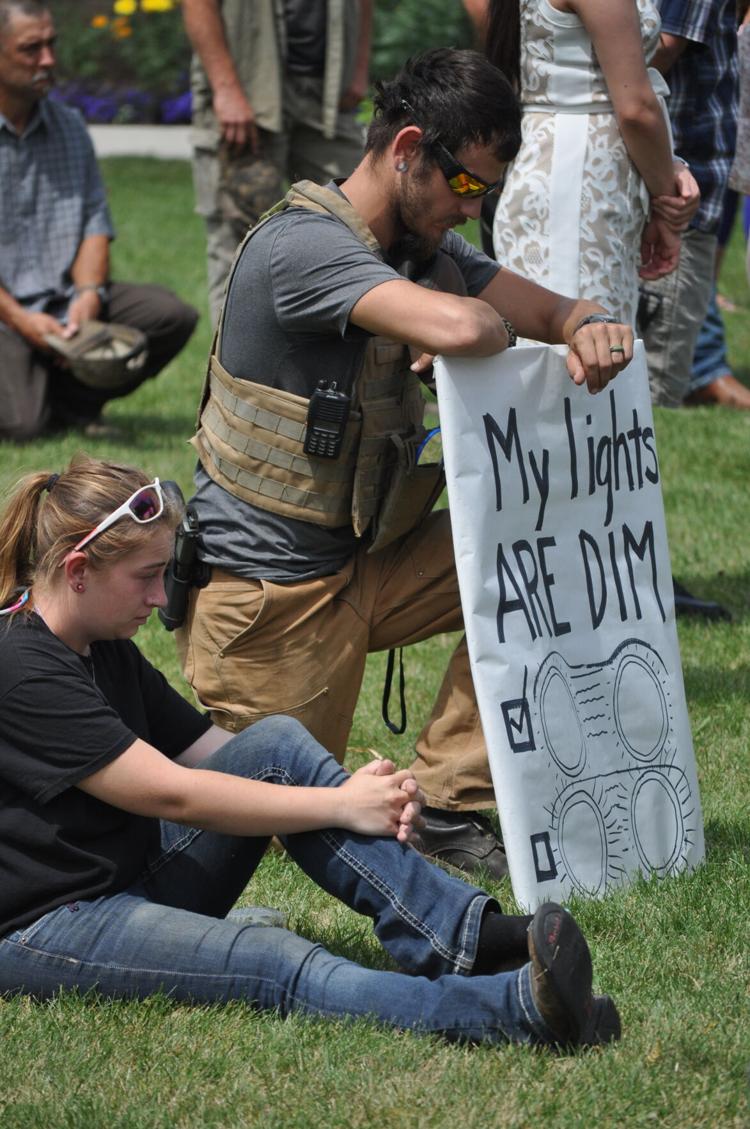 As rally participants finished the event with a car parade through downtown Nezperce, groups supporting law enforcement stood on the sidewalks. Words exchanged both ways from passing cars and bystanders, but the event ended with law enforcement congregating at the Lewis County Sheriff's Office.
"It was peaceful," said Gorges' wife, Amy, of the event's aftermath, who was among several watching as the parade dispersed out of town. While those attending the rally have a negative view of law enforcement, she spoke for their supporters saying, "We love our cops. They are guys we go to church with, our kids play baseball together, we shoot guns with them and have meals with them. They're not these scary figures in our communities…. The people who came up here to go against these cops don't have to live with them, they don't know them. That's the difference."