GRANGEVILLE – Last week, a house on Grangeville's C Street found a new home site. The house belonged to Helen Nuxoll, who died in October 2016, at the age of 104. The house sat next the Eagles Hall, just a lot over from Palenque.
"The house was moved off the foundation and towed to a location out on the Nez Perce Highway, not too far out of town," her son, Jay Nuxoll, of Bellevue, Wash., told the Free Press. "She had resisted selling so long, always wanting some family to move in and raise little kids as she had raised hers."
Jay recalled moving to the house in December 1945.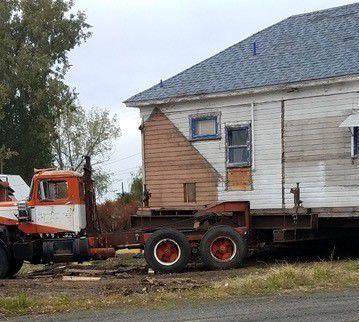 "We moved the last of things in a wheelbarrow after dad [Ralph Nuxoll] bought the tract with the house from Gib Eimers, Sr. "I think the house was actually built in 1919, but was later added to at least once and maybe twice. Dad and Mom put a basement under it, which is now a hole, and grafted the cellar onto it. The cellar, my brother Max remarked, looks so small now that it was cut off from the house -- as was the washroom to the west that I had converted to a bedroom for myself so many years ago as an eighth grader."
A small traffic jam on U.S. Highway 95 occurred Monday, Oct. 21, when the house moved by Quality Heating and Air Conditioning.
"That was the old Hoene Implements building, where Dad sold International Harvester equipment and trucks until he retired in 1962," Jay said.
The family said the house was sold to a man who gave the house away to be moved to another location.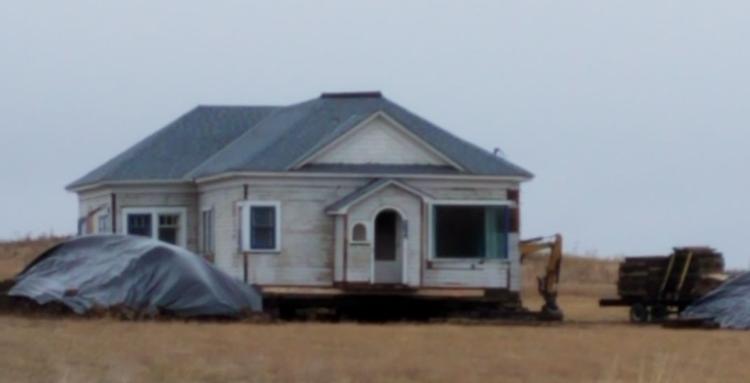 That man was Adam Shatz, from the Tri-Cities, who had originally hoped to sell the land to Syringa for a helipad. However, that plan went in another direction.
"I work for Adam, helping him refurbish and demolish homes," said Heather McHargue of Grangeville. "When he started to tear down the Nuxoll home, he said I had to see it."
McHargue said the house was in excellent condition with beautiful hardwood floors under the carpet.
"Adam ended up giving me the house and we arranged to have it moved to my property on Highway 7, about a 4 and one-half mile move," she said.
Jay said Bunky and Lois Lathan provided some moving photos for him.
"We were in grade school together, but I left for school in Oregon, and he graduated from Grangeville with what would have been my class of 1953 with Carol Sue Ailor, Jane Kissinger, Shirley Rhoades and more -- I am still an honorary member of the class," he said.
McHargue said she is excited to have the home, and is putting it on a foundation, and is working – in addition to her full-time and part-time jobs and attending school full time – to have it back together, new windows installed, painted and floors exposed and ready by Christmas.
"It's going to be the home I live in and I've named it 'Second Chance Place,'" she smiled.
Ralph and Helen Nuxoll raised their five children -- Adonna, Jay, Roger, Max and Carla -- in the C Street home.
"We all have loved it dearly. We would hate to have seen it destroyed. My father used to pray that mother would live a long time so his kids would always have her because his mother died when he was 3," Jay said. "We kids were all of Social Security age when she died at 104. And she always prayed that the house would be used to raise another family. Who can deny the power of prayer?"