GRANGEVILLE – "I know it doesn't look like spring out there, but spring is coming," said Jill Bruegeman, University of Idaho Extension – Idaho County.
Despite the deep snow and icicles, people are inquiring to the extension office on how they can get started on their landscaping maintenance. To that end, U of I Extension, along with Green Acres Nursery in Grangeville, held a pruning and spraying for trees workshop for 10 people on Feb. 27.
"Why spring?" she asked, explaining spraying is best done during the tree's dormant period, usually fall through early spring, and when will depend on such factors as the type of tree and its specific growing schedule. To be effective and minimize spreading chemicals to yourself or other plants, spraying should be done on a dry, non-windy day.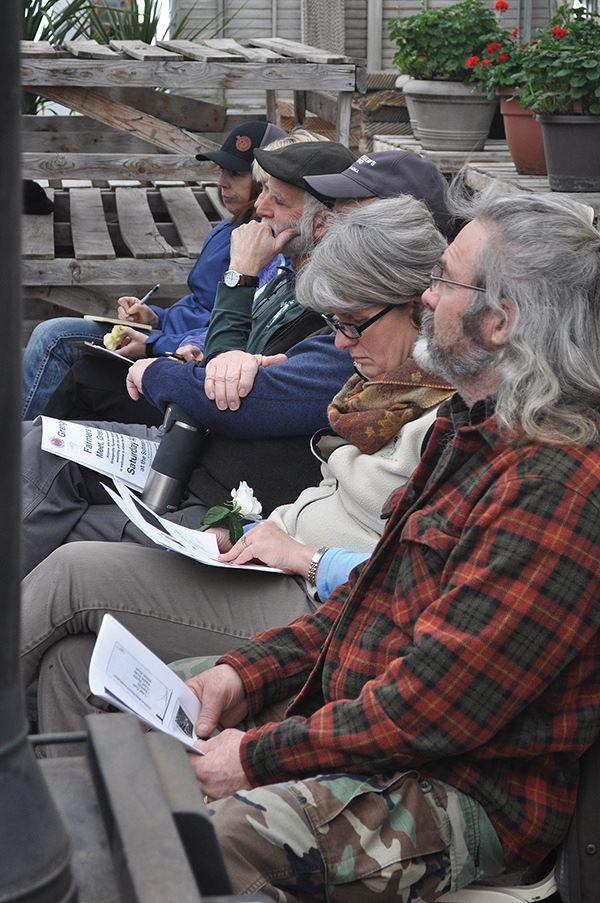 Spraying should also be done before the green tip stage, when new growth is seen, she said, or in the pre-blossom or blossoming stages. About this last, it can have negative impacts on beneficial insects, such as bees, as well as on the trees themselves.
"You're not only killing off the pollinators, your killing off the petals," Bruegeman said, that in turn, again affects those beneficial insects.
Why talk about this now? Bruegeman said in some areas during this time of year, the conditions and climate allow to get out and start working on landscaping.
"One of these days the snow is going to melt," she smiled. "For now, we need to be thinking about what situations we had last year," such as issues with bark or fruit production. Common diseases for this area are leaf curl, aphids ("It was bad last year, completely black with them in some areas," she said), apple scab (brown spots that can affect appearance for market) and black knot.
"This is common with apple trees," Bruegeman said, of black knot, which looks like bark, but the black growth will kill the infected part of the tree. This can be corrected with both spraying and pruning. "This spreads very quickly, and it will spread from tree to tree if you don't cut that out of there."
To deal with insects, effective control requires the proper application with the appropriate chemical at the correct time. So, spraying for insects in their larval stages, she said, will be more effective than when they have fully developed. In addressing infection issues, remember, "leaves are doubled-sided, so get both sides to get more impact out of your spray."
One attendee asked on soil treatments versus sprays, and Bruegeman explained there are chemicals to put around the tree and pulled up into it to address problems with borer insects.
"You won't have to spray the entire tree," she said, which also is beneficial to pollinating insects: "You won't have the problem with bee kill."
When to prune trees, and shrubs, depends on the time of year, but Bruegeman warned against doing this in very cold temperatures, which could cause bark to split and plant tissue to freeze.
Pruning is beneficial for young and old trees: for those three to nine years, it helps with maintaining shape; for older trees, it opens the up to sunlight and improves plant health. Specifically for fruit trees, pruning makes for stronger branches, improves tree health and makes fruit easier to pick.
Bruegeman provided handouts on basic pruning methods that illustrated proper cuts to encourage growth, avoid breaking and tearing of limbs and bark, and that allow for water to run off. Something they don't see often these days is wound dressing, applied to pruned areas to protect them until tree growth can cover them.
"This doesn't really keep diseases and insects out. It's simply cosmetic," she said. However, what is put on the cut can make a difference, such as exterior house paints. "They have chemicals in these that can do more damage to trees."
Also, not only is using the right pruning and cutting tool important, but also in when and how it is used. Avoid cutting in wet weather, she advised, especially when addressing fungus issues as the situation can cause the spores to spread. In cutting infected limbs, cut well below the infected area to avoid re-infection. Disinfect the tools with a bleach solution or rubbing alcohol after each cut to prevent re-infection or spreading the issue to another tree.
The three "D"s for pruning trees are for those dead, damaged or diseased, Bruegeman said, and the cleanup is another important part.
"Especially fungal problems," she said. Promptly burn infected branches or bag these and take them to a landfill. "If you leave them on the ground, this will get back in the tree and spread the disease."
The hour-long presentation is part of a public education effort by U of I Extension, which plans to improve its horticultural outreach programs. For information, 208-983-2667.