GRANGEVILLE — "A child's education should not rely on their zip code," said Luke Mayville of Reclaim Idaho.
Mayville met with about 15 volunteers in Grangeville on Friday, Sept. 3. He was in the area to help publicize The Quality Education Act. Reclaim Idaho's primary organizing tactic is the ballot initiative. Petitions are currently available for this act, and local volunteers are canvassing District 7 for signatures.
"This is a reasonable tax reform that will do a great deal of good," Mayville explained, saying the act calls for restoring the corporate tax rates, as well as a modest rate increase for couples earning more than $500,000 a year and individuals earning more than $250,000 a year.
"The tax would only be on what they earn that is over that amount," he explained.
Mayville said "Reclaim Idaho" is simply trying to reclaim the Idaho Constitution which states, "it shall be the duty of the legislature of Idaho, to establish and maintain a general, uniform and thorough system of public, free common schools," (Article IX, section 1).
"This should have great local appeal, as this act will shift the burden off the property owner," Mayville said.
Monies would be for programs (including special needs education, all-day kindergarten and other critically needed areas), as well as competitive salaries for teachers so they will be more inclined to want to stay in Idaho, Mayville said.
Volunteer Larry Nims of Kamiah spoke up about some ideas of how to talk about the initiative to locals.
"My grandchildren in Boise have so many more choices for classes than the kids in Kamiah or anywhere around here do," he stated.
Mayville said personal stories of how few electives and classes such as shop are offered locally are a good way to broach the subject with people.
He also spoke some on the historic Idaho Supreme Court victory Aug. 23 that overturned a restrictive new initiative law passed by the Idaho Legislature this year, ruling it unconstitutional.
"The Idaho legislature and Gov. Little had voted for Idaho to have the most restrictive initiative laws in the nation, even though many people testified and spoke out against it," he said. "They wanted to shut down the process, and it backfired on them."
He said in an unprecedented move, used for the first time in 41 years, the court applied the Private Attorney General Doctrine which is an equitable principle that allows a party who brings a lawsuit that benefits a significant number of people, or which has resulted in the enforcement of an important right affecting the public interest to recover the attorney fees. The purpose of the doctrine is to encourage suits of societal importance, which private parties would not otherwise have an incentive to pursue.
"So, we will be able to get our legal fees back, which is extraordinary," he said.
Volunteer Shelly Dumas of Grangeville had questions on how much the lawsuit cost and Mayville estimated it to be in the $500,000 range, but said it could be much higher.
"All that could have been used for education," volunteer Jennifer Artley of Grangeville shook her head.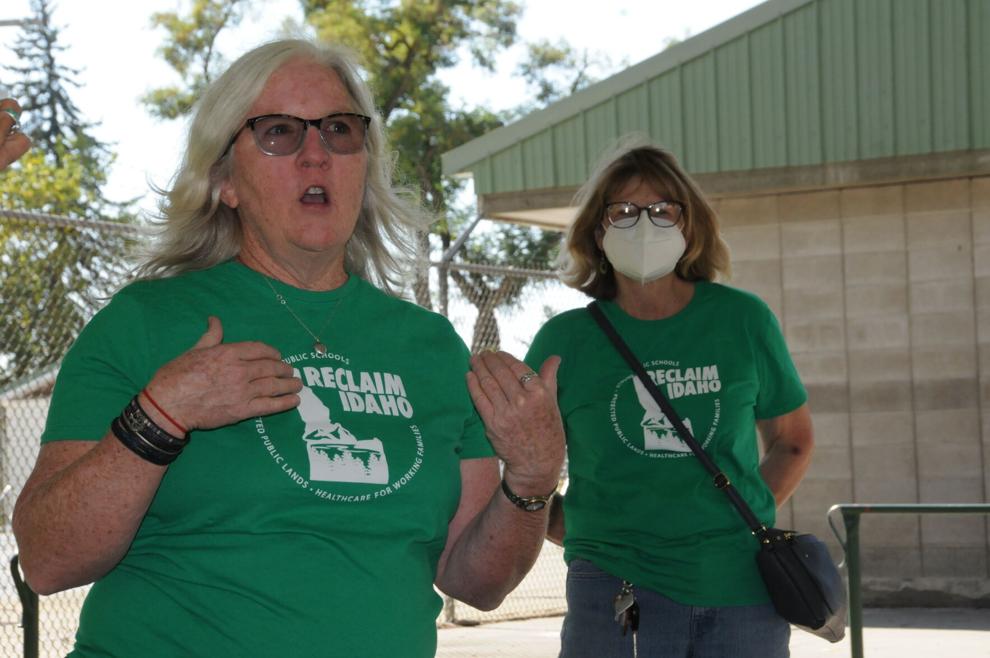 Mayville said Legislative District 7, which encompasses Grangeville all the way up to Sandpoint, was "pivotal in helping to pass Medicaid reform" in the state. He expressed gratitude to Grangeville volunteers Laura Embry, Shireene Hale and others for their work on the initiatives.
For The Quality Education Act, the district will require about 2,000 signatures. Anyone who wants further information or wants to sign a petition can go to www.reclaimidaho.org or contact Embry at lauraembry1@gmail.com.