KOOSKIA — After 13 years of operating the Idaho County recycling program in Kooskia with volunteers, the program has been incorporated into the new Simmons Sanitation site in Kooskia. The Old Pole Yard community drop-off site, located on Thenon Street, is now ready to accept cardboard, tin and aluminum cans, and newspapers.
On Nov. 17 Janie Fluharty and Liz Clark from the Idaho County recycling group met with Simmons Sanitation staff to line them out on the recycling bins which Simmons moved from the former Kooskia recycling site. People will be able to recycle anytime the Pole Yard site is open. The staffed site is open Mon., Tues., Thur. and Fri., 7 a.m.-3 p.m., and Wed., 7 a.m.-6 p.m. They are also open the first, third and fifth Saturdays of each month, from 9 a.m.-4 p.m.
Clark and Fluharty are hopeful the "one-stop shopping" to dispose of both recycling and solid waste will encourage people to recycle more.
"We're counting on you to get the word out," said Clark, addressing Simmons staff members. Robert Simmons explained, "our people are meeting everyone at the gate." He added that they can line people out on the recycling bins and help them, if needed. Staff will also hand out brochures about what can be recycled. Simmons employee Kris Shook, who works at the Pole Yard site, said, "A lot of people have been asking about recycling. People are excited it will be here."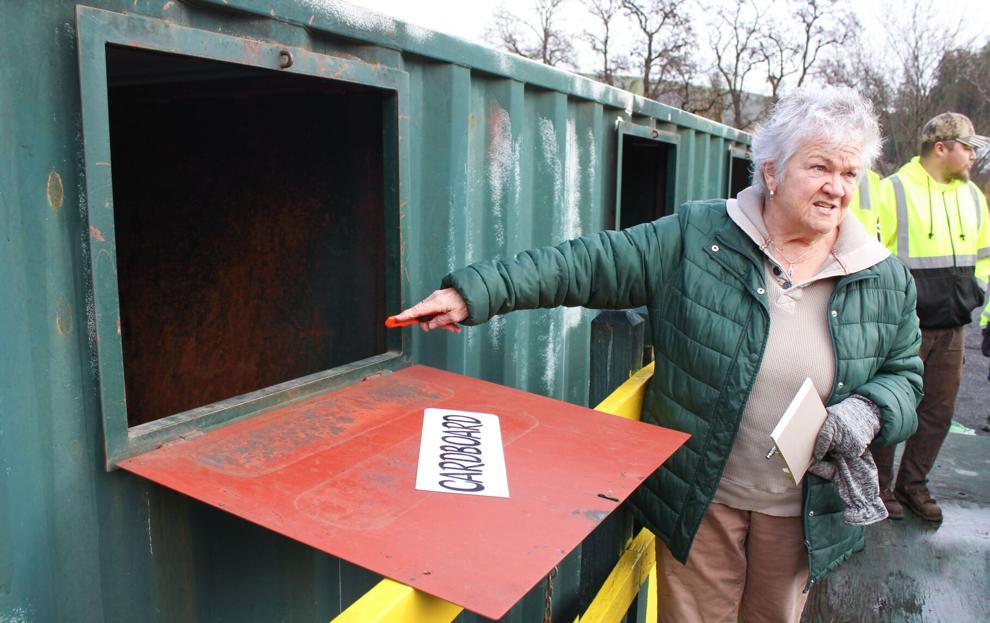 Items brought for recycling should be clean, sorted by type. Cardboard, including cereal boxes and brown paper bags, in addition to cardboard tubes and corrugated cardboard should be flattened to save space. Tin and aluminum cans should be rinsed and have labels removed. The newspaper bins can include catalogs, magazines, paperback and phone books.
Western Recycling hauls the recyclables to Lewiston, according to Fluharty. The price paid for recyclables plus cardboard pledges from some local businesses and individuals covers the cost to haul recyclables.
"Anytime that we can divert waste, it saves money," said Robert Simmons. He acknowledged that haul costs have increased in the past few years. Idaho County's solid waste is hauled to Missoula, Mont.