GRANGEVILLE – Medicaid expansion, education funding and minimum wage were among the topics up for discussion at last week's Pizza and Politics event. Rep. Mat Erpelding (D), minority leader (Dist. 19A, Boise) addressed nearly 40 people who attended last Thursday evening at The Gallery in Grangeville.
"The legislative season started off relatively slow this year because of Medicaid expansion," Erpelding said, referring to last year's Proposition 2, which passed by a 60 percent margin and in 39 of Idaho's 44 counties. "Which is pretty impressive," he continued. "Idaho County was one of those five that did not, but it was really close, which shows you even here there was a lot of support for Medicaid expansion."
In Idaho County, 58 percent of voters opposed Prop 2.
Prop 2 approval directed the state to expand Medicaid eligibility rules to include anyone earning less than 133 percent of the federal poverty level, which is estimated will provide access to preventative health care services for about 62,000 low-income Idaho residents. As of press time, the initiative is before the Idaho Supreme court, awaiting determination on the challenge it delegates authority to the federal government.
Erpelding said the number to be helped through this is more likely near 91,000, which reflects those who are currently buying insurance coverage on the Idaho Exchange who will come off and onto Medicaid roles.
"People say, "What if it's more?' and I say, if it's more then we should be embarrassed as a state," he said, "as it means there are lot of people out there who aren't getting anything, and we don't know because we are so out of touch as a government."
"If the court rules in the voters' favor, he said, "we will have to get to funding Medicaid expansion. That will be the heaviest lift of the session."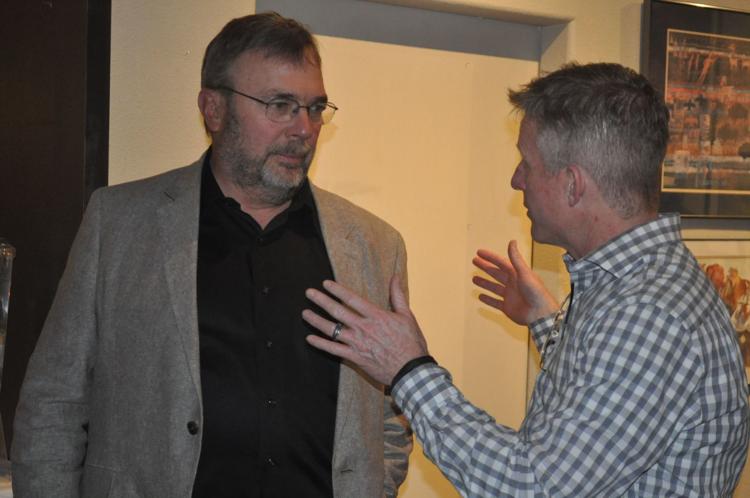 "The second heaviest lift," he continued will be pushing for a new school enrollment funding formula. The proposal is to move away from the current average daily attendance (ADA) model to one based on where students are enrolled and their abilities. Explaining this, Erpelding said that for those students with intellectual or physical disabilities, or with behavioral challenges, "those add value to educate those children." Another part of this proposal would base funding on districts with severely depressed property values or those that have highly educated teachers.
The problem, however, is funding will be with the same amount of money as under ADA, he said, which some criticize as "robbing Peter to pay Paul" and with some districts benefitting and some getting really hurt. The promise of holding districts harmless for three years could also have issues in the state promising districts future funding if, as some forecast, some type of recession is possible in 2020.
"A lot of us would rather go with what [Governor] Brad Little proposed," Erpelding said: "funding the career ladder for the fifth level, moving teachers wages to $40,000…invest in third grade outcomes, and invest in career technical education so more kids can get dual credit and can get career technical education in high school."
As part of the hour and half presentation, information was included on topics such as legislation concerning firearms in domestic abuse situations, ethics in government, and raising the minimum wage. On this last, Erpelding noted the work of Rep. Sue Chew in heading legislation to get the state to $12 by 2023. He felt it should be $12 now and build in automatic increases such as, for example, being attached to the Consumer Price Index.
Noting the current offerings of social services for those in poverty, "It's literally cheaper to pay someone a higher wage than to pay a low wage and provide all those bureaucratic services."
Discussion also turned to the struggle in electing Democrats in Idaho, which Erpelding noted his experience in their issues receiving support from moderate Republicans in the southern part of the state, and in seeing more residents at center right.
"We win by running really good people and having the resources to get them in front of the people who vote," he said. "And we win by talking about what we can do. We don't win by running against what they are doing."
Pizza and Politics is an annual social dinner event, sponsored by the Idaho County Democrats, that draws in elected officials to discuss current events and answer questions.