GRANGEVILLE — "I will not be muzzled," Idaho District 7 Representative Priscilla Giddings, of White Bird, told a room of nearly 80 at the Idaho County Veterans Outreach and Community Center at a town hall meeting. The statement was met with applause.
The "Pie with Priscilla" event, held Wednesday, May 19, not only brought the center's room to capacity, but at least 30 people were left outside, as well, unable to fit in the room.
Giddings started the meeting off by telling the crowd she has recently received more than 200 nasty e-mail threats against her and her family, "all for sticking up for my conservative values."
"And my daughter has even been named in some of those," she said tearfully, composing herself quickly. "I don't have a flying career, my husband won't be hired by some people — but we have to fight back." The town meeting had full security, including many organizers assisting as spotters and carrying firearms.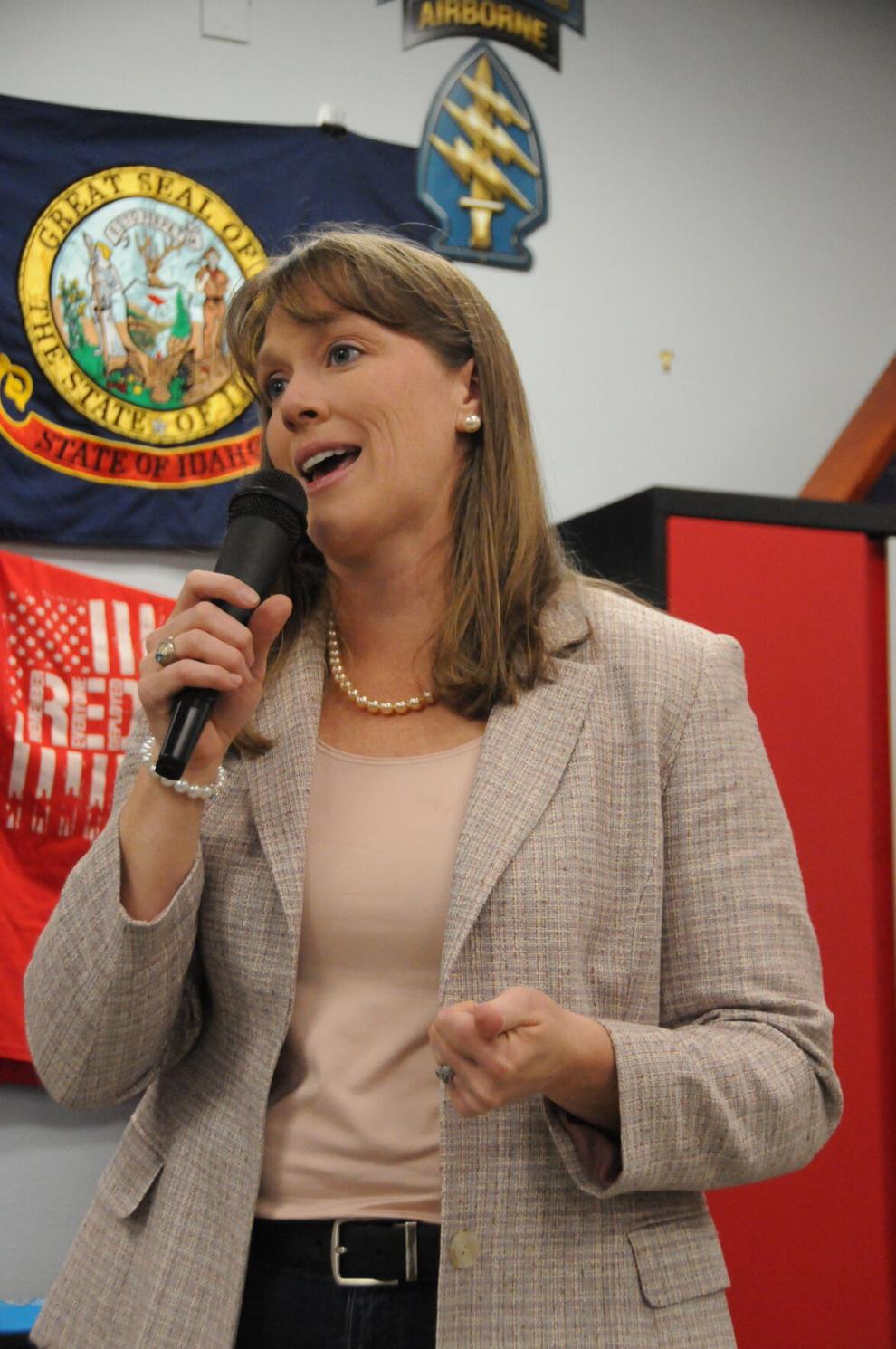 Giddings went on to say the Idaho legislative session recently adjourned after having been the longest session in the history of the state.
She explained how much money has been available to the state through COVID-19 funds.
"When the China virus first hit, the governor nullified many laws," she said, explaining Gov. Little has interpreted the law to keep the state rolling over into a state of emergency every 30 days. "He should not just be able to get rid of laws, and he has to know all Idaho businesses are essential."
She said as she and another conservative are new to the budget committee, they have tried to be principled.
"We are giving away our grandchildren's money and bankrupting our country," she emphasized.
She spoke on several bills that passed, many watered down, she said, from their original intent.
This included ones on property and income taxes, as well as election integrity.
Giddings spoke briefly about Senator Mike Simpson's plan to breech dams ("There is no proof this will increase the salmon run," she said), as well as healthcare ("As far as I recall, the right to healthcare is not in the Constitution," she stated), and the state's wolf problem.
She expanded on her stand against critical race theory and other curriculum being taught in public schools and in higher education, and gave examples of these schools of thought, including the push to make Caucasians feel guilty simply for being white, forcing students to embrace toxic masculinity as a fact and study "sex is a spectrum" in genetics classes. She touched on the Black Lives Matter movement and said it is now classified as a political action group, and she offered examples of children's books in all Idaho libraries that push critical race theory and sexuality issues.
"It's wrong," she said. "And it shouldn't be funded."
Giddings ended the meeting answering a few audience questions that dealt with a variety of topics ranging from the possibility of forced COVID vaccination prior to travel or for certain jobs, what can be done to change the property tax system in regard to school levies, how to get Idaho/Boise news in the Idaho County area, immigration and sex trafficking.
"The good news tonight is, patriots are rising across the state," she said. "For me right now, there is no higher calling than to be here."
She reminded the audience of the importance of backing conservative candidates in the May 2022 election.
Giddings said she plans to offer similar town hall meetings in Orofino and Kooskia in the near future.