RIGGINS –Nearing completion after two years under construction, the performance stage at Riggins City Park has been an ongoing point of community excitement, as project coordinator, Mary Lou Hirst, explained.
"The other day, a person brought down a group of ladies to see what has been done. The lady then donated $100 to the project," Hirst said, in an interview last month. "People are seeing what's being done and they want to be a part of it."
"For a little town to pull off something like this is pretty amazing," she said.
The community is just days away from a planned May 25 dedication for the performance stage, set during Memorial Day weekend, which will feature entertainment and also a fund-raiser with proceeds to benefit both this project and next year's 2020 Salmon River Jet Boat Races. According to Hirst, the goal is to have the façade and most of the outside work completed for the event, with final completion – including some cement pouring and other building finish -- following sometime later.
As designed, the performance stage will provide a venue to accommodate large bands and theater performances, a professional lighting system, and a backside structure for storage and a dressing room/bathroom area. A pulldown screen for projected videos will also be available.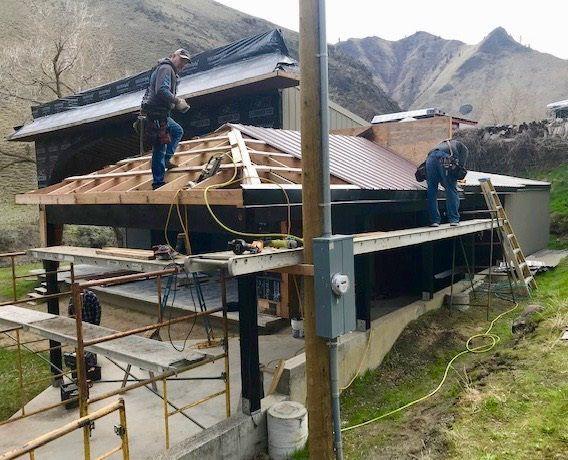 Driving the project was the need to provide a larger venue for events, notably the annual Hot Summer Nights celebration, according to Hirst.
"The original stage has been torn down and built anew," Hirst said, "so we can have a setup with two bands so they don't have to tear down and set up again."The stage also allows adequate space and proper lighting presentation for larger performing groups.
Improving the venue should also increase visitors to attend events, "and hopefully that brings more business to town," she said
Hirst took over as coordinator last year from her husband, Clyde, who died last July. His health issue actually occurred, she explained, while he was working on the stage project. Taking over coordinating the volunteers was Fred Shank.
"Basically, it was Clyde who initiated it," she said, and brought in several friends who contributed at the start: Russ Mutchler, who donated arched glue-laminated beams pulled from a former school gymnasium; Wayne Hunsucker, who drew up architectural drawings; and Arnie Hall for engineering work. Jim Peterson with the Evergreen Foundation helped secure donations, including working with Idaho Forest Group (IFG) in Grangeville.
Permission was sought from the City of Riggins, which in turn worked for approval from the Idaho Transportation Department, as the park falls within the state agency's right of way.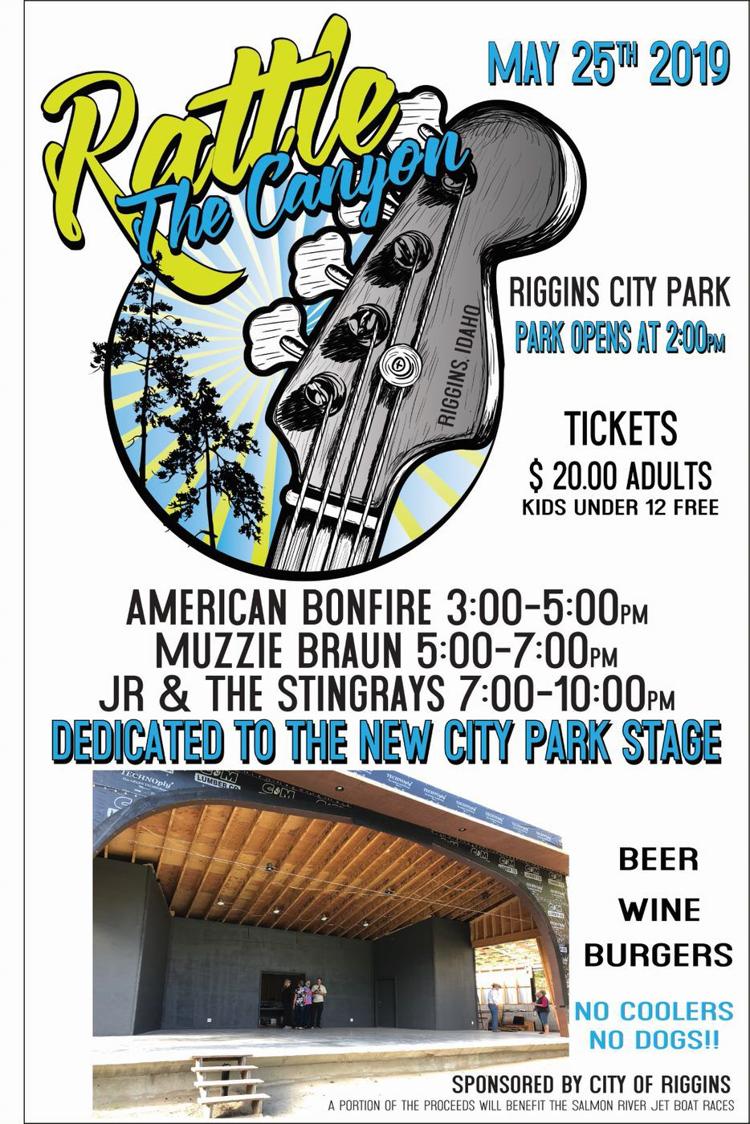 Kicking off the fund-raising, the Salmon River Chamber of Commerce donated $10,000 toward the project, and Midas Gold followed with another $10,000. Additional fund-raising events included the 2016 Rattle the Canyon (sponsored by John Belton/Seven Devils Steakhouse and Saloon) and a Muzzie Braun performance at Idaho Banana Co., last Memorial Day. Building materials have been donated – some in full and some at cost – from IFG and C&M in New Meadows.
According to Riggins city clerk Brenda Tilley, to date, total project donations are $44,116 and total expenditures are $35,940.
"It's a true volunteer and donation project," Hirst said, with many individuals having contributed in donations of time, as well as money, many at $500 a pop. The dedication by those involved really shows, she said.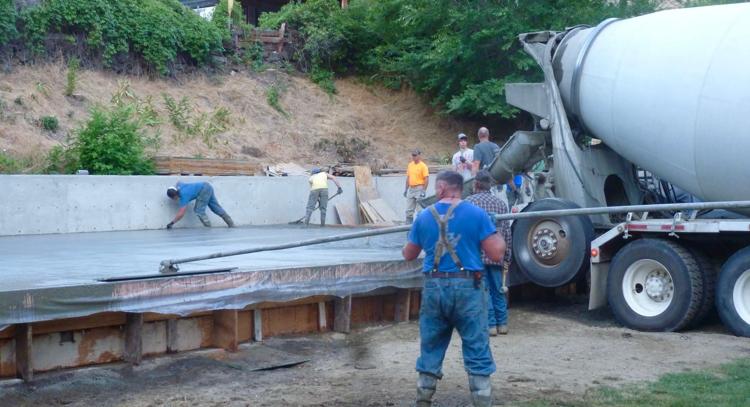 "The other day, Russ was busy finishing the roof on the secondary stage because Skip Bailey the electrician can finish the electrical work," Hirst said. Bily has donated time and provided materials at cost for the project. "The electrical is the last thing before we can close everything in, and we hope to have that done in time for the dedication."
"Super excited," Hirst said of community reaction to the project. "Just by virtue of the fact we have businesses and volunteers stepping up shows how 100 percent is behind the project." That sentiment is shared by Riggins Mayor Glenna McClure.
"It's a great, great addition to the park," McClure said. "As far as a city standpoint, we're all happy with it; the construction, the way it looks, it's a very nice stage."
The city manages use at the park, providing use free for nonprofits, and for private events there is a charge for power use.
"Some great volunteers have put a lot of time in erecting that stage over the last year," McClure said. "We're just very excited about it," and continued the upcoming dedication should be a great kickoff event for this new park offering.
"What we want with the dedication," Hirst said, "is to let people know this is available, what they can do here, and it is ready to be used."