GRANGEVILLE — The July 6th Idaho County Commissioners meeting included an update from Robert Simmons of Simmons Sanitation/NADL Enterprises, Idaho County's solid waste contractor. This portion of the meeting was scheduled at the request of Bill Carpenter for the neighbors of the proposed Short Road drop-off site to meet with Simmons. Kathy Ackerman, Idaho County Clerk, described it as a "planned meeting between the parties as an opportunity to discuss their concerns."
Lead county commissioner Skip Brandt began by acknowledging that he received a petition, (later determined to have 51 signatures), entitled "Citizens Against Amendment of Ordinance No. 58, the solid waste ordinance regarding the placement of the Idaho County solid waste disposal center."
Brandt questioned what site this referred to since the petition did not specify a location. A concerned citizen, Carla Carpenter, confirmed the intent of the petition was opposing the proposed Short Road site near Grangeville.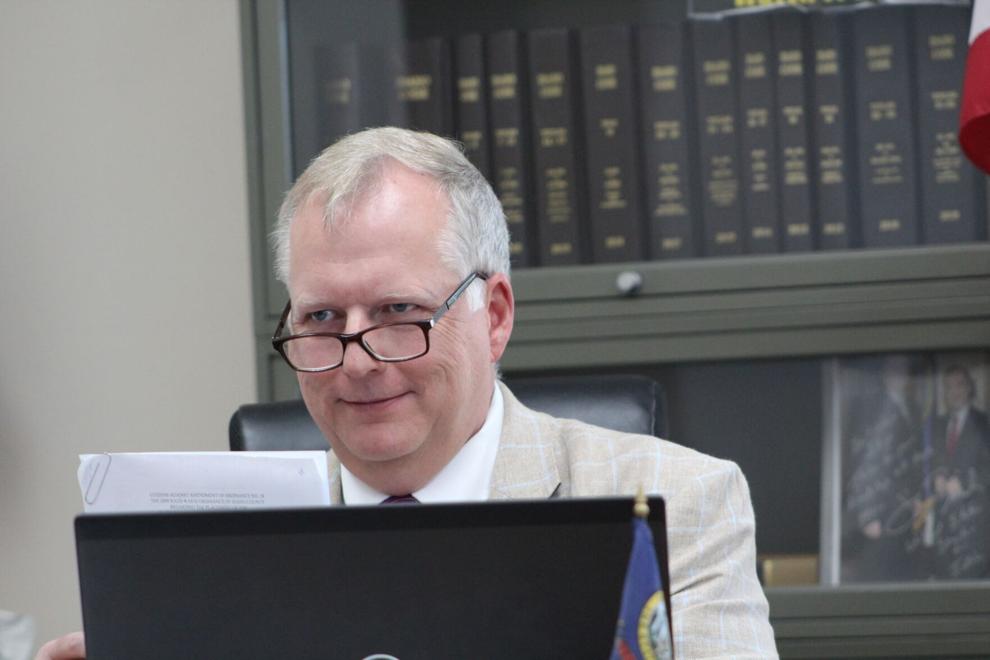 Ackerman later clarified that the 2019 ordinance No. 65 (not No. 58, referenced in the petitions) is the current solid waste ordinance.
"The current ordinance was really written with the open dumpster system in mind," said Brandt after the meeting. He added that it, "doesn't prohibit a drop site."
Simmons described that his company collected record amounts of solid waste last year and this year is on track for record tonnage again.
"There is a large influx of people coming in and cleaning up properties," Simmons said. He is trying to, "come into play with the rest of the state and the rest of the country by putting in manned sites."
In the next step toward developing manned facilities, Simmons plans to open the Kooskia community drop-off site in early August. That site will be open Monday through Friday, 9 a.m. to 4 p.m., and every other Saturday. Simmons next plans to develop a drop-off site in Riggins similar to the Kooskia site. Both sites will replace nearby open dumpsters.
He explained his plan for the Short Road site is a drop-off site inside an enclosed building. Brandt later confirmed that enclosing the site inside a building will address the concerns of nearby residents "blowing garbage and the appearance of a bank of dumpsters".
Simmons addressed questions and comments from the audience about the proposed Short Road drop-off site, mainly from residents of neighboring properties. These ranged from concerns for traffic, road safety, lighting, open hours, migrating deer herds, landscaping, coyotes, noise, wind-blown trash, fire risk, and decline in neighboring property values.
"We're regulated by DEQ (Idaho Department of Environmental Quality," said Simmons. He added, "By law we can't have an open dump." He expressed concern about the misinformation that is out there about the plans for the Short Road property and encouraged the neighbors to contact him with any further questions.
"Any site in Grangeville will be seven days a week because that's where the populace is," Simmons said. "We will have hours 9 to 4." He confirmed that access to the site will be from Highway 95, not Short Road. He is 99 percent certain that Idaho Department of Transportation will require him to construct a turn lane.
Simmons said the next step is for his contractor to shoot grade on the site, then work with the architect to determine how to lay out the building within the site, considering wind direction. The building will look like a large shop building. He can work with neighbors on lighting direction, building trim, landscaping to improve how the facility appears.
"Wherever we go, someone isn't going to be happy, but we need to act" said Brandt. He described the attempts by the commissioners over the past 5-10 years to deal with solid waste, including a citizens committee who looked at the solid waste issue in the county. After attempts to build a landfill were not successful, commissioners began working with Simmons to develop other types of manned sites.
Simmons said that he has been looking for three years to find a site near Grangeville to build the facility.
"We've tried to buy other land. We've been outbid, or people won't sell to me," Simmons said. He encouraged the concerned neighbors to let him know of other land for sale. "If you find us another site, we'll take a look at it." He described the need for land to be close to a paved road.
In response to a suggestion from Bill Carpenter to put a group together to look at the issue, Brandt said, "Put your own group together and find some land. We're past the point of studying it more." Brandt concluded with, "Find that piece of property and it will be in a different location."