GRANGEVILLE – "By the time I was in middle school, I was acting out and getting into a lot of trouble" Jason Stanley Marshall told students at Grangeville Elementary Middle School (GEMS) Thursday, April 11.
Marshall, a motivational speaker who talks about resilience and taking responsibility for one's own actions, was brought in by the GEMS PTO and spoke at assemblies throughout the day for elementary, middle and high school students, as well as parents and teachers.
"I carried so much anger – I was a train wreck. They wanted to classify me as 'emotionally disturbed,'" Marshall said.
Throughout the years that followed, Marshall, the youngest of eight children, would learn to harness his emotions and change his reaction to outside stimuli.
"People pick on other people for three reasons," he said. "To be funny, to hurt and to dominate or control."
He told students the only thing a person can control is their own reaction.
"When I was growing up, the more my sister annoyed me, the more I cried. The more I reacted, the more she wanted to annoy me. It was a constant battle, a circle," he said.
He used students to demonstrate aggression ("A") with consequences ("C") and how the middle factor of "B" for beliefs could change the outcome.
"You're so ugly – where did get those shoes? A Dumpster?" fifth grader Hallie Crowl role-played.
"What? Ugly? Uggghhhhh. I'm so upset. You're so mean," Marshall cried.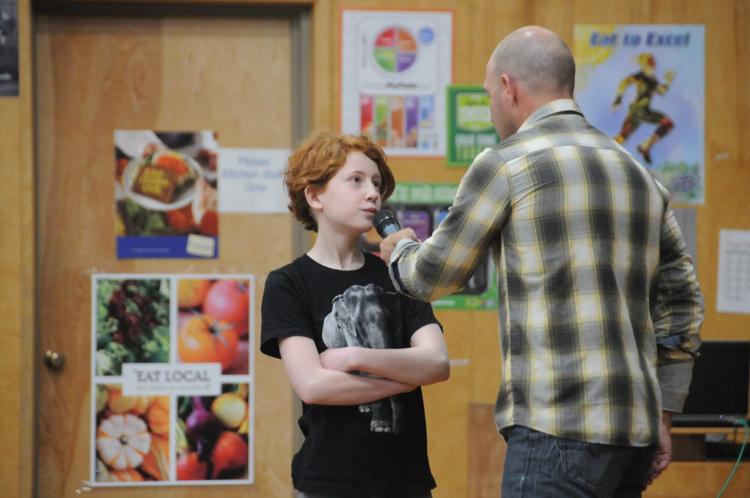 Students erupted with laughter as the banter continued with Crowl teasing and Marshall allowing himself to become upset.
Next, when Hallie came at him, he changed his tune.
"Wow, you're quick-witted, your brain must be awesome," he said.
"Yours must be small," Hallie retorted.
"You're funny, you have a great sense of humor," Marshall told her.
As he was nicer, her answers became shorter and the reactions of the students subsided.
"If I don't react and I treat people like friends, it changes everything," Marshall told the students. "We cannot control what other people do, but we can control our reactions."
"Will we change every situation? Probably not, but staying calm and in control is key," he said.