CLEARWATER — It was a record-breaking run for speedster Randy Speranza at Bonneville Speed Week earlier this month.
The Clearwater resident, as part of team Speranza Brant Robinson, took on the Bonneville Salt Flats for the Sept. 29-Oct. 2 event in Utah where for the SC-PBF (Sidecar - Pushrod Supercharged; Fuel) bike he set a 201.870 mph record on Oct. 1. This followed a series of increasing speeds being achieved the month prior in 19 runs leading up to the world finals where he exceeded his prior 190 mph record by 2 mph in his fourth run, and into the 195 range before a blower clutch issue took his bike out of action, requiring repairs and a new tire, before heading back to the flats in October.
"It's so hard out there just to set a record, let alone the record I was going after, which was over 200 mph," Speranza said. "Only five people in the world have ever set a record over 200 mph with a sidecar; three of those were streamliners, two of us run sit-on motorcycles, and I am the only one to do it with a [120-inch] pushrod motor."
The August runs were a build-up to the finals where he incurred a few incidents, including hitting a hole during a few runs -- one of which put him airborne momentarily while on a 192 mph run. The next run, while trying to avoid this hole, he hit the 3-and-a-quarter-mile-marker panel, which took his windshield out. His last pass at 195.3 mph at the two-mile panel, he lost power due to the clutch issue. At home, between events, Speranza noticed the bike had a flat front tire and ordered a new one, "as that's cheaper than paying the hospital bills." One of his sponsors, Mike Gosselaar, Gosselaar Powersports of Grangeville, changed out the tire and noticed inside, "it had three fractures and was coming apart from the inside out."
"Funny how God works," he continued. "He took out the sprag clutch on the blower so I would lose my front tire and crash. Course, God rides in my sidecar; he has a vested interest in my health," Speranza smiled.
During world finals, Speranza also made the fasted motorcycle pass of the week at 204.948 mph, and as well earned a rare achievement: the Bonneville 200 mph Club.
"There's less than 750 members in the history of the club, which started in 1949," he said. "More people summit Mt. Everest every year than are in the 200 mph club."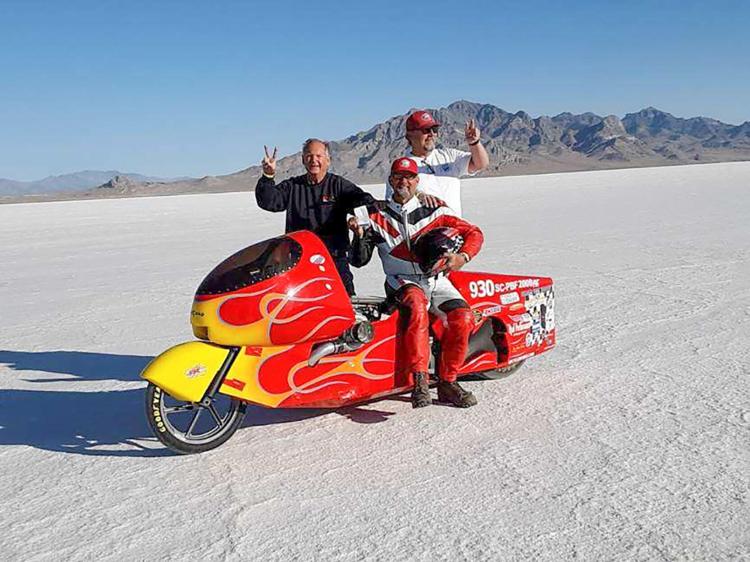 Speranza has been racing at Bonneville starting in 1995, running his first motorcycle pass there in 2002, and getting his first records in the 120 to 130 mph range.
"I've been racing motorcycles at Bonneville for over 17 years. I tell everyone I'm a 17-year overnight success," he said. "It took me 197 attempts to get into the 200 mph club."
Those attempts were measured in increased speeds each time, interspersed with "backing up and doing a little more homework," he said, tweaking the bike every year to come up with something new to get it to go a little faster. "Most times it works out, and at times it doesn't. It's just the way it is.... That's what people at Bonneville do; they're tenacious, they don't give up. If it were easy, kids would be doing it."
At this point, Speranza has his bike together for the El Mirage event in California, which started Oct. 25. It's "1,000 miles one way to ride my bike for 30 seconds and then come home," he said, and depending on the results, return in November for the championship. As well, he's got his eye on another rare achievement: the Dirty Two Club, for those who make 200 mph on the event's lake bed of dirt.
"But one race at a time," he said. "The first thing is to go lay down a really good number at El Mirage."