POWELL – State investigation is ongoing into last week's fuel tanker truck accident that resulted in the spillage of hundreds of gallons of gasoline and blockage of U.S. Highway 12 for several hours. Fuel cleanup is anticipated to last approximately a week.
The driver in last Friday's March 29 crash, Gary G. Claussen, 66, was transported to St. Patrick Hospital in Missoula for evaluation of minor injuries suffered in the crash.
Cause is as yet undetermined for the accident, reported at 6:24 a.m. on U.S. Highway 12, one mile east of Powell (milepost 163), according to Idaho State Police. Claussen, of Missoula, was driving a 2005 Peterbilt tanker truck hauling a tank trailer when, for an unknown reason, he went off the road. The truck became disconnected from the fuel trailer and overturned, trapping Claussen inside the cab. The Idaho Transportation Department arrived on scene and assisted in removing Claussen from the vehicle.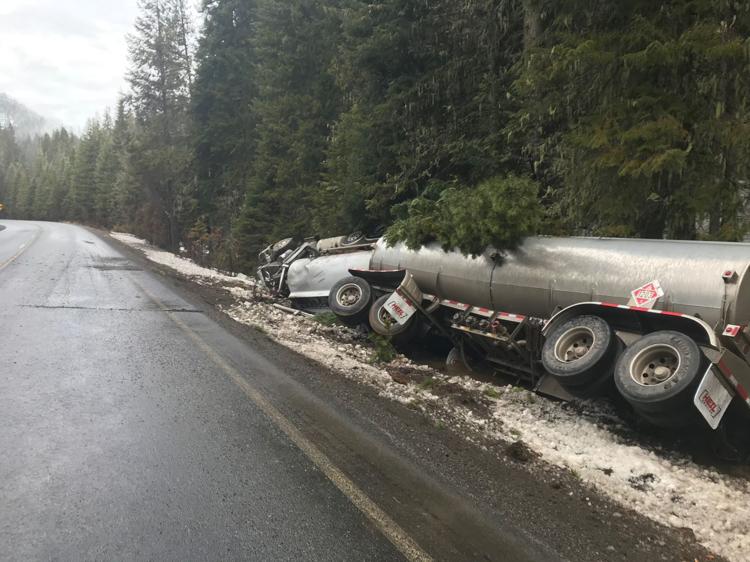 One of the fuel tanks ruptured due to the crash and spilled 1,200 gallons of gasoline into the drainage ditch, which connects to the reservoir that connects to the Lochsa River. Once the scene was assessed, measures were taken to contain the spill and the roadway was shut down in both directions. The Department of Environmental Quality, the Environmental Protection Agency and the Nez Perce Tribe were all notified. West Central Environmental Consultants responded to the scene, completed the initial assessment and began the cleanup. The Region Two HazMat Team and the Environmental Protection Agency Liaison Officer were also on scene. The Idaho County Sheriff's Office also assisted on scene.
The road was completely blocked for approximately 3.5 hours. Following, one lane was opened, and traffic was intermittent for approximately six hours until travel on both lanes was resumed around 6:30 p.m.