Many of our readers will remember when phones were quite different than what they are today, and others will shake their heads with little understanding for the progression of the communications system.
"Back in my day," the phone was also a vital appliance in our rural household. The wall phone with a six-foot cord was positioned in the entry way of our home and an old school desk sat beneath it so one could sit there and make or take phone calls. Right there, out in the open between the kitchen and living room, where everyone could listen.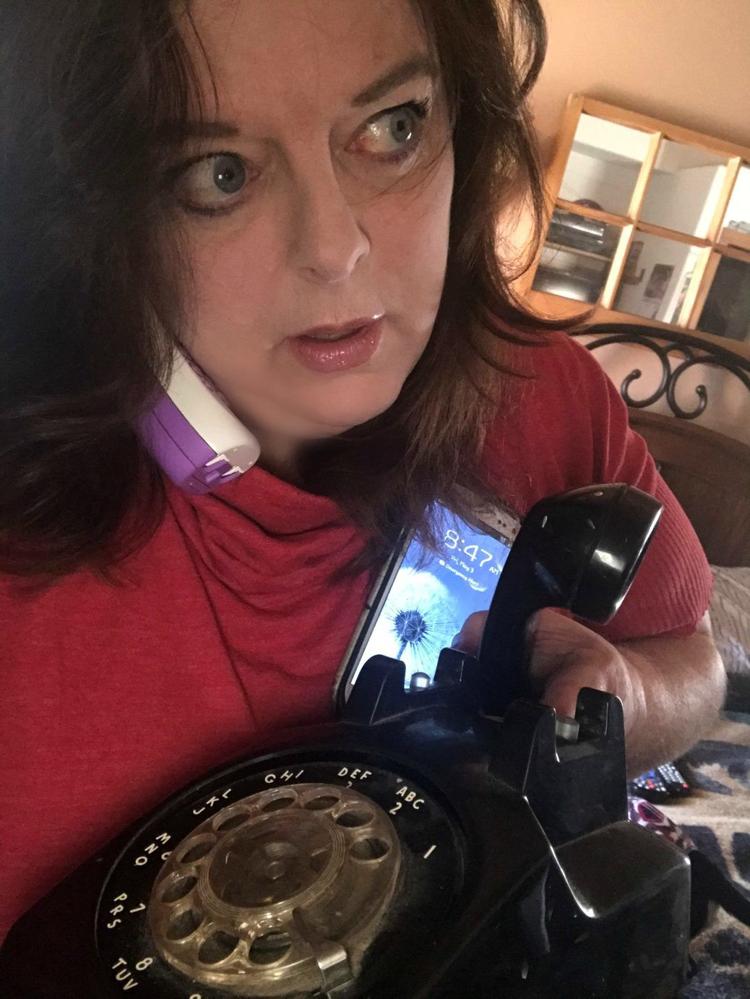 The tan contraption was a rotary phone. That is, you dialed each number with your finger in the little provided circle. I had friends who had actual push button phones, but that was not to be in our home. We had the one phone in our four-bedroom ranch-style home on seven acres in the country near the Canadian border. It fit. We were remote. That phone was our lifeline to the outside world.
We shared that lifeline with five other families on Stein Road in Custer, Wash. Oh, those families each had their own phone just as we did, but we were on a party line. That is, we had to quietly pick up the phone before using it and listen to see if someone else was already using it. Although my parents always reiterated to my two older brothers and me that it was not ethical to listen in on someone else's conversation, it could be done. And it was.
My dad was in the Air Force in our first few years in Custer, and I remember several times as a child when my mom would have an emergency and need to call him on base. It was usually plumbing or septic issues. If someone was on the party line, I can remember my mom gently saying to our neighbors, "Myrna, I'm sorry, but I need to use the phone for a minute," or "Charlotte, I hate to interrupt you, but I just need to call Dave quickly and then I will get off the line."
Tom and Myrna Johnson owned the dairy farm to the left of us and David and Charlotte Bradley owned a home to the right of us. They were more than neighbors; they and their families were our friends and family, and the interruptions were always taken with understanding and patience.
When I was in middle school, we got our own line. No more party line. It was strange to be able to use the phone whenever we wanted. I can still visualize my mom sitting at the old school desk with her pen and paper, jotting down requests from the church prayer chain.
When I was in high school, a magical thing happened: For Christmas of my sophomore year, I received my own phone. My dad put a phone jack in my room and I got a wall phone with a 20-foot cord. And it was push button! I didn't have my own number, but I could now lay on my own bed in privacy and talk to my friends.
When I left for college in 1986, we still had landline phones at Northwest Nazarene University (then college) in Nampa. Every Sunday night I would call my parents collect, either from my dorm room or from our adopted Nampa family, Mike and Carol Poe's home. Each Sunday evening it was, "Will you accept a collect call from Lorie?" And they did. I know the calls were not cheap, but I would visit with my parents for 45-minutes to an hour.
When my parents moved to Grangeville in 1992, another amazing thing happened: They got a cordless phone. The first we had ever had. What a game changer. We soon had the same, and what a delight to be able to take a phone to any room or even outside with you and talk!
Valor and I got our first Nokia cell phones in about 2000. It was bigger and heavy, but wow. We could make calls from anywhere, even on the road? Amazing. Next were flip phones and at some point, in middle and high school, our daughter, Avery, ended up with a pre-paid Trac phone with its cryptic, old-school texting. By the time Hailey was in high school, it was the iPhone, with all its Internet access to the world. My daughters have never had to simply call once a week – we have always been at the length of their arm, no matter where any of us were or how far apart we physically were from one another.
I cannot imagine life without cell phones now, to be honest. However, I don't want to forget my humble beginnings with telecommunications and remember that although the lifeline in 1968 may have been vastly different than it is in 2019, it was still vitally important.