Idaho Transportation Department will have a rock scaling crew -- rock climbers who perform roadside work -- in "early next week," ITD spokeswoman Jessica Williams told the Free Press Friday morning, July 10.
ITD does not have an estimate of when the highway might reopen, as work to come depends on the determination by the scaling crew of whether or not it is safe move forward with the work to clear the July 3 rock slide south of Riggins, or to allow traffic through that choke point near Pollock.
"We did not take the rock down yesterday," Williams said. "It actually came down overnight on it's own. Some of the rocks that came down last night were those that we were monitoring as potential concern, because of the movement we saw with them."
"That's why we stopped traffic from continuing to flow on that temporary road in that [slide] area," she added. "That was proven a valid call last night, when those rocks came down."
In addition to a massive boulder that crushed multiple cargo containers that had been filled with rocks last week, the movement on the night of July 9-10 brought down much other material and left overhanging rocks that complicate the cleanup and that Williams said must be assessed for safety before work can continue.
"Right now, not only is the issue that the roadway is further blocked because of the rock that came down," she explained. "There's loose ledges and rocks hanging overhead, which is making the area really unstable and unsafe for our crews to go in and do work removing those booulders."
ITD's next steps are to reevaluate and reassess the area, determine the stability of those ledges still hanging on the slope, and "get our crews in there once that is a safe option," Williams told the Free Press.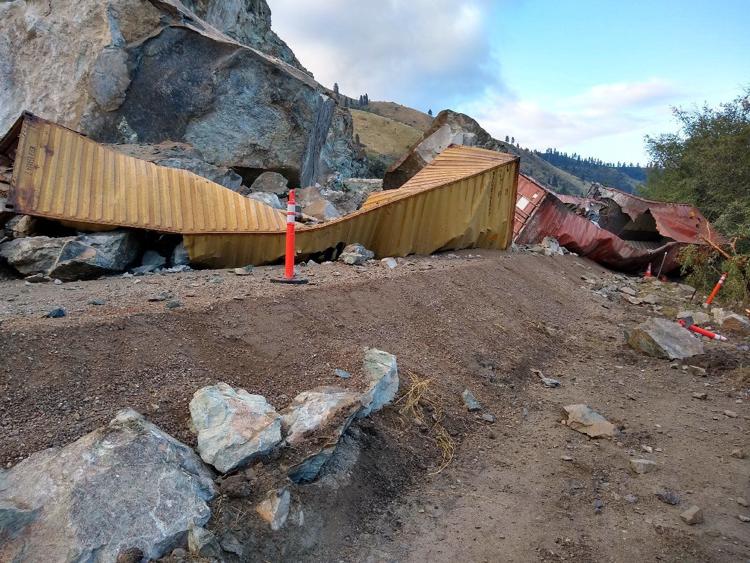 US-95 at slide south of Riggins to remain closed after significant overnight movement
RIGGINS — Massive boulders came down last night at the U.S. Highway 95 slide south of Riggins (milepost 188). The slope above the route remains too unstable to allow for traffic or rock removal crews in the area.
"The highway will remain closed until we are able to evaluate this new development and determine the best option to safely stabilize the slope." Operations Engineer Jared Hopkins said.
The department had already built a temporary gravel road to detour traffic around the base of the slide, but continued significant movement on the slope closed it on July 8.
"The extensive rock fall that occurred last night confirmed that we had made the right decision to completely close that portion of US-95 to traffic," Hopkins said.
Early next week, crews will again begin scaling the slope and surveying the area.
"Currently there are a lot of overhanging boulders and ledges," stated Hopkins. "We don't yet know how stable these are and until we are able to further evaluate the area, crews will not be able to engage in rock removal operations."
Old Pollock Road will continue to serve as a detour around the slide during daytime hours – 6 am - 8 pm PDT (7 am - 9 pm MDT). The detour will remain closed at night in order for crews to perform maintenance operations on the roadway, which typically does not see this amount of traffic.
"It's very important that we maintain the integrity of Old Pollock Road so that it can continue to serve as a viable option for detouring traffic during this time," Hopkins said.
The slope and area around the slide is considered extremely hazardous. ITD is asking citizens to stay away from the area for their safety. The department is also asking drivers choosing to use the detour, to ensure that they drive attentively in order to keep traffic flowing.
"The proven unpredictability of this slide requires that we remain flexible," Hopkins said. "While our goal is to safely reopen the highway as soon as possible, we are very thankful that no one has been injured and will focus our efforts to ensure that it remains that way."
Updates will be provided on the status of the slide as they are made available. At present, there is no estimated time for reopening of the highway.