CAMP LEJEUNE, N.C. -- No good deed goes unpunished. Just ask 2010 Grangeville High School graduate Kurt Aiken.
In 2018, 2nd Lieutenant Aiken, Marine Corps infantry officer, defended an individual with disabilities who was being attacked. That Good Samaritan action got him charged with simple assault.
"I want to put this behind me, but the outcome currently makes me non-deployable, which isn't allowing me to continue to lead and train Marines. It has been frustrating and financially devastating," Aiken said.
Aiken wants to continue to serve his country in the Marine Corps. His duties include gathering and evaluating intelligence on enemy strength and position, develop battle plans, coordinate with supporting units, and plan, direct, and assist in tactical deployment of weapons and equipment in combat situations.
"Kurtland Aiken … has been charged with simple assault on an aggressor who physically assaulted an individual suffering from a debilitating disease, a condition that leaves him permanently disabled and must use walking canes to be mobile. Aiken witnessed the individual get thrown to the ground, kicked and then punched by two aggressors outside Gordon Biersch Brewery Restaurant in Virginia Beach, Va.," the Go Fund Me campaign description reads.
Aiken and a colleague were at the scene awaiting an Uber ride when the assault took place. He intervened by yelling at, then walking toward the attackers. They in turn continued the abuse on the disabled person and began to verbally abuse Aiken and his colleague. Aiken made the decision to punch the main aggressor to defend himself as well as the disabled individual.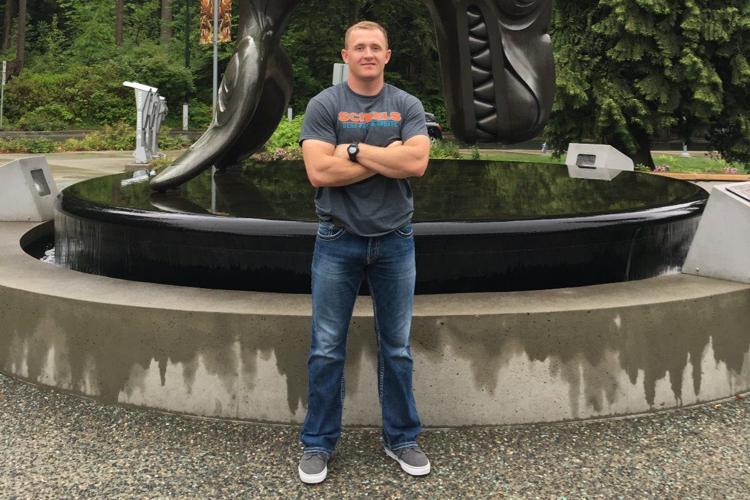 The one punch subdued the aggressor who later ended up in the hospital. Five days later, he pressed charges against Aiken who was convicted of simple assault and sentenced to 30 days in jail on the grounds he could have "walked away from the situation."
The prosecutor eventually agreed to an accord and satisfaction (a release of obligation) if Aiken pays medical bills for the aggressor that are in excess of $60,000. All funds collected through the Go Fund Me campaign will be used to pay those bills, an agreement that will drop the assault charges and dismiss any civil lawsuit pertaining to this matter. Any excess funds will go to the Wounded Warrior Project.
"There is difficulty in understanding how I am sworn to defend our nation but, in this case, am punished for standing to defend an individual in need," Aiken told the Free Press last week. "Any Marine who has served before me, with me, and after me would've done the same thing, because that's the moral character engrained in all of us."
As of press time, more than $7,000 had been raised. To donate go to www.gofundme.com.
Aiken attended Dickinson State University, graduating in 2016. He entered the United States Marine Corps in November 2016 and received orders to Camp Lejeune in North Carolina in January 2018.
Aiken is the son of Lynn Clark of Grangeville and Steve Aiken of Hillsboro, Ore.