POLLOCK – For the Pollock slide, reopening the temporary road Monday on U.S. Highway 95 is just the short-term solution.
In the long-term, a period expected to be at least several months, the focus will be to address literally what is hanging over motorists' heads:
"About 13,000 cubic yards of material stranded up there in a quasi-stable state," said engineering geologist James Struthers.
"We're working on a variety of solutions," continued Struthers, with McMillen Jacobs Associates of Seattle, which was brought in by the Idaho Transportation Department (ITD) to lead its Pollock slide project. Options can include material removal by trim blasting, scaling and mechanical means, and reinforcement – implementing any or all of which is pending further analysis.
U.S. 95 reopened July 27 at milepost 188. According to ITD, the gravel road will be open to one lane of travel, during daytime hours only, 5 a.m.-8 p.m., PT.
"This is a fairly significant failure in the grand scheme of things," Struthers said, speaking during a press tour of the slide area last Wednesday, July 22. "I have worked on larger failures, but a failure of this type is definitely worthy of respect. You have to be reasonably careful around it, and systematically and slowly take care of the problem. This is far too big to come to an immediate solution."
The Pollock slide is the result of a series of events; one on July 3, followed by a second on July 10. A temporary road through the slide area briefly opened in the interim and was closed due to continued slide movement that culminated in the July 10 event. In the interim, Old Pollock Road has served as a detour.
"There's a massive margin of an unstable amount of material left on the slope that will eventually have to be dealt with," Struthers said. "So, our immediate task is to assess the stability of the slope so we can get the roadway open and traffic moving on a regular basis, and to address the larger problem."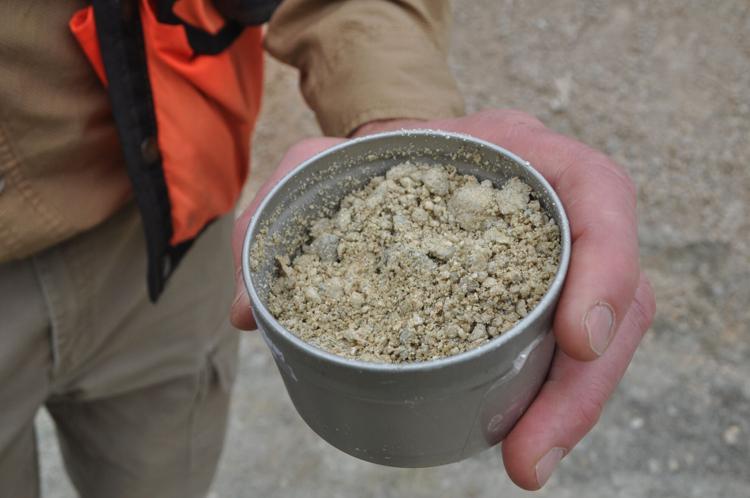 With the slope's failure and closure of the U.S.95 temporary road, ITD worked with Idaho County to bring Old Pollock Road up to condition – including repairing a 2016 slide damaged location -- to handle the detour traffic.
On average, U.S.95 normally sees 2,400 vehicles a day through this location, and Old Pollock Road around 100, according to Jared Hopkins, ITD operations engineer. Now, the Pollock road is seeing that traffic flow, so ITD is operating it during daylight hours, allowing for maintenance and repairs from usage during the night.
Speaking during the press tour, Hopkins said crews have taken care to preserve the Pollock road, "because if anything happens to it, we're really out on a limb."
"We're keeping an eye on that and making sure the Old Pollock Road is maintained and in good condition," Hopkins said.
As far as the slide, Struthers said this is being monitored by surveyors across the river, watching for movements in targets, and looking out for deformations and trends in deformations. Engineers also scale the slide, placing devices at cracks to measure deformation. Each morning, he reviews the data from which a determination is made for whether it is safe for crews to work in the area.
"When we go after a slope like this, what we're trying to do is take it from a state of damage and instability, to one where it's functionally stable," Struthers said. "That big block of material is questionably stable and likely not to remain stable in the long term," which he said would be dealt with either by removal or reinforcement. Blasting is an option, but one that needs to be done with forethought in a very controlled and designed way.
"Because what you don't want to happen is to take an unstable situation and make it worse," he said. "Go in a haphazard manner and not design a precise blast, you have a risk of stranding material on the slope that you'd have a hard time getting on to it and drilling for more blasting," which then puts people at risk.
Slopes can be destabilized substantially due to blasts that are unsuccessful or not well planned out, Struthers continued, and many such rock slip problems today are the result of old blasting that occurred prior to the 1970s and '80s when controlled blasting was adopted in highway construction.
"We tend to think of rock slips as a natural feature, but they are a manmade asset of the highway," he said. "We cut the roadway through and made these things. Sometimes they perform well and sometimes they don't."
The situation remains in flux, and Struthers said they are still in the planning phase for the work to be conducted and its duration. He expects to see construction activity at the site for several months.
As of the latest ITD tally, $180,000 has been spent on the Pollock slide.