SLATE CREEK – Competing year-round in sanctioned rodeos and specifically in District 3 High School and Junior High Rodeo has made 13-year-old Clay Marek a busy cowboy.
After three days of competing at State Junior High School Rodeo in Pocatello, Marek has earned the right to advance to the National Junior High School Rodeo Finals in Huron, S.D., June 23-29. This is for students who placed first through fourth at the state level.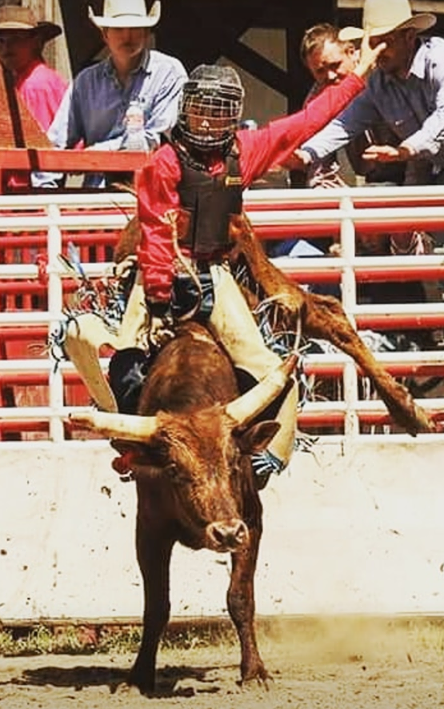 Marek will go in as the 2019 state champion bull rider.
Marek competes in not only bull riding, but also in saddle bronc, team roping, breakaway roping, goat tying and ribbon roping.
"My horses have been a big part of helping me advance," the soon-to- be Grangeville Elementary Middle School eighth grader smiled. He uses two horses – Peppy and Bob. "Good horses play a huge role in each event."
For District 3 this year, Marek took first in each event and his points tallied up to give him the title of All-Around Cowboy. He was also awarded Sportsman of the Year and Horse of the Year honors.
Marek also qualified for the Silver State International Rodeo held in Winnemucca, Nev., July 1-6. This is for contestants who placed fifth through 15th at the state level. He qualified in boys' goat typing. His roping partner, Shada Edwards, Clearwater Valley Junior High, qualified in girls' goat tying.
"We don't know about this one yet because, if I go, then I cannot go to Border Days since it's at the same time," he said.
TWIN BRIDGES – Nationwide, rodeo is a high-powered cash cow for top competitors riding before crowds of thousands. In the Salmon River country…
Marek will compete at White Bird Rodeo this weekend and said he enjoys all the local rodeos.
Marek said he is excited to contend at the high school level in a year.
"There's more competition, so that will be good," he said.
Marek is the son of Jim and Carrie Marek and his sister, Jaycee, also competed in junior high and high school. He is the grandson of Peg Marek.
He credits his Uncle Bill Marek, his dad, and his cousin, Bo Marek, for helping him learn to ride – something he's been doing practically since birth – and practice his skills.
"Lee Woods also taught me a lot," he added.
In school, Marek plays football in his limited spare time, and must maintain a 2.0 GPA or higher in order to rodeo.
He said he especially thanks the people who have stepped up to sponsor him.
He said he hopes to continue to ranch as he grows up, rodeo throughout his life, and, one day, he hopes to compete at the NFR or PBR.
As far as injuries or anxiety about what's upcoming, Marek just shook his head.
"You can't think about that," he stated. "You just have to do it."