GRANGEVILLE – "I, again, want to reiterate what an excellent job the entire Mountain View staff has done during these challenging times," Mountain View School District 244 Acting Superintendent Woody Woodford said at the May 18 board meeting. The meeting was call-in for public attendance.
Woodford said the district has so far served 42,761 meals to children in the district, via pick-up locations and weekday bus routes.
"Or about 1,200 meals per day to kids ages 1 to 18," he said. "That's filling a lot of hungry bellies."
Woodford, as reported last week, went on to say he had struggled with how to bring up the next portion of his report.
He stated that ads placed in local newspapers [by trustee Casey Smith of Clearwater] had incorrect financial claims.
"I've asked myself, 'What can I do to help put forth the correct information?'" he inquired.
He discussed the parts of Smith's claims he said is false information, which included levy amounts and money proposed for or spent on certain projects.
"I did not ask for a $4.5 million levy," Woodford said. "I recommended a two-year levy of $3.5 million a year to offer stability to the district." Ultimately, it was a board decision, he said, and the board decided the patrons would be more likely to support a one-year levy.
"You don't know where that $4 million figure came from? What do you mean? You brought that to us," Smith retorted.
Business manager Becky Hogg explained a number was given out not as a recommendation, but to demonstrate where the district stood if they were to, right then, ask for what was needed.
"We surveyed parents on what they would like to see for their kids, and the cost of those things were factored in. It was to simply show what it would take to incorporate those wishes, along with everything else," Hogg explained, saying it was a budget draft.
"Well, it certainly looked like a levy suggestion to me," Smith said.
"My recollection is that you did recommend a $4-plus million levy," trustee Brad Lutz interjected. "You're saying you didn't?"
"I did not," Woodford stated. "I suggested the two-year levy, and the board had a very healthy discussion, deciding on a one-year, $3.9 million levy, and I support that decision."
Chair Rebecca Warden said every year during budget planning, the board starts with a higher number than what they settle on.
"We start with 'in a perfect world, if we had everything we needed and wanted,' and go from there," she said. "The first budget draft is just a starting point for conversation."
Woodford also addressed Smith's ad stating $38,000 was spent on remodeling the district office.
"That amount was actually $11,420," Woodford said, and including renovations and repairing a portion of rotting foundation in one corner of the building.
"The project was approved last year, before I was hired, and included some carpet and painting, as well as additional flooring that was purchased second hand," he explained.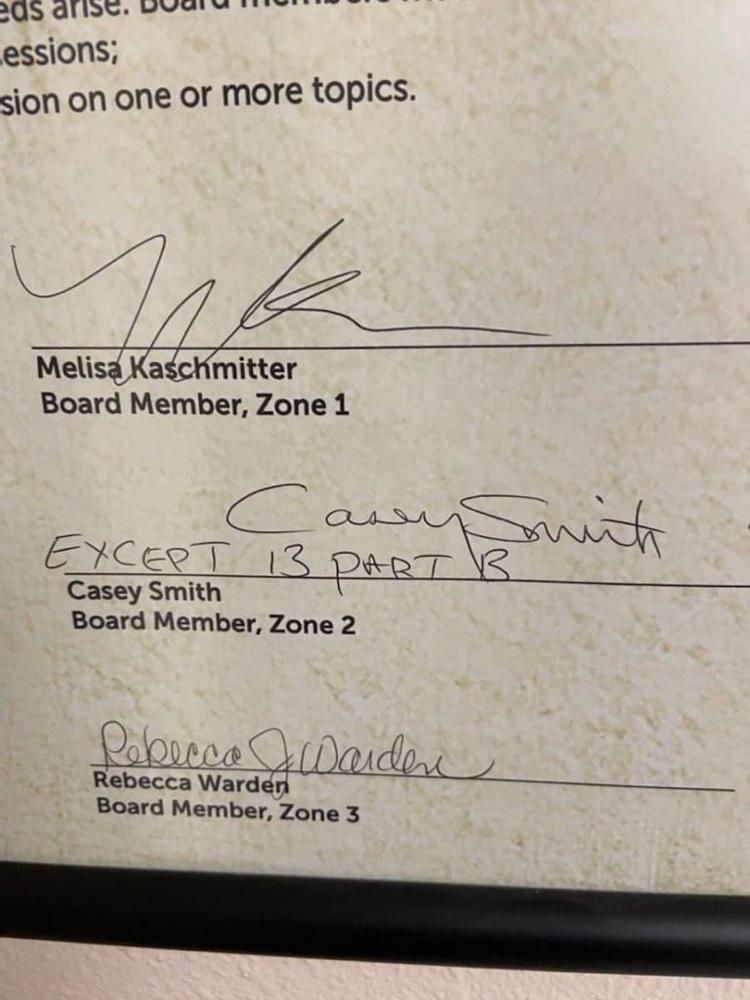 In addition, chairs in the board room were provided through a veterans grant written by MVSD maintenance person Ty Reuter, and did not cost the district anything.
A number of other points were clarified by Woodford, including the amount of carry-over and Secure Rural School funds, the cost of a phone system and district vehicles, how many teachers the state pays for within the district and a project that had been given an estimate but had not yet been approved or started,
"My question is, how do we go on from here, because once that misinformation is out there, it's hard to reel back in," he said.
"What you've said is very deceptive," Smith said. "You twisted what I said. I never said we spent – but that it was budgeted. And what a lying ad that was that came out from the levy committee – whoever that is."
During the discussion Warden asked Smith to refrain from name calling and told him putting people down was not acceptable.
Earlier in the year, Smith had refused to sign the board code of ethics/conduct, but later did sign, writing, "except 13, part B," by his signature (see photo). Number 13 states, "The board recognizes that decisions are made by a majority vote. Once a decision is made, all board members will support that decision."
At the March 16 meeting, the board voted 4-1 to ask patrons for a $3.9 million levy. Smith was the sole "no" vote. In subsequent months, he placed several ads and submitted letters to the editor in local newspapers that expressed his lack of support for the levy and the acting superintendent.