Noel Buchanan, 83, died Thursday, Aug. 8, 2019, at the Owyhee Health and Rehab Center in Homedale, Idaho of Alzheimer related causes. A celebration of his life was held on August 17, 2019, at the Assembly of God Church in Riggins.
Noel Buchanan was a brilliant, educated man who loved to use his mind, but he also loved to work with his hands. He was an athlete, loved music, hunting, camping, and later in life loved to go four-wheeling. Most of all he loved his wife of 64 years, his family, his many friends, and studying the Word of God.
He leaves his wife, Louetta (Keathley) Buchanan and children, Lisa Daniels, David (Cindy) Buchanan, and April (Robert) Beedle; grandchildren, Kristy Daniels, Kari Dye, Cody (Nichole) High, Brooke (Zane) Pratt, Sarah Foster, Nate (Angela) Foster, Catlin (Tiffannie) Buchanan, Mariah (Derrik) Hewitt, Jesse (Tiffany) Beedle, Angela Beedle, Eli Beedle, Jeff (Chrystal) Eike, and Quinten (Savannah) Eike; Noel's two brothers, James Buchanan and Michael Don (Frankie) Buchanan. He leaves behind twenty-four great-grandchildren with another one on the way; numerous nieces, nephews, and cousins. He was preceded in death by parents Herman and Elva Buchanan, sister Margie Howse, son-in-law Sid High, and sister-in-law Tamara Buchanan.
Noel was born in Terral, Okla. on Oct. 17, 1935, to Herman and Elva (Brown) Buchanan. He was raised in a Christian home, graduating from Amarillo High School in Amarillo Texas in 1954. After graduation he attended Amarillo College for one year. He married his high school sweetheart, Louetta Keathley, in Amarillo on June 9, 1955. They were blessed with three children, Anna Lisa, David Kent, and April Noel.
Noel worked as a welder for the Ironworkers Union, and with their two children, Lisa and David, decided to return to college. Lou said, "we thought that if the car lasted, and the washing machine didn't break down, and I didn't get pregnant - he could graduate. The first year they got a new car, the second year a new washing machine, and April was born the month before he graduated." In May of 1964 he graduated cum laude from West Texas State University with a BS in mathematics and a minor in physics.
Upon graduation, Noel accepted a job with a company that did exploration and mapping of the ocean floor in Metairie, La. After urging from two guys who funded a scholarship that Noel won in college, he went to work for General Electric (GE) in Phoenix, Ariz. in the Research and Development department. It was in Phoenix that Noel bought a radial arm saw and began to make fine, quality furniture for his family. Over the years he built a kingsize headboard, two end tables, and a coffee table. He built a chest and bookcases for Lisa, a desk for David, a toy box for April, and many more items that are still in use today.
In 1966 Noel went to work at NASA in Seabrook, Texas for General Precision Link helping with development of software for the Abort Guidance System which brought Apollo 13 safely back to earth. He worked on the simulator where the astronauts trained. He also played a vital role in developing some of the software that allowed the astronauts that were training, to fly the moon lander to a safe takeoff and landing.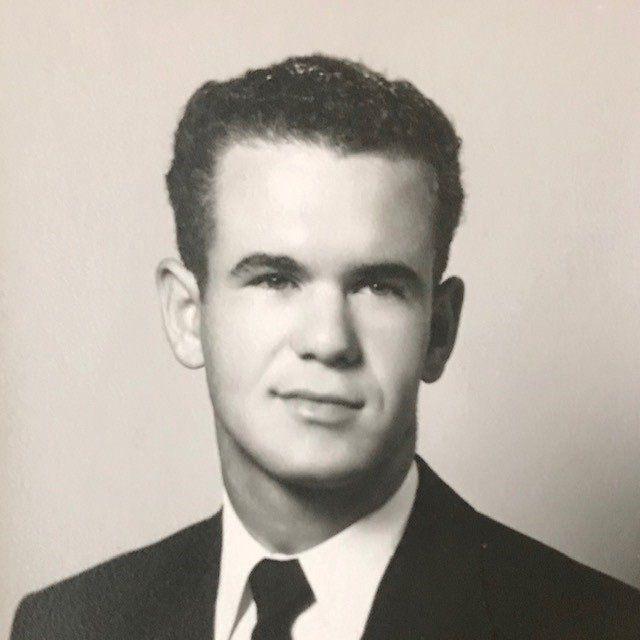 Noel returned to GE and eventually moved to San Jose, Calif. to work with a group of seven GE workmates who had helped to develop the first commercial "pre-Internet" operating system for GE. They were called the "Okie Coders" as most of them were from Oklahoma and Texas. They didn't quite fit in with the three-piece suit people from IBM with their Levi's and checkered shirts. The group then worked with IBM on two more pre-Internet operating systems for IBM - like Windows is an operating system.
Noel pioneered and played an important part in two monumental human efforts of the twentieth century; getting Apollo 13 and its crew safely to the moon and back, and the initial development of the Internet.
In the late 1960's Noel's love of hunting and camping brought him to the Riggins area with his friend, Dick Bruce, whose dad, John Bruce, already lived here. In 1971 he moved his family to Pollock, Idaho. This is an excerpt from an article that ran in the November 1972 National Enquirer: "Wall-to-wall people" is what the big city meant to Noel, 36, his wife and three kids, and so Noel walked off his well-paying job in San Jose, Calif., sold his spacious five-bedroom, three-bath home and took up the rugged life in a canyon near Riggins, Idaho. As they moved into a 35- year-old house that had been vacated by a man and his dog, with one bath that worked most of the time, his son David said, "I can understand poverty, but one bath is ridiculous!" After visiting a neighbor who only had an outhouse, he decided he wasn't too bad off. To make his living, Buchanan switched from system analyst to tomato grower by a new technique: hydroponics, something he had only read about. Noel said, "When I first came here my friends said I'd lost my mind. Now when they visit I'm left with the impression they'd like to do something similar." I haven't lost my mind, Noel said, "I've found it."
In true Riggins fashion, he operated the tomato business, did service work for Petrolane propane customers, worked for Brown Industries, welded, and substitute taught to make ends meet. Lou worked at the bank. A favorite quote of his was, "I have to have five full-time jobs to make a 1/4 of a living."
In 1972 after vacation Bible school, April wanted to be baptized. This resulted in Dave Hudson, pastor of the Little Salmon Bible Church, going to the Buchanan's home and presenting the plan of salvation. Lou, Lisa, David, April, and David's friend, Tim, who was visiting from California, were all baptized in the Little Salmon River. In 1976 Noel was baptized at the Riggins Hot Springs by Assembly of God pastor, Bill Cummins. This was the beginning of another passion in Noel's life - Bible Study. Noel and Lou participated in and hosted home Bible study for more than 40 years. Good friends, Fred and June Gentry, joined them in these Bible studies for more than twelve of those years.
In 1979 Noel, Lou, and April moved to Albuquerque, N.M. to open an office for longtime friend, Don Fry, his coworker and "Okie Coder" friend from early computer days. Don operated a computer-based, time-sharing company that did accounting for more than 350 small businesses. Don says "We ran 24/7, 365 and a 1/4 days a year with only two computer system failures in more than thirty years. We never had a breach of security of our Customer Data. Beat that, Mr. Gates!"
In 1981 Noel, Lou, and April moved back to Riggins fulfilling a promise he made to April that she could graduate from Salmon River High School. Noel went to work for Jerry and Geneva Kooyers, developing software for an operating system. He also developed reservation programs for Salmon River Challenge, the first rafting company in Riggins. Noel then started a business, Salmon River Welding and Fabrication; building airtight wood-burning stoves and doing repair work. Around 1984, together with Don Fellom, they built and sold precast concrete picnic tables which were custom designed to accommodate a wheelchair, trash receptacles, and benches, most of which are still being used today in Idaho, Oregon and Montana. Noel also taught several adult computer classes and did some tutoring for high school students.
In the summer of 1989, Noel and Lou helped run an 86-foot commercial fishing boat, the Sound Pacer, from Seattle, Wash. to Ketchikan, Alaska with his daughter April and son-in law Robert. The spring of the next year, Noel crewed again with Robert on the Emerald Pacific, helping run the 110-foot commercial fishing boat from Seattle, Wash. to Cordova, Alaska.
After two back surgeries Noel was told he needed to change his occupation. He then wrote a reservation program designed for river outfitters. This program, RUN - Reservations Unlimited - was later adapted to be used for ranching purposes. In the late 1990's Noel formed a partnership with John Dyer, manager of the OX Ranch, to market this program. Noel also served two terms as trustee on the school board for District 241 and later was instrumental in bringing Internet services to Riggins. This allowed the opportunity for long-distance learning for the Riggins schools.
Lou shares, "We've laughed, cried, and traveled many miles together. We've lived in six states, twenty-one houses, and enjoyed many camping trips with kids, grandkids, and friends. Our extended family and friends have been a great support to us and added much love and joy to our lives. The greatest success of our lives is that our children have turned out wonderful. They are all kind, loving, thoughtful, intelligent, caring, helpful, free-thinking, responsible, respectful, and generous individuals. They believe in a Creator God and look forward to eternal life.
Noel had amazing caregivers at his home in Riggins, Idaho, but could not receive the care he needed because of Alzheimer's disease. He spent the last two years in a longterm care center in Homedale, Idaho, where again he received loving compassionate care. Our family is tremendously thankful for all who work at Owyhee Health and Rehabilitation Center. Lou says that the last things Noel spoke of in clarity was his love for God, his love for her, and how grateful he was for family and friends and the life he had lived.