GRANGEVILLE – When Lance and Eve McCulloch landed in Grangeville 20 years ago, they were seeking an idyllic place to raise three sons.
"We definitely found that here," Eve said.
At that time, they may not have known what all would lie ahead of them, but they have taken each step and challenge with thoughtful perseverance.
In 2013, the couple purchased the former United States Forest Service building on Highway 13 at the edge of Grangeville, and subsequently remodeled and then opened The Gym. This facility encompasses a physical fitness center, smoothie bar and a variety of office spaces for independent services including a massage therapist, electrolysis, day care and a hair salon.
It wasn't until a couple of years ago that the McCullochs came up with a firm plan for the other half od the 22,000-square-foot building.
"We traveled all the way to Moscow to celebrate our 3-year-old granddaughter's birthday," Lance said. "I thought, 'do all parents do this?' And, 'we need a fun, active place for families in Grangeville to hold children's birthday parties.'"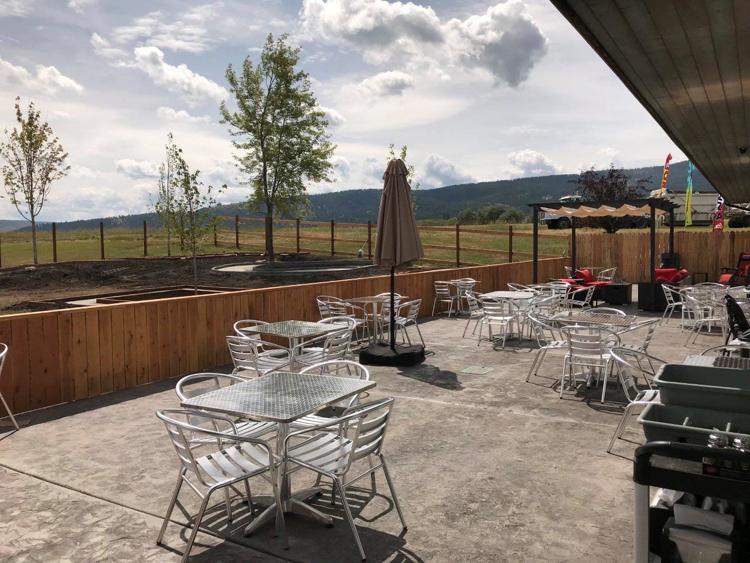 Thus was born the idea for Jungle Gym's Indoor Play Center and Café. This opened last year and includes indoor and outdoor family seating, large play areas for toddlers and kids up to 12, as well as an arcade/gaming area. The play area is separated and diners can choose to be on one side where they can view the play area, be outside, or within the play area itself.
"We've had a great reception," Lance said. "It's especially rewarding when a 5 or 7 year old tells you, 'thanks for doing this.'"
The café offers a large variety of menu items including pizza, chicken wings, onion rings, fries, nachos, shrimp, fish and chips, corn dogs, soups and salads. In addition, an assortment of beverages is for sale including espresso, soda, lemonade and smoothies. Soft-serve ice cream is also on the menu.
A patio, tables and couch seating offer an outdoor view and that view gave Lance another idea he is currently implementing.
"I wanted something for the whole family, including teens," he said.
And that vision has led to a nine-hole miniature golf course set to be complete this month, just in time for a one-year anniversary and grand opening celebration.
Local businesses have helped sponsor holes on the course, assisting the McCullochs in their dreams of making Grangeville the place to be.
"We want people to have what they need, and want, right here, without having to go anywhere else," Eve said. The couple's four young granddaughters, as well as a passel of nieces and nephews, live in the area, and Jungle Gym's was opened with them in mind, as well.
In previous years, Lance worked in heavy equipment. His skills have allowed him to complete the majority of the work on The Gym and Jungle Gym's.
The McCollochs have utilized "nearly every nook and cranny," Eve said, of the 22,000-square-foot building, and the three acres of land it's situated on.
But wait. Lance isn't quite finished.
This fall, he will begin adding on The Gym end of the building to enlarge the fitness center. Later on, he also plans to add a splash pad and maybe basketball hoops, just past the miniature golf area.
"Then, I think we will be about out of room," he smiled.
The McCollochs said they have excellent staff and supporters.
"None of this would have been possible without our employees, the community and the people who come here," Eve said. "We appreciate everyone so much."
Stop by Jungle Gym's Indoor Play Center and Café (entrances on each side of the building) or The Gym, 1005 Highway 13, Grangeville; call 208-507-3700; go online for details or to pre-order food at www.junglegymsfun.com or look for Jungle Gym's on Facebook. Both businesses are open seven days a week.