COTTONWOOD -- St. Mary's Hospital began with the arrival of Dr. Wesley Orr to Cottonwood in 1912. He urged the sisters at the Monastery of St. Gertrude to build a hospital to care for the acutely ill patients in the area. In 1927, the sisters were awarded a house in a bankruptcy case which they converted to a hospital. Those renovations created a four-bed patient ward, a room for four bassinets, a nurse's station, an X-ray room, waiting room, chapel and accommodations for the chaplain.
When the renovations were completed Nov. 3, 1930, Our Lady of Consolation Hospital first began serving patients with some of the sisters serving as nurses.
In 1939, due to consistent overcrowding, the sisters decided to build an annex to the hospital. It doubled the space, added a modern surgery unit and an electric elevator to the three-story building. That year saw 1,515 admissions, 577 surgeries and 2,534 outpatients treated.
In 1957, the name was changed to St. Mary's Hospital, and in 1960, the hospital conducted its first disaster drill. In the early '60s, it was evident the physical facility needed to be updated. A pledge drive was started and an application to receive federal Hill Burton construction funds was submitted. The names of the 400 people who pledged were engraved on a plaque in the hospital lobby. In 1963, the sisters bought former school property for $700,000, and construction began.
On March 18, 1965, a dedication celebrated the new 24-bed facility which included four extra rooms for long term sister care, a residence for other sisters, and a chapel. It also contained a new lab, x-ray rooms, an operating room, and a number of other modern features.
In 1965, six licensed practical nurses graduated at the hospital. That same year four rooms were set aside for long term care. The cost was $10 per day, plus medicine.
Ambulance services were turned over to the hospital for insurance reasons and in 1972, the SMH Guild donated $500 toward the purchase of an ambulance. The SMH EMT service was established that same year. The clinic at Nezperce opened in 1979. The Kamiah Medical Clinic opened in 1983, and, shortly afterwards, the Cottonwood clinic began seeing patients in the rooms that formerly served as sleeping rooms for the sisters.
In 1982, the Lions Club laid a helipad and helicopter transports joined the ambulance service as one way to transfer patients to tertiary care units in other locations.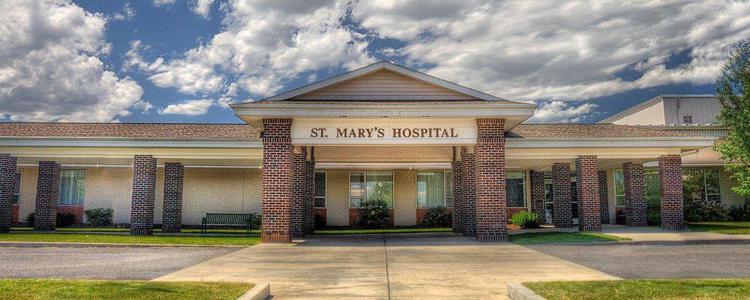 St. Mary's Hospital joined the Benedictine Health System in 1989. By 1995, the art of medicine had changed. Hospital stays were reduced and many procedures that had been done on an inpatient basis were now being done on an outpatient basis.
Shortly afterwards, the Craigmont Clinic opened bringing the number of satellite clinics to four. SMHC also began collaboratively providing medical care at the medical clinic in Elk City. During this time, SMHC began administering the Grangeville Physical Therapy Clinic. When the outpatient Cottonwood PT Clinic was established in the refurbished Orr Building on the SMH campus, the space was arranged to include a wellness center for use by patients, former patients and employees. A third PT clinic was established in Kamiah in the late 1990s.
In 1998, Clearwater Valley Hospital and Clinics in Orofino became an associate member of the Benedictine Health System, Duluth, Minn., later transferred to the name Essentia Health. The two hospitals formed an equal partnership with a joint management team to form a regional healthcare system.
In May 2002, after years of planning, SMH held a community groundbreaking for their new 12,000 square foot, two story medical clinic which houses 12 exam rooms, two nursing stations, a procedure room and physician offices.
In August 2019, CVHC and SMH entered into a letter of intent to transfer ownership to the two critical access hospitals from Essentia Health to Kootnai Heath in Coeur d'Alene.
Currently, as a part of St. Mary's health care mission, both St. Mary's and Clearwater Valley Hospitals acquired or established satellite medical clinics in Kamiah, Kooskia, Nezperce, Craigmont, Pierce, Cottonwood, Grangeville and Orofino. Last year, they had close to 45,000 patient visits. The hospitals and clinics are home to more than 30 health care providers, ranging from emergency care and family physicians to nurse practitioners and physician assistants as well as a surgeon and social worker. Services provided include med spa, telehealth, OB and childbirth, visiting nurse, clinic, discharge planning, emergency and elective procedures, inpatient pharmacy, financial assistance, nutrition counseling and diabetes education, physical, occupational and respiratory therapy, radiology, surgical services, senior and volunteer services, transition care and laboratory services.
At the helm of St. Mary's now is CEO Lenne Bonner, and the organization's six core values are listed on-line as quality, hospitality, stewardship, respect, justice and teamwork.
For details, log onto http://www.smh-cvhc.org.
Information from archives of The Cottonwood Chronicle, Idaho County Free Press, and Lewiston Tribune, as well as the St. Mary's hospitals and clinics web site.