The Prairie boys will play for a state championship – and judging from the tough defense Potlatch played to survive Friday night, the Pirates will face their toughest opponent of the tournament. Prairie's Friday night foe, Lapwai, had been penciled as the team to beat, but the Wildcats rarely kept the Prairie boys from scoring during a 59-42 PHS win on the night of the 1AD1 semifinals.
That was largely because Spencer Schumacher – who scored the game's first points on a jump shot – put up 20 points and 15 rebounds in the most dominant performance of his senior season so far. That was also in no small part because of the efforts of Sam Mager (14 points), Damian Forsmann (12 points) and Devin Ross (10 points, 10 rebounds).
Lapwai answered Schumacher's opening basket with five quick points by Titus Yearout (who finished with 18 points) and Kendall Leighton (12).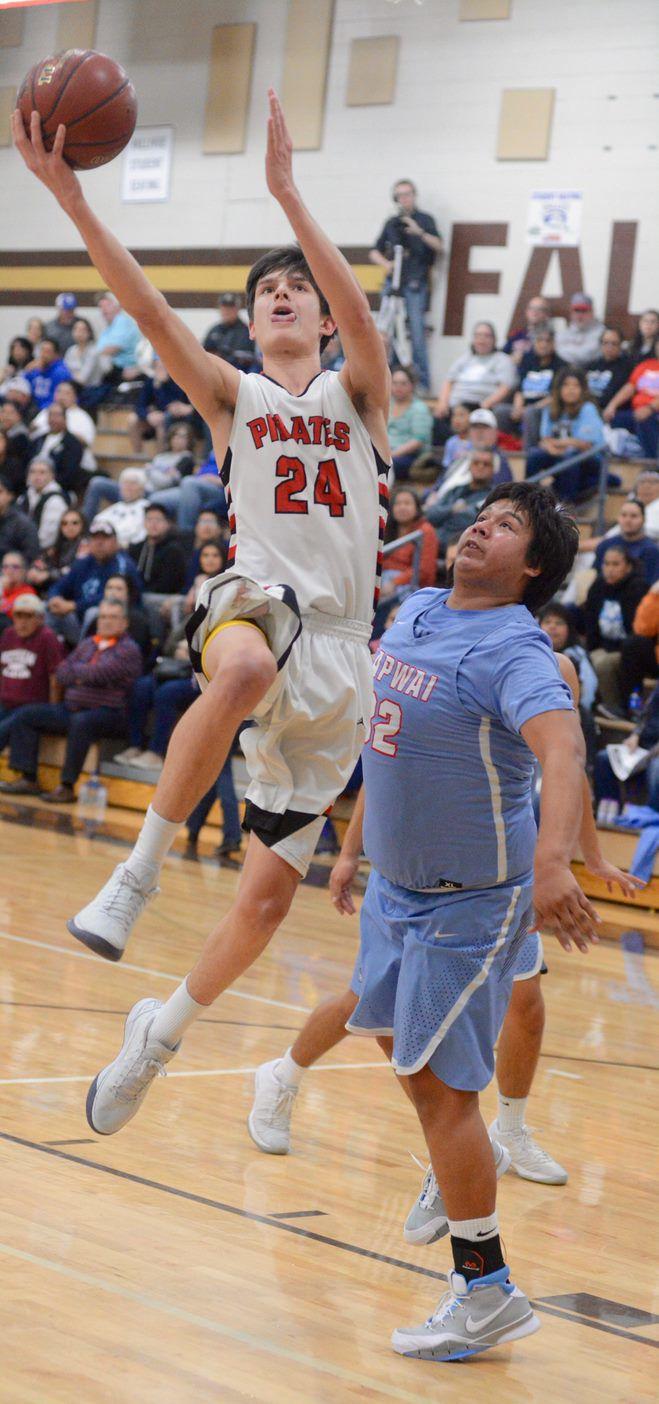 The Pirates went back to Schumacher for two on a jumper, then to Damian Forsmann for two more. Lapwai answered with a two by Yearout, and Mager, who shot five-for-five from the floor, countered. Lapwai led 9-8 on a PHS turnover converted into points by Payton Sabotta, who went 1-for-13 from the field for the contest.
Schumacher gave Prairie the lead for good on a post-up, and Mager cemented it with a free throw with 1:01 left in the first quarter.
Before the game, nobody would have guessed Lapwai would score just four during the second quarter, just 13 in the first half, and less than 30 through three quarters.
Such was Prairie's defense, which held Lapwai to 16-for-54 on all regular shots, and such was Lapwai's shooting, as the Wildcats went four-for-17 from three-point range.
Prairie led by as many as 17, 30-13, after a hoop by Forsmann early in the third quarter, after which Lapwai closed the gap to nine, 35-26, on a pair of foul shots by Yearout, who had drawn Cole Schlader's fourth personal with 2:02 left in the third. Though Schlader later fouled out, Lapwai never drew closer than nine.
Right after Schlader checked out, Prairie went back to Schumacher in the post, and PHS matched Lapwai score-for-score prior to an injury with 1:57 left in the game that took the possibility of thrill out of the ending.
Earlier Friday, Potlatch advanced to the final by way of a 45-41 thriller against Valley. The Pirates and Loggers will square off for the 1AD1 title at 11:30 a.m. MT Saturday, March 2, at Ford Idaho Center in Nampa.