LEWISTON — With four finalists and more than 142 points on the day last Saturday, Jan. 19, the Clearwater Valley-Kamiah wrestling co-op took second overall in a field that included teams from western Washington, northern Idaho, and much of the Central Idaho League.
But it could have gone better.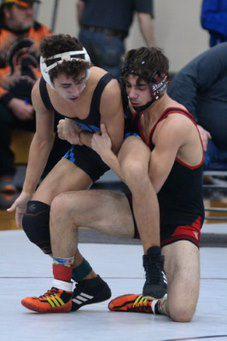 "I thought the first day, we wrestled really well," coach Carlos Martinez told the Free Press after the last of the co-op boys' matches last Saturday. "But today was kind of an ugly day for us. The kids wrestled sloppy and made a lot of mistakes. With the exception of a couple kids, we looked pretty bad. We've got a lot to work on. This is a good tournament for us to come to so we can see where our weaknesses are. It's a step up in competition and we're getting ready for districts and state — that's what it's all about. ... We needed to see these tougher teams. But we haven't seen anybody from the south."
During the finals, Ty Dominguez (152) shrugged off being picked up off his feet by Gonzaga Prep's Aedyn Wynncoop early in the match and went on to win a major decision, 14-5.
"Every match he wrestled all tournament long was solid," Martinez said of Dominguez.
Christian Fabbi (126) wrestled Central Valley's Nico Smith more precisely and won by pin.
"Fabbi, his finals match was hard to watch while I was coaching another one, but he stayed in good position and that's one thing we've been working on," Martinez said.
Davis McElroy (160) had his final come down to the closing seconds. With the score tied at 5-5, Connor Larsen of Central Valley scored an escape point and McElroy nearly regained the lead with a takedown at the buzzer.
"He just needed to turn his hips one direction or the other, and cover the head or cover the body," Martinez said. "It was a learning moment, and that's what this tournament is about."
Lewiston's Reuben Thill pinned CV's Bubba Summers in the 182-pound finale.
Earlier in the day, before a PA announcement noted their respective rankings, Lane Schilling had wrestled Kenon Brown of Potlatch to a 0-0 score.
"Then all eyes were on him, and he might have got a little nervous," Martinez said.
Brown, who entered No. 2, went on to pin Schilling, who came in ranked No. 1 at 170.
This week, Clearwater Valley is set to host its home invitational at 4 p.m. Jan. 25 and 9 a.m. Jan. 26, with teams ranging from Pullman and Clarkston to Ririe and St. Maries.