New weight room. New uniforms. New head coach.
It's a transition year at Salmon River.
Having proved his place playing in the NFL, Salmon River alum Leighton Vander Esch has been giving back to his alma mater.
For first year bench boss Ty Medley, the newness is bringing energy and excitement to the program. Look for Medley to get the Savages arrayed for another big playoff push during their first season after the Charlie Shepherd era.
Salmon River dominated the Long Pin and won five state championships under Shepherd.
"15 years is a long time," Medley said. "That's tradition, since I was in high school. We're just trying to keep the program rolling in that forward motion he had everyone aligned. There's a lot of transition."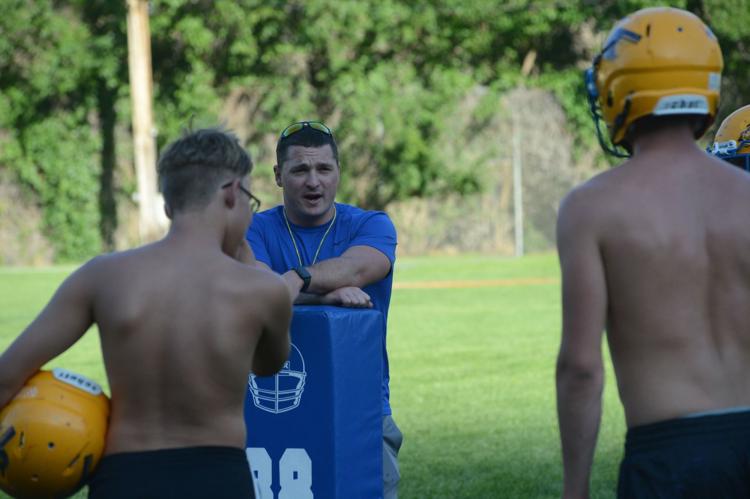 It's Medley's seventh year coaching at Salmon River, with six as an assistant. The Long Pin Conference, he said, looks the same as ever.
"The last three years or so, it has been Garden Valley, Council, and you can't ever count out Horseshoe Bend at the top," Medley said.
The Salmon River boys pounded Deary in the first round of the playoffs and challenged eventual runner-up Lighthouse Christian during the semifinal round.
Having graduated several top all-around athletes – chiefly, all-staters Canyon Harper and Reece Jones and league MVP Randy McClure – SRHS may have a tougher time contending in their league games this fall.
"The boys are working hard," Medley said. "We're not as big as we have been in the past, so we're going to have to get a little creative." Senior Ethan Shepherd returns as quarterback and as a defensive leader, and Justin Whitten returns as an all-league linebacker and workhorse on offense.
"Isaac Hofflander is a savvy kid out there, and senior Johnny Swift is as well," Medley said. "These are three-year, four-year starters who know the game and that's where leadership is going to come from. We're going to lean on those guys, especially in the beginning."
Medley is assisted by SRHS alum Derek Wilson as well as longtime SRHS assistant Mike Shepherd.
Salmon River's season begins Sept. 6 at Kamiah.