"A river can sometimes be diverted, but it is a very hard thing to lose it altogether."
MOSCOW — Prairie championships have been coming up regularly in recent years, much like the creek that passes under — and sometimes onto — Main Street, Cottonwood, Idaho, USA.
The school's third 1AD1 football title since 2014 came with deep meaning for coach Ryan Hasselstrom, whose father, Nick, came on the field after the game — a week removed from heart surgery, the Lewiston Tribune reported — and whose son, Brody, proved playmaking ability of his own during the contest.
The Pirates — as run-heavy as they've been throughout the season — were not quite perfectly predictable during their 26-6 win over Lost Rivers last Friday night, Nov. 22, in that the Pirates-versus-Pirates showdown featured frequent fumbles.
Prairie got the better of the bounces, including on the plays that essentially clinched the outcome during the last three snaps of the third quarter.
Already ahead by the full margin of victory, Prairie needed only protect a 20-point lead, and so opted to punt with about a minute left in the third. Lost Rivers' returner muffed it, and Prairie's Sam Mager grabbed up the loose ball.
Prairie handed off to Hasselstrom for a yard. On second down, PHS nearly fumbled it away on the last play of the period. Prairie's Reid Uptmor recovered, and Lost Rivers' chances evaporated along with the first four minutes of the fourth.
Prairie ran repeatedly, then turned it over on downs with 8:11 to go. The PHS defense allowed essentially nothing. Facing fourth-and-10 at their own 25, Lost Rivers threw an interception that was called back for pass interference, which made it first-and-10 at the 40. After a run for no gain, Lost Rivers threw an interception that counted.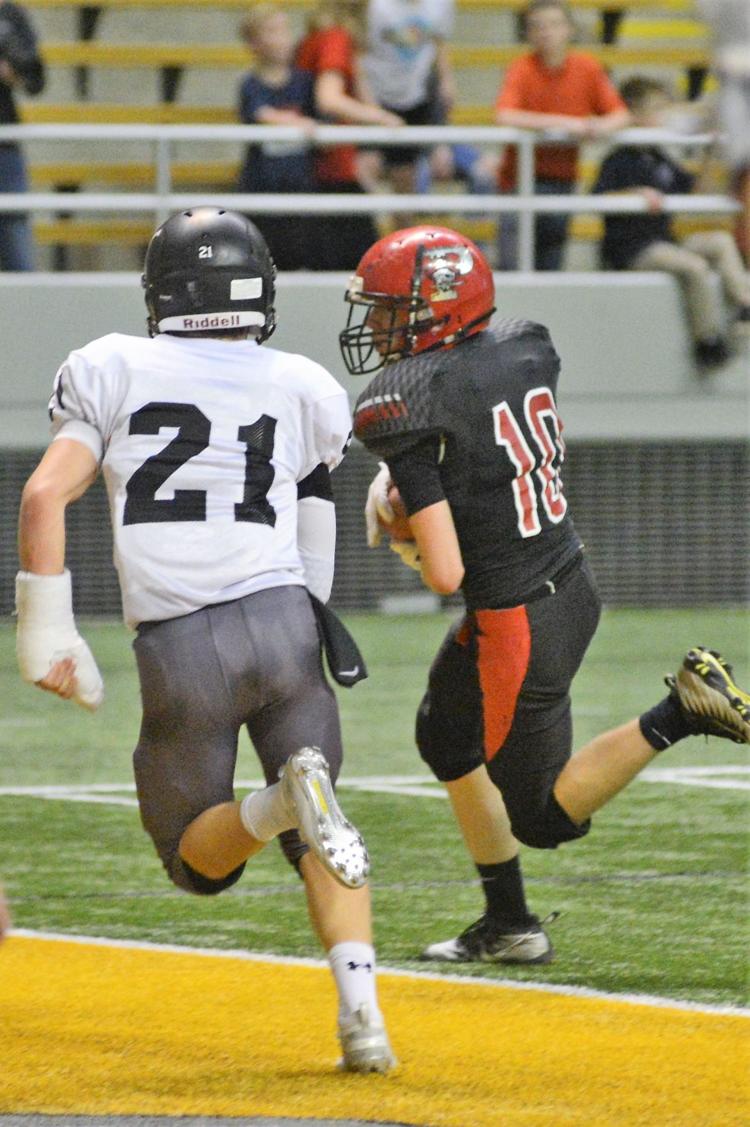 The Prairie offense went with five straight runs, and turned about three more minutes into dust. After another pick — Lost Rivers' fifth turnover of the game — the Prairie boys went for the water jugs. They soaked defensive assistant coach Teel Bruner first, and got Hasselstrom shortly before the PHS reserves knelt to drain off the final seconds.
The defense held Lost Rivers to 241 total yards, of which Lost Rivers booked 69 on their only scoring play, on which tailback Brady McAffee broke containment down the PHS sideline during the second quarter.
"Our end got up-field a little bit too far and our backside end is supposed to chase — he doesn't have the quarterback on that — and they got their end up to our linebacker and broke it," Hasselstrom said. "That was a good run. That kid is good, and they got up the field really well."
By that time, Prairie's top running back, Cole Martin, had already broken a 78-yarder and plowed in a 1-yarder on the way to 127 yards for the night. During the third quarter, Martin scored on a nine-yard run — which ended up being the last touchdown of 2019.
About five minutes after Lost Rivers found the end zone, Prairie turned a fourth-and-goal from the 19 into a 20-6 lead, as Cole Schlader got away from the rush and threw to Mager for the score.
"That was a heck of a football game," Hasselstrom said. "They're tough — really tough. We had some opportunities to score that we didn't put in the end zone, and that would have helped us get a little more breathing room. But defensively, we played phenomenally. We gave up one big play to them, and the rest of the time...we held them when we needed to hold them. Teel Bruner, he did a phenomenal job, and [assistant coach] Matt Elven, they did a great job for the defense."
"These guys had confidence going into it, the whole year," Hasselstrom said of the season as a whole. "They wanted to be in this game, and they felt like they had a chance to be in this game when we lost to Oakley down there last year. The guys that came back from that played extremely well."
Prairie finished undefeated, 11-0.