The Grangeville boys' basketball team defeated Prairie 66-56 in the Idaho County Shootout Friday at GHS.
The Bulldogs extended an early lead over the Pirates from 6-0 to 16-5 to 30-18 before the Pirates surged to within five, 58-53, late in the fourth quarter.
"We played well," GHS head coach Kelcey Edwards said. "This is higher quality than we had seen so far this year. [Opposing coach Kevin] Chaffee has a team that plays hard all the time. We controlled the game except for probably three minutes there in the fourth quarter when they got us sped up. But we got it in control at the end. I thought we handled the pressure well enough. We had some steals, some deflections and runouts, and our defense really set our offense up."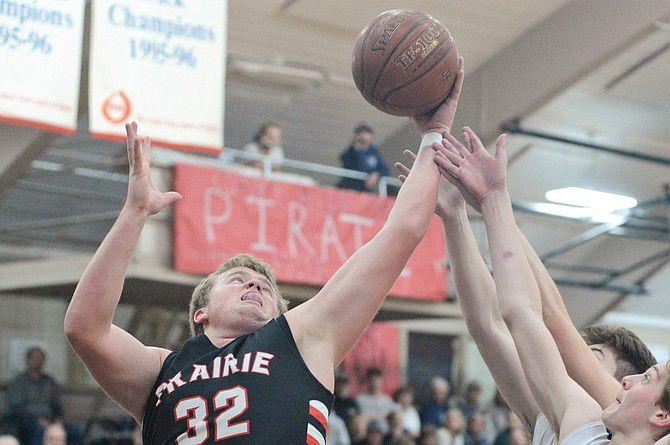 Grangeville guard Trey Dreadfulwater, who scored 27 points for the Bulldogs, appeared unhindered after he collided with an official while leaping at a long pass near the scorer's table during the first half, but briefly exited the game after cramping up in the fourth. When he checked out, Grangeville was ahead 57-46 with 2:26 remaining, but Prairie came out of the injury timeout with a three-pointer by Owen Anderson, which Spencer Schumacher followed up with a second-chance basket, which brought PHS within six, 51-57, with about two minutes remaining.
A couple of bonus free throws by Colby Kennedy with 1:07 to go proved critical after Devin Ross canned a triple with about a minute left. Later, Kennedy came up with a defensive rebound that effectively ended the contest with 28 seconds remaining.