Grangeville has scored 74 points twice already this season, having beaten Kamiah and McCall by following much the same formula both nights: "The key was ball movement, making the extra passes and not going one-on-one," senior Colby Kennedy said. "I've noticed Trey Dreadfulwater moving the ball really well — making the extra pass and getting it to kids for lay-ins. And he's been getting a lot of run-out lay-ups."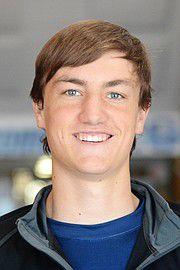 Kennedy scored a team-high 20 points against the Vandals, including two on a dunk that followed from a defensive play, which he capped by taking a turnover from near the timeline all the way to the rack, where he threw it down with two hands.
"We've been running a type of zone defense and the execution has been pretty good so far," he said. "We've been working on help defense and hopefully that will help on offense, too, getting more of those run-out lay-ins."
Grangeville hosted Pomeroy after the Free Press print deadline on Dec. 4, and the Bulldogs are set to host Prairie for one of the season's biggest games on Friday night, Dec. 7.
"It's the shootout, so we've got to come ready to play and hopefully get a win," Kennedy said. "My first varsity game was the shootout my sophomore year. That was an eye-opener. This will be my third — haven't won one yet, got to win this year."
The Bulldog boys have their eyes on winning the district, which would involve beating a St. Maries team that has a win streak against GHS dating back to 2015. They'll play St. Maries Jan. 12 and Jan. 26.
This Bulldog of the Week athlete highlight is brought to you by: Super 8.