GRANGEVILLE – "Some people are just mean – it's how they are," shrugged 11-year-old Kimberly Seaver.
The Grangeville Elementary Middle School sixth grader has had to put up with snide comments from some ignorant classmates – but she isn't letting it get her down.
"Of course, when a kid yelled the 'N' word in the hallway, it affected me," she said. "But not as much as you would think. His parents may have given him permission to talk like that, but it's not OK."
And when another student refused to let her sit down in a certain area "because of my color," she said – "I told him this is a free country and I would sit anywhere I want. He could move." And he did.
Sassy and smart with intelligence and a wisdom that seeps through her heart and soul observations, Kimberly has found ways to deal with life's situations.
"I didn't even involve a teacher," she said of the aforementioned incidents. "I handled them."
Kimberly was adopted by Matt and Kate Seaver when she was 3 months old. She has two older brothers, Christian, 20, and Jeremiah, 17, who are also adopted.
"How am I unique? Well, I'm the only black kid in my school," she laughed.
Kimberly explained she wants to use the hard times in life to build herself up and make her better, stronger.
"I want everyone to be able to do that," she explained. "Use the bad times to make you better at something or get through something."
Kimberly isn't easily offended, she said. When one kid said her friend, Kira, "ran like a black man," she knew he meant it as a compliment.
"And Kira – she may be short, but that girl has mad skills," Kimberly grinned.
A lover of track and field and an alto saxophone player, Kimberly said she is grateful for a family who loves her and gives her everything she needs.
Her dad, who owns a computer repair business, has taught her to disassemble computer circuits.
Her mom, who works for Opportunities Unlimited and has her own sewing business, has taught her to sew and craft.
Brother, Christian, taught her to longboard and brother, Jeremiah, taught her to play the video game, Fortnite.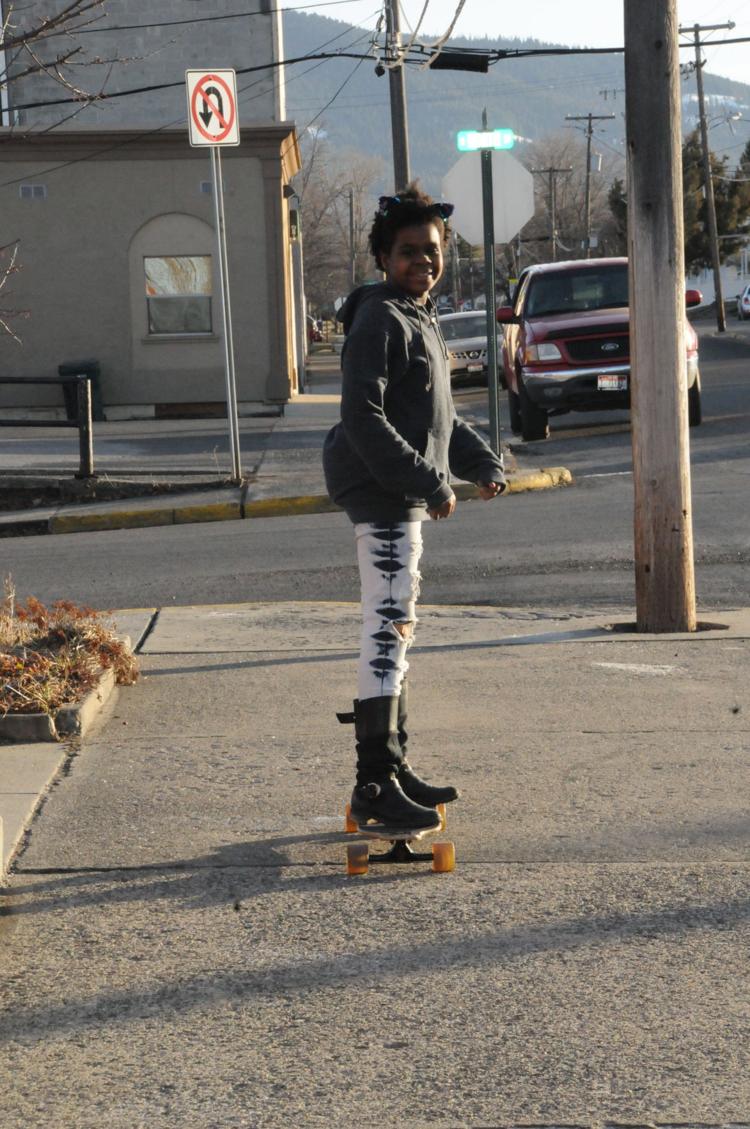 "I'm happy to be in the family I am in," she said.
Kimberly is a member of the Lively Livestock 4-H Club where she shows a pig and participates in Making the Most of Me and sewing.
"I'm very social," she said. "I like doing things with people and hanging out with my friends."
She also enjoys getting drinks from Crema Café, and paid for a mango smoothie with her own money during her interview with the Free Press.
"I get money from chores, good grades and having a good attitude," she rolled her eyes. "That last one depends on the day."
Kimberly knows her parents do their best to protect her, she said, and she realizes having a cell phone is one of those things she is not ready for.
"Phones cause a lot of drama," she admitted.
Something else that causes drama?
"Boyfriends. Why do people want boyfriends at my age?" she questioned.
Kimberly has a pet fish named Ramona, but her dream would be to have a dog one day.
"I have anxiety, and a dog would be really calming. But a pet deposit is $500," she lamented.
When she is older, Kimberly hopes to become a social worker and assist families in the adoption process.
"I know how that feels and I understand the feelings," she said.
Based on her own experiences and the way she has been raised, Kimberly said she knows "you should never judge someone by their race or gender."
"And just know – if you tell me I can't do something because my skin is brown or because I'm a girl, I'm going to prove you wrong," she grinned.